Indonesia appreciates Malaysia's commitment to protect migrant worker rights: Jokowi
Indonesian President Joko Widodo is on a two-day working visit to Malaysia.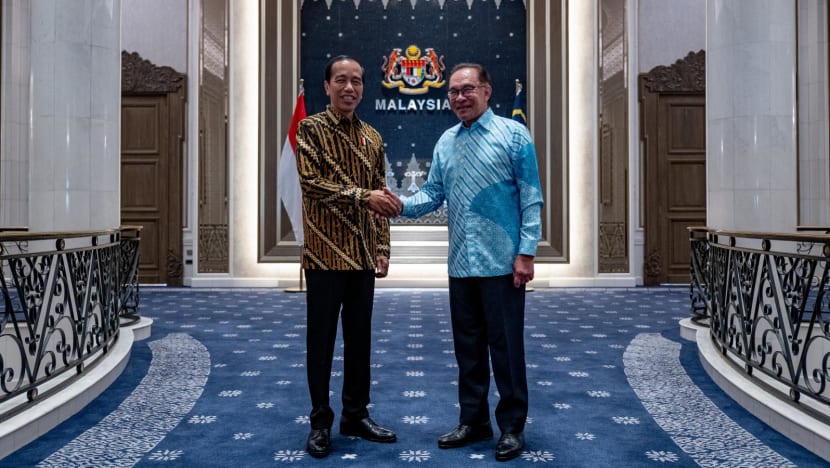 KUALA LUMPUR: President Joko Widodo on Thursday (Jun 8) said that he appreciated the commitment of Malaysian Prime Minister Anwar Ibrahim to strengthening the protection of Indonesian migrants working in the country.  
"Pak Anwar and I have agreed on a specific bilateral mechanism to solve the problems faced by the Indonesian migrant workers in Malaysia," he said during a joint press conference with Mr Anwar at the Seri Perdana Complex in Putrajaya after a closed-door meeting between the two. 
Mr Widodo added that the mechanism also intended to address issues such as rights to education for Indonesian migrant children.
In a joint statement issued after the press conference, both Mr Widodo and Mr Anwar acknowledged the commitment of both parties to improve the protection of basic rights, welfare, and the livelihood of all Indonesian migrant workers in Malaysia.
According to a report by the Star, there are 399,827 Indonesian foreign workers in Malaysia in the manufacturing, construction, services, agriculture, domestic workers, mining, and quarrying sectors as of January this year.
Mr Widodo arrived in Malaysia for a two-day working trip on Wednesday. He was in Singapore before that where he spoke at Ecosperity Week, an annual conference on sustainable development. 
According to the joint statement, both Mr Widodo and Mr Anwar encouraged one another to continue to iron out any impediments in facilitating the employment of domestic workers in Malaysia.
Malaysia's Human Resource Minister V. SIvakumar had previously said that both countries would review the cost of hiring domestic Indonesian workers at a more reasonable rate. 
"Both sides also agreed to review the Memorandum of Understanding on Recruitment of Indonesian Workers Between the Government of Malaysia and Government of the Republic of Indonesia 2004, including by providing a mechanism to address all issues pertaining to all migrant workers in a comprehensive manner," read the statement.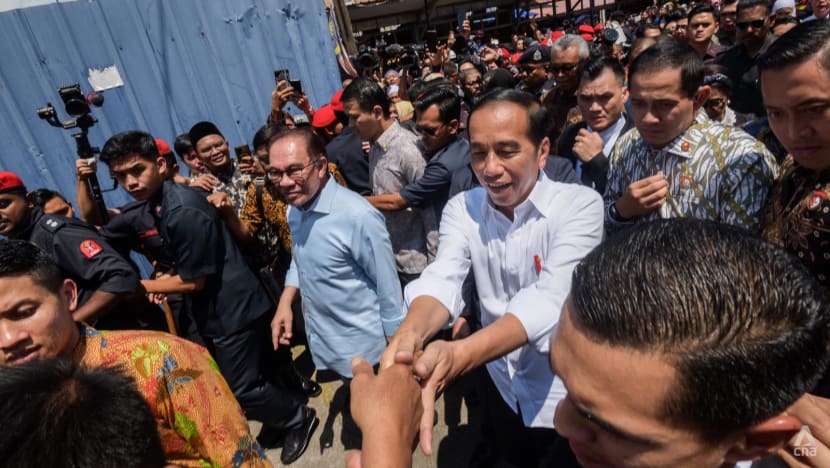 Indonesia and Malaysia also signed six bilateral instruments relating to border crossings, trade, cooperation in investment promotions, mutual recognition of halal certification for domestic products, as well as two treaties relating to the delimitation of territorial seas. 
The territorial seas treaties involved the Sulawesi Sea and the southernmost part of the Straits of Melaka, something which was also appreciated by Mr Widodo. 
"The process of negotiations has taken 18 years to be solved," he said during the press conference.
Mr Anwar had said during the press conference that he did not consider Mr Widodo's visit as a normal working visit because he considered the Indonesian president as a good friend. 
"The cooperation between both countries is something to be proud of and will be beneficial to not only the governments and administrators, but also the people," he said.
At the press conference, Mr Widodo also called on both countries to work together to fight against the "discrimination" against the two nations' palm oil products.
 "We need to strengthen this collaboration. We don't want commodities produced by Malaysia and Indonesia to be discriminated against in other countries," said the Indonesian president in reference to a law passed in the European Union (EU) that seeks to ban the import of commodities linked to deforestation. 
Mr Anwar also praised Mr Widodo for including a visit to the Chow Kit market to meet members of the public.
After the press conference on Thursday, Mr Widodo and Mr Anwar visited the market in the heart of Kuala Lumpur, where they had a walkabout.
Mr Widodo spoke and took selfies with Indonesian migrants working there, with some of them even singing the Indonesian national anthem.
The leaders then had a meal at a cafe.
Mr Jokowi is also scheduled to have an afternoon tea session with Malaysian King Al-Sultan Abdullah Ri'ayatuddin Al-Mustafa Billah Shah at Istana Negara later.
In 2022, Indonesia was Malaysia's sixth largest trading partner with total trade of RM130.14 billion (US$29.55 billion), an increase of 36.5 per cent compared with RM95.31 billion in 2021.