New Indonesia capital will benefit Borneo states: Malaysia PM Anwar during first overseas official visit
Mr Anwar Ibrahim arrived in Indonesia on Sunday for a two-day official visit.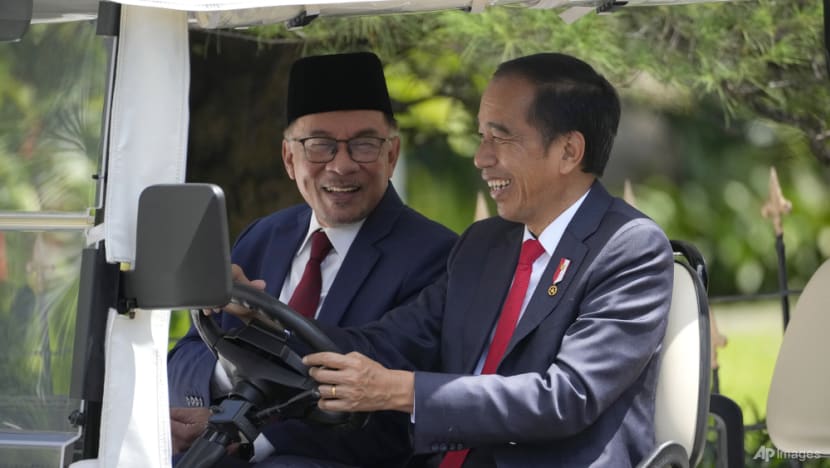 BOGOR: The development of Indonesia's new planned capital Nusantara in eastern Kalimantan will benefit Malaysia's Borneo states, Sabah and Sarawak, said Malaysian Prime Minister Anwar Ibrahim on Monday (Jan 9).
Speaking at a press conference on the second day of his official visit to Indonesia, Mr Anwar said that Malaysia plans to take a more positive and aggressive effort in the development of Nusantara.
Mr Anwar met Indonesia's President Joko Widodo at the presidential palace in Bogor, West Java during his first official overseas visit since assuming office in November. 
The two leaders witnessed the handing over of 11 letters of intent (LOI) from Malaysia to Indonesia on its participation in the development of Nusantara. The LOIs were signed by 10 Malaysian companies.
According to Mr Anwar, Malaysia is keen on the development of Nusantara because it has interests in it, given the new capital's regional economic importance and proximity to the two Borneo states.
"We take a positive approach to find a way so that the growth of the archipelago nation's capital will also benefit the region which includes Sarawak and Sabah," said Mr Anwar. 
Mr Widodo welcomed the interest shown by Malaysian investors in developing Indonesia's new capital.  
"Eleven letters of intent have been signed by the Malaysian private sector and handed over to the New Capital Authority involving areas such as electronics, health, waste management, construction and property," said the president who is popularly known as Jokowi.
The first phase of the development of Nusantara involves the construction of the presidential palace, a few government ministries and basic infrastructures such as roads and housing.
The phase is scheduled for completion by 2024 while the final phase of Nusantara's development is targeted to be completed by the country's centennial in 2045.
During the meeting on Monday, the two leaders also discussed long-outstanding bilateral issues such as the protection of Indonesian migrant workers in Malaysia, land demarcation and maritime border issues as well as the two countries' position on the discrimination against palm oil by the European Union. 
Mr Widodo and Mr Anwar also agreed to continue working together in strengthening the Association of Southeast Asian Nations (ASEAN) of which Indonesia is this year's chair. 
"We agree that ASEAN should be able to play a central role in making the Indo-Pacific region peaceful, prosperous and stable," said Jokowi.
He also said that both Indonesia and Malaysia share the same view on the importance of implementing the Five-Point Consensus to end violence in Myanmar. 
The consensus was adopted in Jakarta in April 2021 following the military coup in Myanmar in February 2021. 
"We agreed to urge the Myanmar military junta to implement the Five-Point Consensus," said Jokowi on his agreement with Mr Anwar on the Myanmar issue.   
Mr Anwar arrived in Jakarta for his two-day visit to Indonesia on Sunday afternoon, where he also witnessed the signing of several memorandums of understanding (MOU).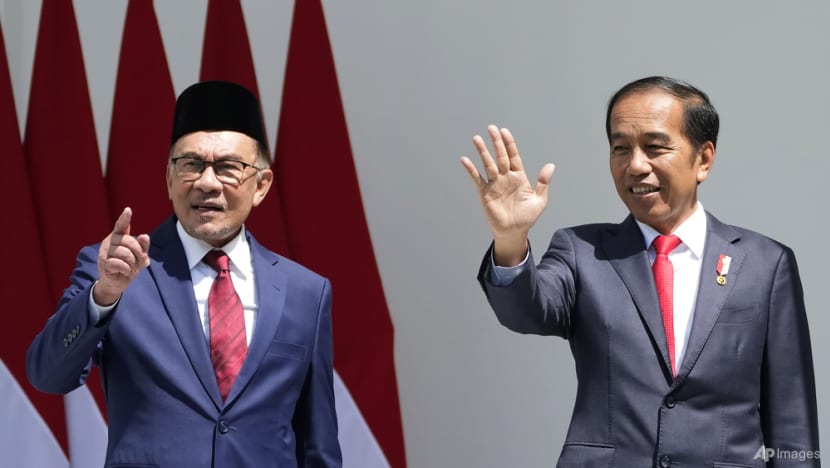 During the Monday press conference, Mr Anwar also took the opportunity to express to the Indonesian host about Indonesia's special place in his heart. 
"This is not an ordinary diplomatic relationship. I am a bit sentimental, and Mr President knows that Indonesia has a special place in my heart," said Mr Anwar while looking at Jokowi.
He explained that it is personal.
"During the time when I was having a hard time, living in a state of flux, and suffering, Indonesia welcomed me as a true friend," he said referring to the period when he was ousted from the government and even jailed. 
"I am very moved, I made a decision that I felt was appropriate by choosing Indonesia as the first country I am visiting," said Mr Anwar at the close of his joint statement with Mr Widodo.  
Mr Anwar is scheduled to give a public lecture later on Monday afternoon before returning to Malaysia in the evening.