KUALA LUMPUR: The Johor Bahru-Singapore Rapid Transit System (RTS) Link is on track to commence commercial operations in January 2027 despite facing two minor setbacks, said Mass Rapid Transit Corp (MRT Corp), the developer and owner of the civil infrastructure for the Malaysian section of the rail project.
MRT Corp chief executive officer Mohd Zarif Hashim, who was speaking during a media conference on Tuesday (Nov 16), outlined that construction of the Bukit Chagar station in Johor Bahru is "still pending" to facilitate the relocation of water pipes within the station's vicinity to a new location. 
He said some of these water pipes are linked to Singapore.
"So we've got to do two things. First we have to relocate some of the water pipes away from Bukit Chagar to a new location. Secondly we have to also protect the pipes that have to remain in Bukit Chagar," said Mr Mohd Zarif. 
"These are the issues we have to handle first before we can start construction in a big way," he added. 
Mr Mohd Zarif said that construction of the RTS Link Project Maintenance Depot in Wadi Hana has also been disrupted by one household that is refusing to move out of the area. 
"If we are allowed to go in, the construction of the depot can be very quick. It's not something that we need to worry (about) at this point of time. We will leave it in the hands of authorities in Johor Bahru to handle this issue," said Mr Mohd Zarif, according to an audio recording of the press conference. 
"I was told that they are trying to find an amicable solution to this issue by the end of the year. That is still a good time frame," he added. 
Mr Mohd Zarif stressed that in spite of the setbacks, there will be no overall delays to the time frame of completion for both the Bukit Chagar station and the Wadi Hana depot.  
"The RTS will start operations in January 2027. That means that we need to get everything ready on our side by Dec 31, 2026. That is the date that we are still committed to deliver," he added. 
Mr Mohd Zarif added that MRT Corp has completed utility mapping and some advanced work at the main site of Bukit Chagar station. 
MRT Corp's comments came after the Facebook page of a Johor community group Southern Vengers published a photo post questioning the construction progress for the Bukit Chagar Station.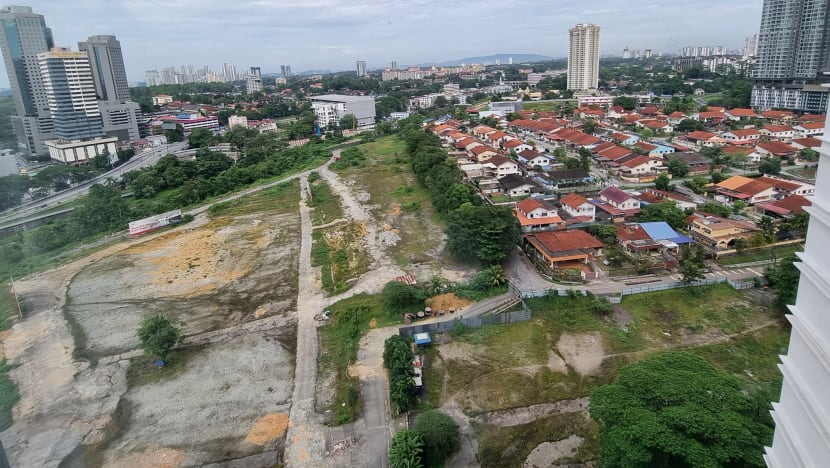 Netizens asked why the construction site was seemingly bare despite the groundbreaking ceremony being held almost a year ago.  
The RTS Link aims to connect Bukit Chagar in Johor Bahru to Woodlands in Singapore, serving about 10,000 passengers per hour each way to help ease traffic congestion on the Causeway. 
RTS Link tunnels will be connected to a viaduct running 25m above the Straits of Johor, connecting the Woodlands North station in Singapore to the Bukit Chagar station in Johor Bahru.
The Bukit Chagar station will feature a four-storey building, encompassing the train platform and an immigration, customs and quarantine complex (CIQ).
It will be part of a transit-oriented development with an adjoining transport hub and mixed property development.
The project had originally been scheduled for completion in 2024, with the Malaysia and Singapore governments signing a bilateral agreement to build the link in 2018. 
However the project was suspended a number of times after the Pakatan Harapan government came to power in Malaysia. 
The project officially resumed in July last year, with a bilateral ceremony to mark the occasion held on the Causeway. Singapore Prime Minister Lee Hsien Loong and his then-Malaysian counterpart Muhyiddin Yassin were both in attendance. 
The project is estimated to cost RM10 billion (S$3.25 billion), with Singapore bearing 61 per cent of the cost.