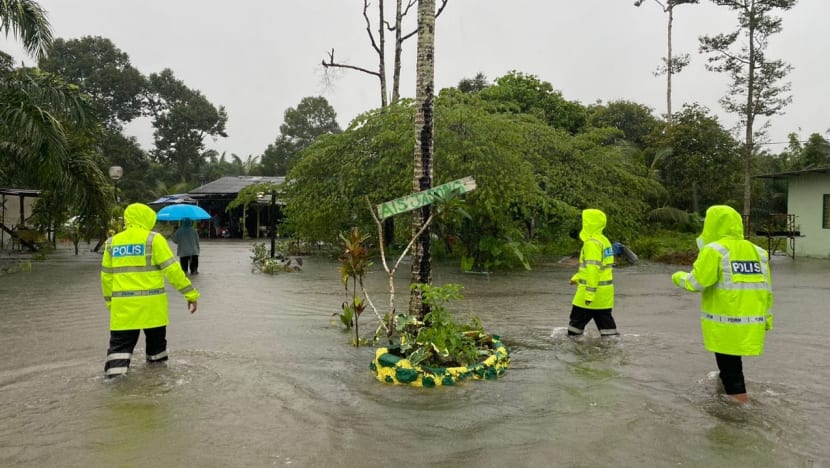 JOHOR BAHRU: Close to 4,000 flood victims have been housed in temporary relief centres across Johor on Wednesday (Jan 25) as heavy rain continues to batter parts of the state. 
According to Malaysia's National Disaster Management Agency (NADMA), Johor has recorded 3,937 flood victims as of noon on Wednesday.
This is an increase from the 2,912 flood victims recorded by the agency 12 hours prior. 
Bernama reported that the state disaster management committee said there are now 41 relief centres across five districts in operation in Johor. The five districts are Kota Tinggi, Kluang, Mersing, Segamat and Batu Pahat. 
It added that Segamat is the worst-affected district affected by flooding, with 1,417 people housed in 16 relief centres. 
The Malaysian Meteorological Department (MetMalaysia) forecasted on Wednesday morning that continuous heavy rain is expected in Johor for the day.
The department has issued a warning for extreme heavy rain in the districts of Segamat, Kluang, Mersing, Kulai, Kota Tinggi and Johor Bahru, while heavy rain is anticipated in the districts of Tangkak, Muar, Batu Pahat and Pontian. 
Last month, Malaysian Deputy Prime Minister Ahmad Zahid Hamidi, who is the Central Disaster Management Committee chairman, called for immediate long-term measures to resolve the country's flood problem, including holistic flood mitigation projects. 
Ahmad Zahid said that such flood management efforts, when completed, could ensure good long-term flood management until 2100.
Floods are an annual phenomenon in Malaysia due to the northeast monsoon that brings heavy rain from November to March.
Listen: Will the deadly Batang Kali landslide hurt Malaysia's outdoor tourism industry