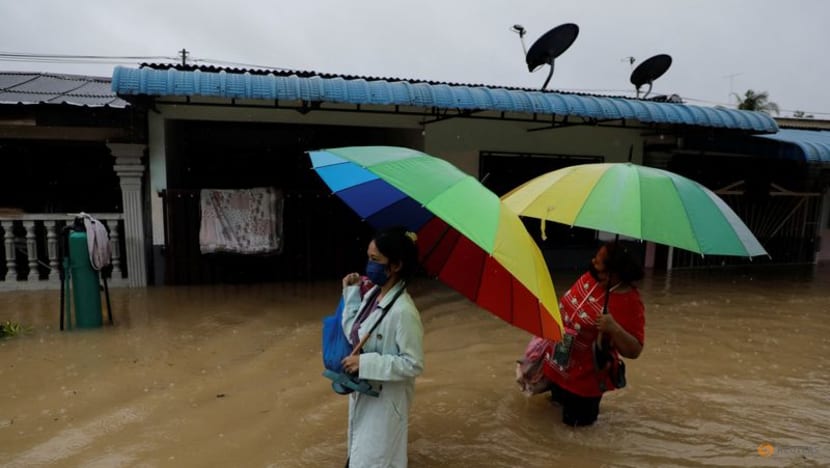 SEGAMAT, Johor: After visiting a flood relief centre in Malaysia's worst-hit state, Malaysian Prime Minister Anwar Ibrahim said on Sunday (Mar 5) that flood mitigation projects, especially in Johor, will be expedited and need to start from June.
The tendering process for the projects needs to be done as soon as possible, as the floods are a recurring problem, he said.
"If we don't do anything serious to address this (flood) issue, it will happen again. This is not the first time, and it has been going on for years and sometimes twice a year," he told reporters.
"As such, we decided that expensive flood mitigation projects worth RM600 million (US$134 million) and more will be expedited."
Mr Anwar said the postponement of six flood mitigation projects before this was to avoid leakages in allocations to assist the people.
Even as thousands take shelter in relief centres, Mr Anwar maintained his government's stance on not declaring a disaster emergency in Johor.
"The government's decision to not declare a state of emergency is because rain has started to taper off and floodwaters have begun to recede in several places," he said.
"Although there are also some places where the floodwaters remain stagnant, there is no need for a (disaster) emergency (to be declared) for now," he told reporters after visiting a relief centre at Sekolah Jenis Kebangsaan (Cina) Kampung Tengah.
A Cabinet meeting on Friday had decided that there was no need for a flood emergency to be declared in Johor.
RISING EVACUEE NUMBERS
The number of flood victims in relief centres in Johor, Pahang and Melaka continued to rise, while two other states showed a drop as of 2pm on Sunday.
About 13,000 families had been evacuated to 260 relief centres in 10 districts, as the southern state, reeling from several days of severe heavy rain, also recorded the highest rainfall in four days since 1991. 
In neighbouring state Pahang, more than 3,000 people have been evacuated while Melaka, Selangor and Negeri Sembilan registered more than 1,000 evacuees.
Police said at least four people have died since Wednesday, including a man whose car was swept away by floodwaters and an elderly couple who drowned.
The Health Ministry said on Sunday that it would monitor cases of waterborne diseases after the floods, especially leptospirosis and food poisoning.