More immigration officers deployed to Johor, KL to reduce congestion at Malaysia's key entry points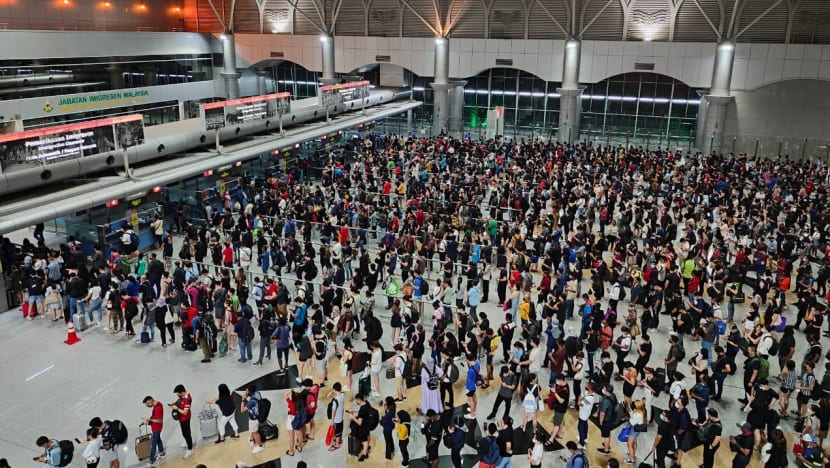 PORT DICKSON, Negeri Sembilan: Malaysia's Immigration Department will station more officers at key entry points into the country in Johor and Kuala Lumpur to reduce congestion in those locations.
According to Bernama, Home Minister Saifuddin Nasution Ismail said on Sunday (May 21) that 100 officers will be stationed at strategic locations in Johor, including the Sultan Iskandar Building at the Causeway and the Sultan Abu Bakar Complex at the Second Link. 
Another 100 officers will be assigned to the Kuala Lumpur International Airport (KLIA) 1 and 2 from Monday, he added. 
"We will assign them to those locations as there were shortages previously in terms of assignment. 
"We believe that besides the quick response team (which) we established ad-hoc previously, I'm optimistic (that these new) assignments will solve the issue of congestion at entry points," Mr Saifuddin told reporters at the Malaysian Immigration Academy in Port Dickson. 
Meanwhile, 22 officers will be assigned to the Putrajaya Security and Passport Division, the Malaysian Immigration Academy and the Kuala Lumpur, Putrajaya, Selangor and Sarawak Immigration Departments, according to Bernama. 
All 222 officers reportedly finished their training on Sunday. 
Mr Saifuddin said that Malaysia has 140 entry points and that the locations chosen were prioritised as the government is "determined to reduce congestion at strategic entry points". 
Last month, Johor Chief Minister Onn Hafiz Ghazi told CNA that resolving manpower issues at the Causeway remains a key objective for the Johor state government in improving connectivity in the short term between Singapore and Malaysia. 
He added that the efficiency level of immigration facilities on the Malaysian side of the Causeway must be raised to 100 per cent in order to alleviate congestion at the land border. 
"On the Johor side (of the Causeway), we have to make sure that our facilities are working at 100 per cent efficiency," said Mr Onn Hafiz on Apr 19. 
"I just felt that we are not there yet. We are only working at 80 per cent at the moment. So there are some issues that need to be resolved in terms of human resources and technical (matters)." 
He added: "So it's a work in progress. (The congestion problem) has been around for decades. But I believe with the short-term measures being taken now I think we should be able to operate at 100 per cent this year."
The Causeway is considered one of the busiest land checkpoints in the world. Around 200,000 travellers commute across each day, many of whom are Malaysians who work in Singapore. 
During peak travel periods, some travellers have reported being stuck for between five and six hours in congestion.