Pufferfish often thrown back to sea when caught, says Johor fisheries department official
An elderly couple recently died after consuming pufferfish, triggering concerns about the sale of the fish.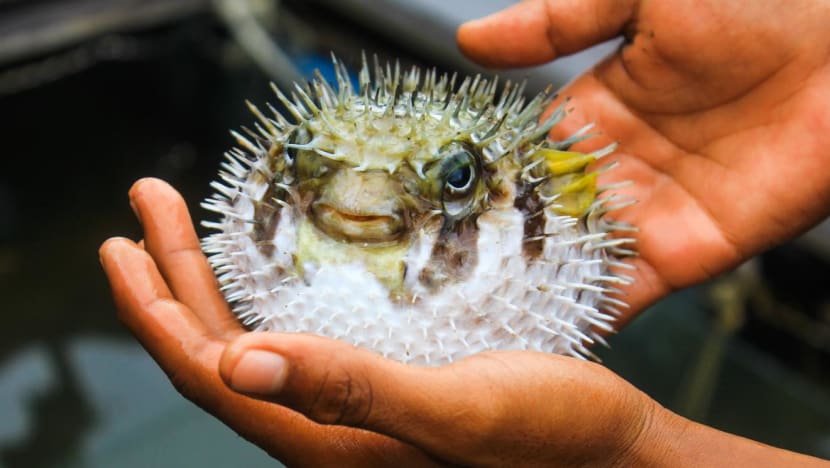 JOHOR BAHRU: Following news that an elderly couple in Johor had died after consuming pufferfish, an official from the state's fisheries department said the fish is often thrown back out to sea by fishermen when caught.
"Local fishermen will throw it back into the sea if the fish is caught in their nets, especially if it is dead – it has no value," Johor Fisheries Department director Zainudin Abdul Wahab was quoted as saying by The Star on Tuesday (Apr 11).
He added that the Johor Fisheries Department has been taking proactive steps to create awareness among members of the public on the dangers of eating pufferfish.
Apart from using social media platforms to reach out to the public, the department's officers are also meeting up with fishermen to discuss the matter, The Star reported.
The issue of consuming pufferfish came to the fore recently following the deaths of an elderly couple who ate the fish. They had bought the fish from an online seller on Facebook, according to state news agency Bernama.
It reported that the 84-year-old man, who suffered food poisoning after eating the fish, died on Apr 8. His wife, 83, died two weeks earlier on Mar 25.
Johor Health and Unity Committee chairman Ling Tian Soon was reported by Bernama as saying that the Johor State Health Department had already taken action when a report on the first case was received. It had identified the suppliers, wholesalers and sellers involved in the pufferfish transaction.
Bernama also reported that Malaysia's fisheries department director-general Adnan Hussain advised the public to avoid eating pufferfish, because "almost all types of pufferfish contain toxins that can cause poisoning if not prepared or cooked correctly".
Malay Mail reported on Monday that the Johor State Health Department is waiting on the laboratory report on the pufferfish poisoning, with the result expected to be ready in about two to three weeks' time.
Mr Ling, the state's health and unity committee chairman, was reported as saying that the report is needed to complete the investigation paper before it is handed to the deputy public prosecutor's office for a decision on the next course of action.
"We are waiting for the report from the laboratory and we need to discuss with the Ministry of Health and universities on certain existing acts to determine whether there are sufficient grounds to charge the supplier," Mr Ling was quoted as saying by Malay Mail.
Mr Zainudin, the Johor Fisheries Department director, noted meanwhile that pufferfish is kept by some in aquariums as ornamental fish.
"People can buy pufferfish at shops selling ornamental fish. However, the sellers must have a licence to sell such a poisonous fish," he told The Star.