Weather, labour shortage affect fish supply in Malaysia, say industry players as prices go up
Prices have increased by 10 to 30 per cent in Malaysia, according to a fish industry association.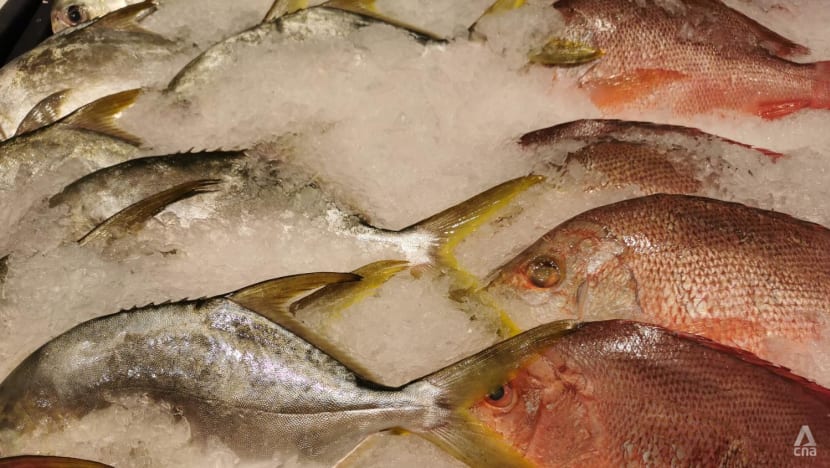 KUALA LUMPUR: The recent increase in the prices of fish in Malaysia is inevitable due to issues plaguing the supply chain, according to industry players. 
These issues included unpredictable weather conditions and shortage of foreign workers, they said.
Chairman for the National Fishermen Association (NEKMAT) Abdul Hamid Bahari told CNA in a phone interview that the weather over the last few months have been unpredictable, especially in the northern part of Peninsular Malaysia. 
"The weather recently can be extreme. One moment it's hot and warm and the next, it's stormy with strong winds. 
"Boats cannot operate and hence the fish catch has been low," said Mr Abdul Hamid, who is also director for the Kuala Kedah fishermen association. 
"Also, we are still coming out of the COVID-19 pandemic and hence we don't have enough foreign workers to help fishermen with the workload," he said. 
Fish Industry General Association president Chia Tian Hee added that many fishermen were not willing to risk their fishing vessels in unpredictable weather.
He said it was extremely dangerous for smaller fishing vessels to be caught out in the open as storms could suddenly form without warning. Some boats might not be able to head back to the shore in time, he added. 
"At least six boats that I know of sank at the start of May - four boats from Tanjung Karang, another two from Sekinchan - due to large waves," Mr Chia recounted. The fishermen were rescued by nearby ships, he added.  
Mr Abdul Hamid added that these supply issues affected many fishermen across Malaysia, which led to an increase in prices of fish in the market. 
"Fish prices will definitely rise. It's inevitable because demand remains high but these supply issues persist," he said. 
These views were also echoed by Mr Chia, who said that the labour shortage since 2020 when Malaysia implemented its first movement control order (MCO) had affected the supply of foreign labour and the ability of fishing ships to head out to sea.
He said their cold storages, used to stock frozen catch, were full or near full when the MCO started, but stocks began to deplete in the later half of 2020. 
"Now you have bad weather and the cold storages are running low on frozen stocks, so prices are going up," Mr Chia explained. 
STRONG DEMAND, DECREASED SUPPLY 
NEKMAT's Mr Abdul Hamid said local fishermen have noted a decline in fishes sighted off the seas, especially in the northern part of Peninsular Malaysia. 
"We are not sure how much the precise shortage is, but we can safely say that it's between 20 and 30 per cent," he told CNA.
Chairman of the Fisheries Development Authority of Malaysia (LKIM) Syed Abu Hussin Hafiz Syed Abu Fasal told CNA that there has indeed been a decrease of about 15 per cent in fish landings in recent months.
He cited figures from LKIM that showed that previously, fish landings were about 4,000 metric tonnes a day but over the last seven days, landings were only at 3,250 metric tonnes.
As a result of the shortage, market price for fish would then "naturally increase", he added. 
"Due to the festive season, and the recent public holidays including Hari Raya Aidilfitri, Labour Day and Wesak Day, the demand for fish has been particularly high," he said
"There has also been extreme weather, with strong winds making it difficult for fishermen to fish," said Mr Syed Abu Hussin.
PRICE INCREASE BY 10% to 30% 
Mr Chia told CNA that overall, prices have risen from 10 to 30 per cent for different catches, from ikan kembung (mackerel) to squid. 
"This varies from place to place, but what I can see in my own town (Sekinchan), that's how much prices have increased because of the unpredictability," he explained. 
When CNA visited Pandan Market in Johor Bahru on Monday (May 30), a fishmonger who wanted to be known only as Mr Lim said that the prices of fish have on average risen by around RM5 (US$1.14) per kg over the last couple of weeks. 
For instance, he said, the price for torpedo scad has increased from RM8 to RM11 per kg while the price for mackerel has increased from RM15 to RM20 per kg.  
He said that most of these fishes are brought from northern and northeastern areas of Peninsular Malaysia like Kedah and Kelantan. 
"Despite the increase in price, the fish also sell out much faster. By early morning, most of the popular varieties like mackerel have sold out," said Mr Lim, adding that this was due to high demand and lower supply.
Meanwhile, a manager for fish wholesale company To Key Fresh Fish, which operates in Penang, told CNA that the prices for fish have increased recently due to harsh weather conditions. 
The manager, who declined to be named, said the company buys seafood from freelance fishermen and sells them online. 
"Recently, due to disruptions in the supply chain, there has been an increase in demand for our fish as well. The markets in Penang are mostly sold out and we are able to provide for this gap," said the manager. 
To resolve the supply issue, Fish Industry General Association's Mr Chia highlighted that the fishing industry should form a working group or liaison committee with the government to monitor the level of frozen fish stocks in cold storages to ensure constant and sufficient supply. 
"Since the labour shortage is getting back to normal, we should be able to start filling up the cold storages again after the southwest monsoon season passes," he said, adding that the supply problems should ease when that happens.
NEKMAT's Mr Abdul Hamid told CNA he hoped the government would consider increasing diesel subsidies for fishermen.
The price for diesel has been capped at RM2.15 per litre since February 2021, and fishermen buy subsidised diesel at RM1.65 per litre from the government, with a monthly quota depending on the boat size.  
"(Increased subsidy) reduces the costs of going out to fish and will be a good incentive for fishermen to go out and make money. 
"If the price for diesel continues to increase and there's no added subsidy, fishermen would soon be working at a loss," he added.