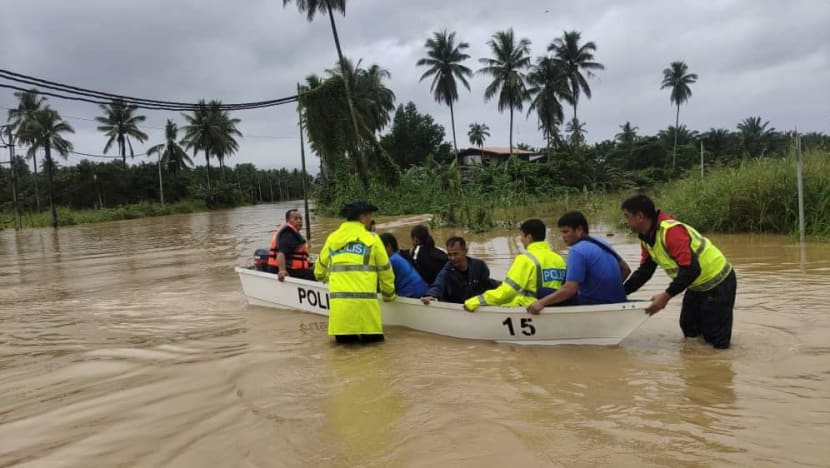 KUALA LUMPUR: More than 5,500 and close to 6,500 flood evacuees have had to flee their homes in Johor and Sabah respectively amid the northeast monsoon which has brought continuous heavy rain to several Malaysian states.
As of 12pm on Thursday (Jan 26), Malaysia's National Disaster Management Agency (NADMA) recorded 5,528 flood victims in Johor and 6,331 flood victims in Sabah. 
This is an increase from the 3,937 flood victims in Johor recorded by the agency 24 hours prior. 
Bernama reported that 55 relief centres have been opened in Johor as of 8am on Thursday to house the flood evacuees. Segamat was the most affected district in Johor, followed by Kluang and Mersing, according to the state disaster management committee on Wednesday.
Meanwhile, Sabah has seen more than 6,000 new flood evacuees in just a day.
According to Bernama, 26 flood relief centres were opened as of 8am on Thursday. The districts which recorded a sudden increase of evacuees on Wednesday include Kota Marudu, Kudat and Paitan.
The Malaysian Meteorological Department (MetMalaysia) warned on Wednesday that rainfall is expected to last in several parts of the country, including the Borneo states, until next Monday.
Last month, Malaysian Deputy Prime Minister Ahmad Zahid Hamidi, who is the Central Disaster Management Committee chairman, called for immediate long-term measures to resolve the country's flood problem, including holistic flood mitigation projects. 
Ahmad Zahid said that such flood management efforts, when completed, could ensure good long-term flood management until 2100.
Floods are an annual phenomenon in Malaysia due to the northeast monsoon that brings heavy rain from November to March.