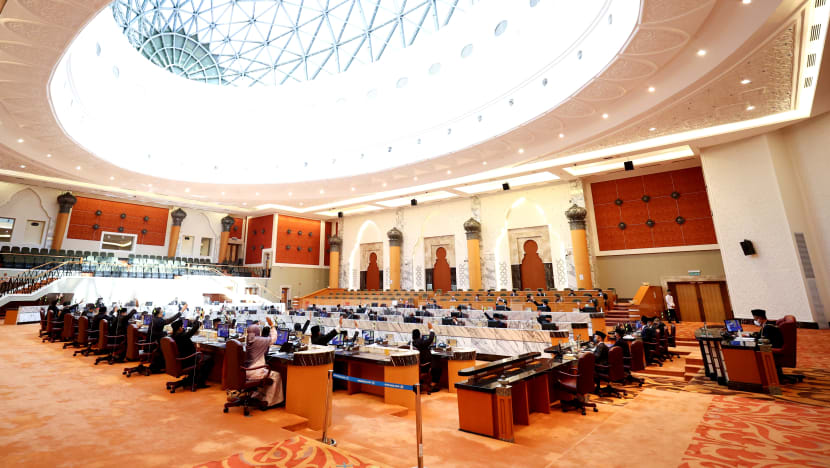 ISKANDAR PUTERI, Johor: The Johor state assembly has passed a Bill to lower the eligible age for election candidates contesting state seats from 21 to 18. 
The amendment to Article 16 of the Johor State Constitution (Amendment) Enactment 2021 was tabled by Chief Minister Hasni Mohammad on Thursday (Jan 6).
It was approved unanimously by all assemblymen after a third reading.
In a statement after the Bill was passed, Mr Hasni said that the amendment was one of the various youth empowerment initiatives by the Johor state government.
"I am of the opinion that the youth empowerment efforts should not only be focused on democratisation, but should be more holistic and inclusive, encompassing economic, intellectual and voluntary empowerment in an organised and continuous manner," he wrote. 
The decision to lower the minimum age was agreed upon at the 137th Chief Minister's Meeting chaired by Prime Minister Ismail Sabri Yaakob in November.
During the meeting, a decision was made to allow individuals aged 18 to become candidates in the general election, state elections and by-elections.
Before Johor, several states had amended their respective state constitutions to allow for this provision. These include Sabah, Perlis, Terengganu, Sarawak, Kelantan, Perak, Penang and Kedah. 
In July 2019, the federal parliament approved a Bill to lower the voting age from 21 to 18. 
Last September, Mr Ismail Sabri included "Undi 18", the constitutional amendment allowing 18-year-olds to vote and stand for elections in the near future, as part of his offer to implement a number of parliamentary and government administration transformations after he came to power. 
Undi 18 later became a component of the Memorandum of Understanding (MOU) signed between the federal government and main opposition bloc Pakatan Harapan (PH) to establish bipartisan cooperation for the sake of political stability.  
In December, the Election Commission's secretary Ikmalrudin Ishak reportedly said that Undi 18 amendments were gazetted on Dec 1 after receiving royal assent from King Al-Sultan Abdullah Ri'ayatuddin Al-Mustafa Billah Shah.
He added that the implementation of lowering the voting age to 18 and automatic voter registration would take effect from Dec 15.