Renovation demand in Malaysia's Klang Valley rises as COVID-19 curbs ease, but contractors face labour and supply issues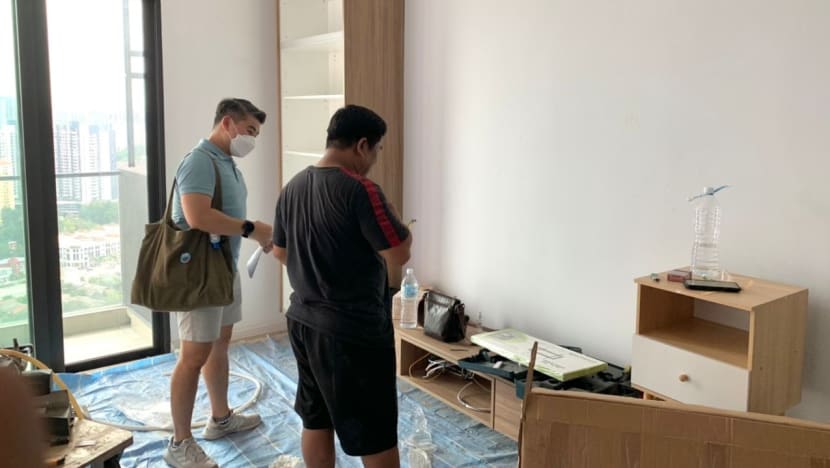 KUALA LUMPUR: It is a busy period for construction contractor Edward Tan as he has to monitor two major renovation jobs he is carrying out for his clients.
At the same time, he is also juggling a number of smaller repair and maintenance jobs to keep his business's cash flow moving.
"Usually, the fourth quarter of the year is the busiest, because everyone wants to get their house renovated before the Chinese New Year, no matter whether they're Chinese or otherwise," he said. 
Being busy now is a good situation following months of COVID-19 lockdown in Malaysia, Tan said. 
Previously, he would have about six requests a year from potential clients to carry out major renovations on their properties. 
"Such work would mean demolishing and building new extensions, totally new layouts, rewiring and laying out new plumbing for the property," the contractor of Cornerstone Pro Enterprise Sdn Bhd explained. 
When varying degrees of lockdowns were enforced due to the pandemic, he was unsure if the standard operating procedures permitted his team to work, even for critical repairs at clients' houses.
With the gradual lifting of curbs as Malaysia shifts towards an endemic COVID-19, more economic activities are now permitted across the country. 
In the first week of August, Senior Minister for Works Fadillah Yusof announced that registered contractors with the Construction Industry Development Board could carry out house renovations in states under the first phase of the National Recovery Plan. 
They were required to apply for permits to work using the Ministry of International Trade and Industry's online application system. 
Contractors like Tan said they were inundated with many requests since then, as home owners have put their renovation projects on hold since the first lockdown in March last year.  
The prolonged stay-at-home period also made some house owners realise the need to upgrade their spaces as well as to make working from home more conducive. 
However, the contractors told CNA they did not dare to take on more projects than they can handle, due to a variety of factors from manpower to budgets and supplies. 
Tan said he has received more than six enquiries in the last four weeks. "It is a good problem to have, but at the same time, I dare not over-commit to too many projects, otherwise the project quality or the workmanship suffers," he said.
MORE REQUESTS THAN USUAL
Likewise, Scott Leong, who has been running his one-stop design and build renovation service for over three years, said after the most recent lockdown was lifted at the end of July, he had to rush to start work on jobs which had been backlogged since the beginning of the year. 
"Right now, I have to handle about seven minor renovation projects simultaneously, all in condominium units, and there are more requests coming in," he said. 
Electrical contractor Lim Chui Leng, who has been working as an electrician for over 20 years and now runs his own business, said job requests were still coming in. 
He recalled how his business was affected by the first movement control order (MCO) and the subsequent lockdowns. 
"Last year was harder, because I still needed to pay my workers but no movement was allowed. Luckily I had earned enough from some big jobs before March, so that helped."
From May to July this year, he went to work at a friend's vegetable farm in Pahang.
"He needed manpower, and this way, I could still afford to pay my workers," he said.
One reason for the jump in requests, according to Tan, was the fact that people have been cooped up at home due to the lockdowns and started paying more attention to areas that need fixing.
"Before the lockdowns and COVID-19, for a lot of us, home was just a place we came back to bathe and sleep in," he said.
"But now that you are at home 24/7, you start to notice all the little problems, maybe leaks or cracks and other repairs which you cannot ignore now." 
HOME OFFICE REQUIREMENTS
Others might want to renovate their homes to be more conducive for both working and living, Tan added.
Such was the case for Rachel Liu, who made sure she factored in workspaces when designing the new house she bought with her siblings at the beginning of this year. 
"This is something we learnt from the 2020 lockdown. Each room has to have a comfortable workspace," she told CNA. 
Leong, the one-stop renovation service provider, said home office was one of the main topics brought up by prospective clients during design meetings.
"And they are willing to set aside a good budget because comfort and utility are a must if you are going to be spending your days working from home," he pointed out.
Before the pandemic, loose office furniture would have sufficed for most clients, he added.
"Now, I get asked to custom-build their study tables or work surfaces and cabinets," he said.
LABOUR SHORTAGE AND RISING MATERIAL COSTS
Despite the sudden rise in requests, the contractors said they were not taking up more projects than they could handle as they have to grapple with labour shortage and material costs. 
Lim said it has been difficult to source for certain materials. 
"Items like wiring and steel have gone up. Copper has increased by 40 per cent, but we cannot increase our prices too much, or the home owner might not even consider proceeding with the renovation at all," he said. 
Leong said that prices had risen by 30 per cent onwards for some materials due to high demand and import issues, the latter of which caused some items to be out of stock.
"It has become such that sometimes, you can't do proper quotations for the clients. 
"Usually quotes would be valid for two weeks or a month but now, it is like playing the share market. You do not know what the final price is, until you actually pay," he said. 
Labour shortage was another problem. 
"A lot of us in the industry are heavily reliant on foreign labour, and between last year and now, a lot of foreigners have gone back to their home countries because there was no work to be found," Tan said.
These have contributed to frustrations on some home owners' end. 
Teh Eng Hock said he had to wait for weeks before his contractor showed up to fix his leaking roof, a recurring problem since he renovated his house in late 2018 and early 2019. 
"This year, it was harder to get him to respond as most (of his) foreign workers have left to go home."
"He just came back to do the repairs. He couldn't get workers, so he came on his own," Teh, a public relations consultant, said.
Liu, a special needs educator, was glad that her new family home could finally be worked on this month after delays in getting the municipal approval for the renovation. They were also waiting for the high costs of materials to stabilise, while the contractor completed his other jobs. 
The house was around 50 years old so a major rework was needed, she said.  
"The prices look like they are coming down slightly now but my contractor warned me to prepare an extra 5 to 10 per cent of our budget, just in case," she added.