Interstate, international travel to resume once 90% of adults are vaccinated: Malaysia PM Ismail Sabri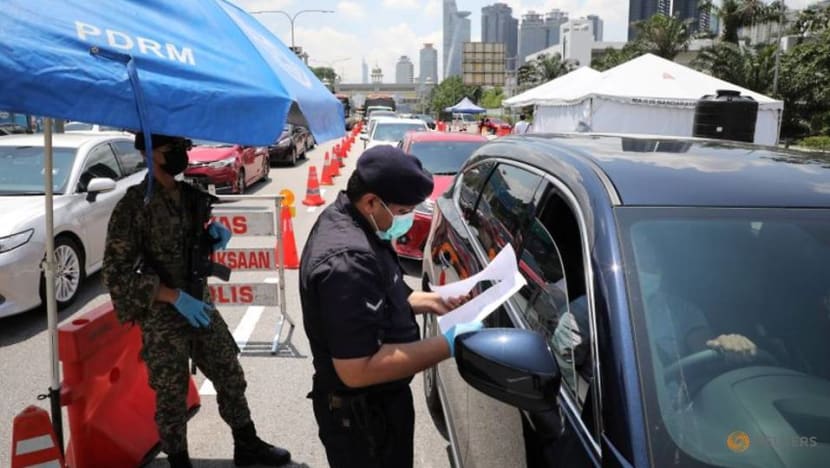 KUALA LUMPUR: When 90 per cent of the adult population in Malaysia have been fully vaccinated, interstate travel will resume and Malaysians will no longer be required to apply for the MyTravelPass scheme to travel overseas, said Prime Minister Ismail Sabri Yaakob.
Speaking during an exclusive interview with local reporters that was aired on national television on Sunday night (Oct 3), Mr Ismail Sabri stressed that once the 90 per cent figure was achieved, Malaysia would "open up almost completely".
"I believe the time for interstate travel is getting close, and I will immediately announce the resumption of interstate travel when the vaccination rate (for the adult population) reaches 90 per cent," said Mr Ismail Sabri.
"This is good news for all Malaysians," he added.
Mr Ismail Sabri highlighted that the resumption of interstate travel was key to boosting the ailing domestic tourism sector. He added that it would also allow Malaysians who have been separated from their loved ones in their respective hometowns to be reunited.
Mr Ismail Sabri outlined that once the 90 per cent figure is achieved, Malaysians will be free to travel overseas without having to apply for permission from immigration authorities via the MyTravelPass scheme.
The scheme was introduced to disallow Malaysians from travelling overseas for non-essential reasons such as tourism, so as to curb the spread of COVID-19. However, Malaysians who were studying overseas or travelling for business reasons could still exit the country and re-enter by applying through the MyTravelPass scheme.
"When the 90 per cent rate is achieved, we will allow our citizens to travel overseas without having to apply for MyTravel Pass. MyTravelPass will no longer be used," he added.
As of Saturday, 87.2 per cent of the adult population in Malaysia have received two doses of the COVID-19 vaccine, according to data provided by the Special Committee on COVID-19 Vaccine Supply. 
National Recovery Council chairman Muhyiddin Yassin has reportedly said that interstate travel is likely to resume by mid-October.
OPPOSITION NEEDED AS A CHECK AND BALANCE: ISMAIL SABRI 
During the interview, Mr Ismail Sabri was also asked to comment on collaboration between the government and the opposition.
In September, the Malaysian government had signed a Memorandum of Understanding (MOU) with opposition bloc Pakatan Harapan (PH) in a move to strengthen political stability amid the COVID-19 pandemic through bipartisan cooperation.  
Mr Ismail Sabri said that following that, his administration has also been working alongside the opposition on the 12th Malaysia Plan (12MP), as well as the upcoming 2022 national budget.
"With this understanding (between government and opposition), we can see there is a sense of calm. Even in parliament, debate is conducted professionally, and this is not like what we've seen before," he said.
"We respect one another, and like I've told the opposition once, this government needs the opposition as a check and balance on what the government is implementing, this is important too," Mr Ismail Sabri added.
He also expressed hope that bipartisan cooperation would be the new politics for the country, even after the COVID-19 pandemic ends.
"When the MOU was inked, there were some doubts from the people, because this has not been done before, it was historic for Malaysia," said Mr Ismail Sabri.
"But in other developed countries, we have seen this happening, both government and opposition working together to progress the country," he added.
"OUR SOVEREIGNTY WILL NOT BE COMPROMISED"
Mr Ismail Sabri was also asked to comment on national defence and sovereignty.
He explained that ensuring the safety of Malaysians was his priority and whatever plans the government had would not be implemented successfully if the country were in a state of chaos.
"The government has always prioritised national defence, even in the past, because our sovereignty cannot be compromised," said Mr Ismail Sabri.
He said that military has increased its presence at the borders, especially in Sabah and Sarawak, to ensure that illegal immigrants would not be able to enter.
Mr Ismail Sabri also touched on the South China Sea issue.
China claims much of the South China Sea, but there are also overlapping claims by Brunei, Malaysia, the Philippines, Taiwan, and Vietnam. 
Washington and its allies have also challenged Beijing's territorial claims. 
During the interview on Sunday, Mr Ismail Sabri said: "Malaysia will not compromise with any other country ... on the South China Sea issue.
"That has been stressed in our meetings with that country's representatives, with the ambassador and their foreign minister, that we will not compromise our national sovereignty," he added.
In April last year, Malaysia's then Minister of Foreign Affairs Hishammuddin Hussein called for calm in the South China Sea and reaffirmed Malaysia's commitment to peace in the disputed waters. 
This came after reports that a Chinese government survey ship was "tagging" an exploration vessel operated by Malaysia's state oil company Petronas in the South China Sea. 
In June, the Malaysian air force scrambled its jets to conduct a visual confirmation after it identified 16 Chinese military transport planes heading towards its national airspace
The Chinese embassy in Malaysia said that the planes were conducting routine flight training and that China was willing to continue bilateral friendly consultations with Malaysia to jointly maintain regional peace and stability.