While 3 Malaysian mothers succeed in getting citizenship for kids born abroad, many others are left waiting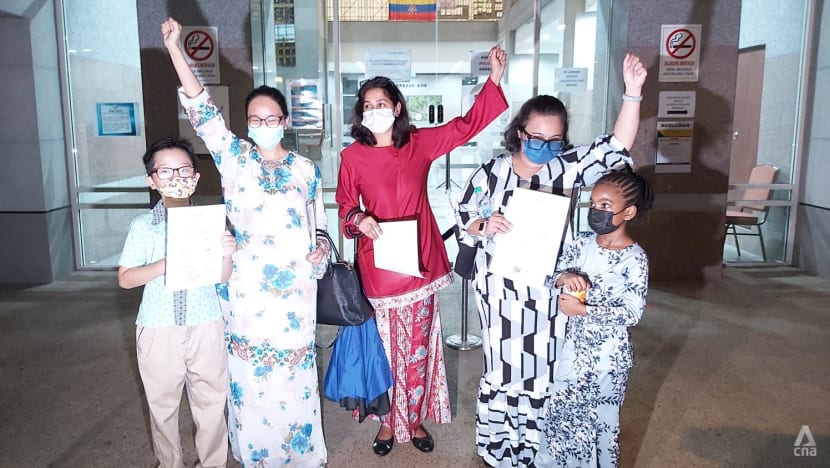 PUTRAJAYA: Oblivious to the attention surrounding them, two children play catch with one another at the lobby of the National Registration Department (NRD) in Malaysia's administrative capital Putrajaya on Monday (Feb 21).
While they were running around carefree, their mothers had their hearts in their mouths.
They had been waiting anxiously for their children's citizenship certificates, something they had been waiting for years.
Following a delay caused by a printer problem, the three mothers finally got hold of the precious documents at about 6.20pm. Their relief was palpable. 
"Today is a very meaningful day for me. This recognition is important for me and my family because it has changed everything," Mdm Adlyn Adam Teoh told the media, adding that it was a rollercoaster of a day.
For Mdm Teoh, 43, the four-hour wait on Monday was nothing compared to the 10-year wait she had to endure for her son to obtain Malaysian citizenship since he was born in Beijing in 2012.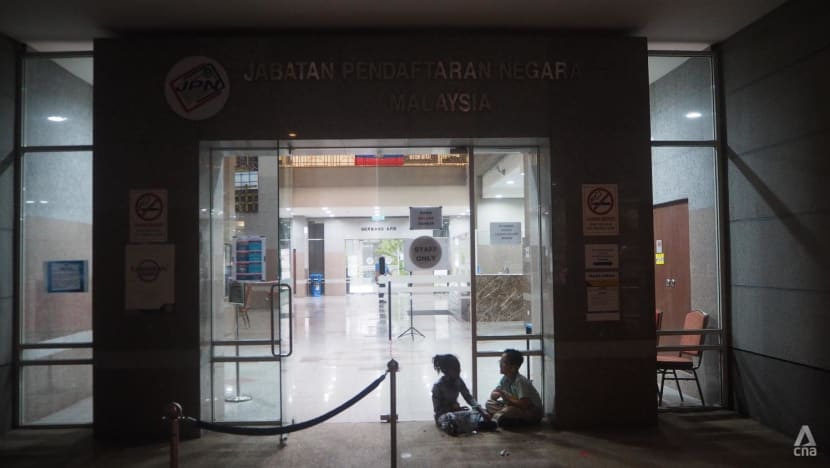 A Malaysian man can confer his citizenship automatically on children born abroad to a foreign spouse, but this is not the case for Malaysian women.
A Malaysian mother must apply for her child's citizenship, and continue to reapply if rejected.
With a High Court ruling last year that Malaysian mothers have equal rights to pass their citizenship to their overseas born children, these women finally saw a ray of hope. 
Mdm Myra Eliza Mohd Daniel, 31, was relieved that her daughter was finally acknowledged as a Malaysian.
"I am so happy because it has been so long since I made an application for citizenship. I had lost hope and thought that it was impossible. I still ask myself if it really happened," Mdm Myra Eliza told CNA. 
"WHY AM I NOT A MALAYSIAN LIKE MY BROTHER?"  
Children without Malaysian citizenship face many obstacles when it comes to schooling, access to government health services, and even the ability to cross borders and meet their families.
Mdm Teoh said that her son could not attend a national school as it has to wait for all spots to be filled by citizens before opening the remaining to others.
She had to send her son to an international school, which costs up to RM30,000 (US$7,146) per year in fees.
"I am not able to save much for my retirement," said the cybersecurity specialist who was originally from Kuching, Sarawak, but now resides in Petaling Jaya, Selangor. 
Mdm Myra Eliza, who also received the papers on Monday, gave birth to her daughter eight years ago in Zambia as she was not allowed to fly home due to her pregnancy. Her four-year-old boy is Malaysian.
She applied for Malaysian citizenship for her daughter when the latter was five months old in April 2014 and received a rejection in October 2016. She reapplied again in Feb 2017.
While her daughter has been able to study in a Malaysian school, Mdm Myra Eliza said that it is located about 25km away from their home.
She also has had to run around every year getting approvals for her daughter's student visa from the various authorities including the Immigration Department.
"It is a tedious process," she said. 
While Mdm Myra Eliza considers herself lucky that a national school accepted her daughter, she said the kid is left out of certain things, such as free dental check-ups at school, and is charged more for attractions like the zoo.
"She always asked me why she isn't Malaysian like her brother and why she has to go to the Immigration all the time," said Myra Eliza, who works in a bank.
Mdm Teoh's son has similar sentiments. "He is confused by his identity even though he has been living here since he was four," she said. 
LEGAL VICTORY BUT STRUGGLE IS NOT OVER
In December 2020, the Association of Family Support & Welfare Selangor & KL (Family Frontiers) and six Malaysian women filed a constitutional challenge with the Kuala Lumpur High Court. 
They sought a declaration that Malaysian women married to foreign spouses can automatically confer citizenship on their children who are born overseas.
On Sep 9 last year, the Kuala Lumpur High Court ruled in their favour, declaring that Malaysian mothers have equal rights as Malaysian fathers to automatically confer citizenship on their overseas born children.
The three mothers including Mdm Teoh submitted their documents to the NRD under the provision that Malaysian fathers would use on Dec 29 last year, following the Court of Appeal's dismissal of the government's stay of execution application on Dec 22.
The government has also appealed the High Court's landmark decision, and the Court of Appeal is set to hear the case next month. 
Home Affairs Minister Hamzah Zainuddin said in a parliamentary reply on Oct 26 last year that the NRD received 2,352 citizenship applications from Malaysian mothers between 2018 and Oct 11, 2021. 
A total of 21 children were granted citizenship, whereas 31 applications were rejected. 
This meant that only 0.89 per cent of the applications were approved. 
Family Frontiers president Suri Kempe said the latest development on Monday shows that it is possible for the government to implement the High Court judgment without further delay.
"As such, we strongly urge the government to immediately withdraw the appeal and let justice prevail so Malaysian mothers no longer have to suffer due to their children's unequal access to Malaysian citizenship," she said at the NRD on Monday.
Johor Sultan Ibrahim Iskandar last year also criticised the policy, saying that it was fundamentally flawed and that the government should withdraw the appeal against the court decision.  
"It doesn't feel right that Malaysian fathers and mothers are viewed differently in the eyes of the law concerning their child's citizenship. Are Malaysian mothers less Malaysian than Malaysian fathers?" he asked in a Facebook post in September.
Minister in the Prime Minister's Department Wan Junaidi Wan Jaafar was reported to have said on Nov 15 last year that the Cabinet agreed for the attorney-general to brief the Conference of Rulers regarding the issue.
Dr Wan Junaidi was reported by Malaysiakini as saying that for the proposed amendment to the Federal Constitution to become law, it would need the consent of the Conference of Rulers as well as at least two-thirds of votes in parliament.
He also promised to find time to table the proposed amendment in parliament this year.
"I want to implement or at least table it before or during the July session. As such, God willing, critical matters such as this relating to citizenship will be taken into account, and I'm confident MPs in this chamber will support the amendment because it is of public interest to the people of this country," he was quoted as saying.
MANY MOTHERS STILL WAITING 
While three mothers have received the citizenship certificates for their children, there are thousands of other mothers who are still facing challenges to get similar recognition for their children. 
Mdm Priscilla Collar, 36, is another mother who has applied for Malaysian citizenship for her two children - aged 10 and 12 - who were born in France.
She divorced the French father of her children and returned to Malaysia back in 2015.
Their applications for Malaysian citizenship were rejected in 2019, said Mdm Collar.
"If we go to the zoo, there is a different price for them. At the Immigration in the airport, I go through the Malaysian lane while they go through the lane for others," she said, adding that her children have French passports.
She said that her children are able to reside in the country under a student visa but when they were younger, they could only be in the country under a tourist visa and had to fly in and out to Singapore every 90 days. 
"I have spent a lot of money," she said, adding that she was once fined for her daughter's visa that lapsed a few days.
As she cannot enrol her children in a government school, she enrols them in an international school.   
She said her kids have to rely on a student visa until they reach 18 years of age for them to stay in Malaysia.
"After that, where do they go? They can't speak French but can speak Malay and English,"  said Mdm Collar who works in a hotel.
She reapplied for their citizenship on Dec 31 last year, but she is not hopeful of a positive outcome as she was not one of those who took the matter to court.
"When I asked them about the progress of the application, they just told me to be patient and to wait for six months," she said.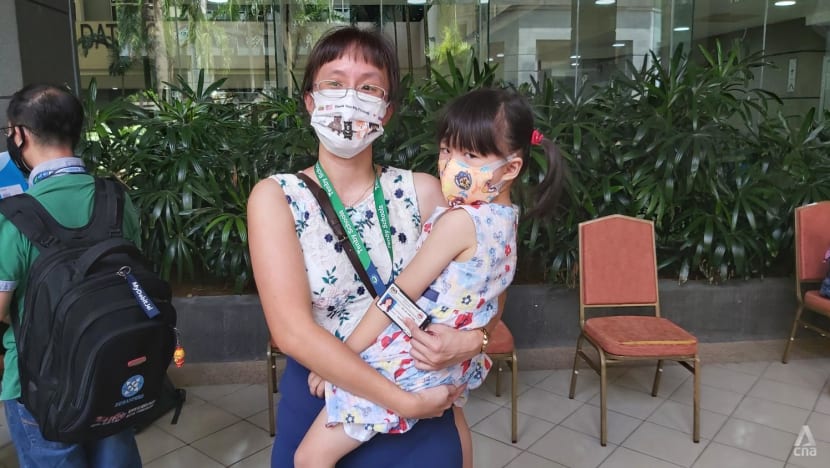 Dr Yap Chng Yung, 38, who married a Taiwanese man and subsequently gave birth to her daughter Sophia four years ago in Taiwan, returned to Malaysia last year.
She had wanted to return to Malaysia earlier in September 2020, but her daughter was not allowed to board the airplane at the Taiwan airport as she is not Malaysian, per COVID-19 border restrictions.    
Describing herself as "a Malaysian mother who served the country during the height of the pandemic", Dr Yap said that she applied for her daughter's citizenship in 2018 but has yet to receive a response on this.  
"It has always been my ambition to serve the country as a well-trained specialist and to raise my daughter here," said the dentist from Kajang.
She said that she is not deterred by the high workload at the government clinic, but she is discouraged by the fact that her daughter cannot be recognised as a Malaysian. 
She also has to find time to renew her social visa pass with the Immigration Department.
"The process is time consuming and laborious as I am a single parent here and working as a frontline medical worker," said Dr Yap. 
Dr Yap made another citizenship application for her daughter this month but like Mdm Collar, she is not keeping her hopes high.   
"I hope they (the government) drop the appeal. That would be the best thing to do. This is something that affects so many mothers, all of whom are Malaysians," she said.