Malaysia's National Recovery Council proposes to open borders to international visitors by Jan 1 next year
KUALA LUMPUR: Malaysia's National Recovery Council (NRC) has proposed to reopen the country's borders to foreign visitors latest by Jan 1, 2022 to accelerate the recovery of the tourism sector. 
NRC chairman Muhyiddin Yassin said in a media conference on Thursday (Nov 11) that Malaysia is ready to open its borders given its high COVID-19 vaccination rate.   
"Taking into account the good vaccination level of the country, today the NRC has decided that the country's borders should be opened to international visitors by Jan 1, 2022," he said.
He said the NRC had noted a very slow recovery of Malaysia's economy, especially in the tourism sector, due to the absence of foreign visitors to the country.
Malaysia closed all its international borders to foreign visitors since last year as the country was battling with rising number of COVID-19 cases.
Mr Muhyiddin said that tourism is one of the important economic sectors for Malaysia.
The border closure has resulted in Malaysia losing some RM90 billion (US$21 billion) in tourism receipts.
Mr Muhyiddin, who stepped down as prime minister in August this year, was appointed chairman of NRC in September.
Responding to a question, he said once the borders are opened, only visitors from countries that have managed to control the transmission of COVID-19 and have high vaccination rates will be allowed to enter Malaysia, according to Bernama. 
Malaysia has recorded more than 2.5 million COVID-19 cases since the start of the pandemic. Ninety-five per cent of Malaysia's adult population have been fully vaccinated so far. 
Last month, the government announced that Langkawi in Kedah will be opened to international tourists in a quarantine-free travel bubble beginning Nov 15. 
During his visit to Indonesia on Wednesday, Malaysian Prime Minister Ismail Sabri Yaakob said both countries have agreed to start a travel corridor arrangement (TCA).
Details of the plan were still being ironed out, he said. 
On Monday, Malaysia and Singapore announced that they have agreed to launch a vaccinated travel lane (VTL) between Changi Airport and Kuala Lumpur International Airport (KLIA) from Nov 29.
CONSIDER VTL FOR THOSE TRAVELLING BY CAUSEWAY: JOHOR CHIEF MINISTER 
On the VTL between Singapore and Malaysia, Johor Chief Minister Hasni Mohammad has urged the federal government to consider opening a similar VTL for those travelling by land at the Causeway.
The matter had been conveyed to the relevant ministry in Putrajaya to make it easier for Malaysians working in Singapore to commute, said Mr Hasni as reported by the Star.
Under the VTL, fully vaccinated travellers will be able to move between Singapore and Malaysia, and be subjected to COVID-19 tests in lieu of serving quarantine or stay-home notice. 
"Hopefully the federal government considers this matter. Maybe the amount allowed to enter Singapore using land VTL for work is not as large as we expected but for a start between 300 to 500 people a day," said Mr Hasni as quoted by the Star.  
In another report, Malaysian High Commissioner to Singapore Azfar Mohamad Mustafar said that the introduction of the VTL between Singapore and Malaysia is the first step in reopening travel between the two countries.
He said the relevant agencies in Malaysia and Singapore were ironing out related issues such as health, testing regimes and cross-border processes.
"These are minor issues that I am sure will be sorted out soon," he said, according to the Star. He added that reopening the land border was a bit more complex than the VTL.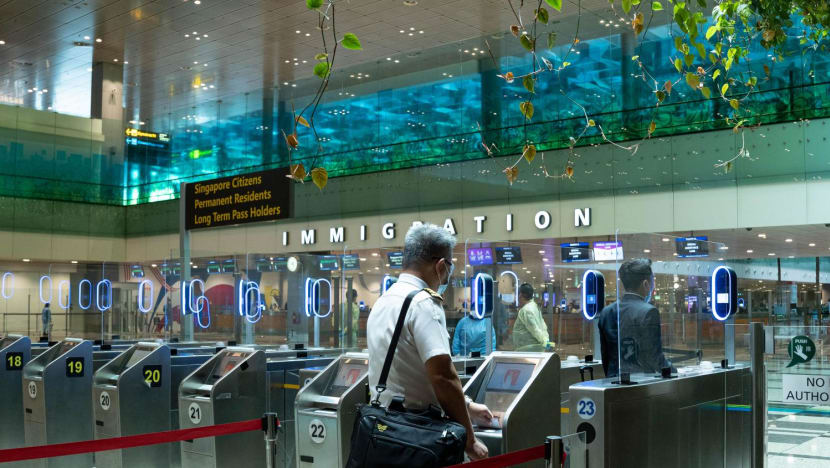 He said that the opening of land travel would not be like pre-COVID-19 levels, with 200,000 to 300,000 people travelling between the two countries daily.
"For a start, we would need to have a controlled opening. That means limiting the number of daily commuters," he was quoted as saying.
On whether the land VTL would be opened to those using public transport such as trains and buses as an initial move, Dr Azfar said that this will be easier to manage instead of allowing people to drive their own cars and motorcycles across the Causeway.
Presently, there are two land crossings between Malaysia and Singapore, namely the Johor Causeway and Second Link in Iskandar Puteri, near Tuas in Singapore.