Najib seeks to admit new evidence as court begins hearing his final appeal to overturn 1MDB-linked conviction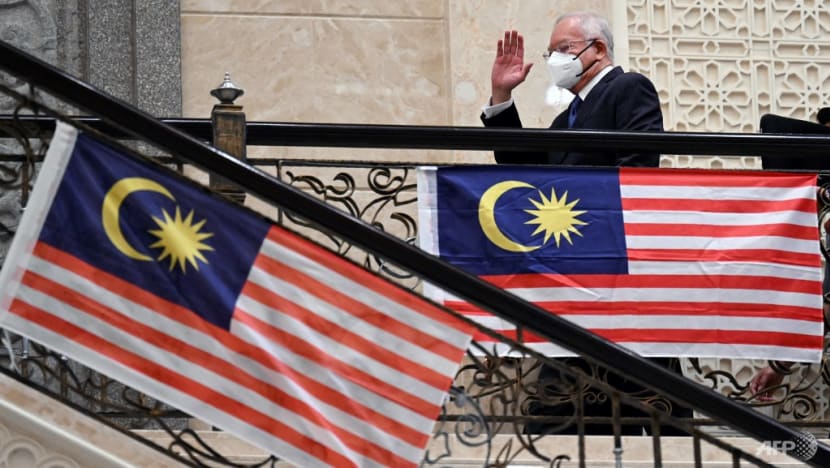 PUTRAJAYA: Former Malaysian prime minister Najib Razak has sought to adduce new evidence in his last bid to quash his graft conviction in the SRC International Sdn Bhd case on Monday (Aug 15). 
In his two-and-a-half hours submission on the first day of the appeal hearing at the Federal Court, Najib's lead counsel Hisyam Teh Poh Teik said the admission of new evidence is necessary to prevent any miscarriage of justice. 
He highlighted the alleged conflict of interest involving Judge Mohamad Nazlan Mohamad Ghazali, especially on his failure to disclose his previous role as Maybank group general counsel and company secretary between 2006 and 2015, New Straits Times reported. 
The judge, who is now a Court of Appeal judge, delivered a guilty verdict against Najib at the High Court in July 2020.  
Mr Teh added that facts related to Maybank's engagement as 1Malaysia Development Bhd (1MDB) strategic advisor were not supplied to the defence at the time of the trial.
 
Najib was unaware of the judge's involvement in the establishment of SRC International and the loans extended to the company by Maybank, the report added.
He claimed that he was only alerted to Judge Mohamad Nazlan's alleged conflict on May 9 and July 7 this year after he received several documents which were sent to him anonymously.
According to the Star, the defence said in its written submission that the hearing of the appeal should be deferred until the investigation into the judge's role is completed. 
Last month, Najib discharged his lead defence lawyer Muhammad Shafee Abdullah. He appointed another law firm, Messrs Zaid Ibrahim Suflan TH Liew & Partners, to represent him in the appeal.
This was after the Kuala Lumpur High Court rejected an application by British Queen's Counsel Jonathan Laidlaw to be admitted to the Bar to represent Najib in his final appeal.
In its brief decision, the court said that there were no novel, complex and serious issues in the appeal that would require the Queen Counsel's participation.
The High Court had on Jul 28, 2020 found Najib guilty of misappropriating SRC International funds.
The charges against Najib, who served as prime minister from 2009 to 2018, involved the transfer of RM42 million from SRC International, a former subsidiary of 1Malaysia Development Bhd (1MDB) into his personal bank accounts in 2014 and 2015.
He was found guilty on three counts of criminal breach of trust, three counts of money laundering and one count of abuse of power by the High Court in July 2020.
The conviction was upheld by the Court of Appeal on Dec 8, 2021 when the three-judge panel unanimously dismissed Najib's appeal against the High Court's decision. He later filed a petition of appeal to the Federal Court on Apr 25 this year. 
The Federal Court had set aside nine days from Aug 15 to Aug 19 as well as Aug 23 to Aug 26, to hear Najib's appeal. The bench is led by Chief Justice Tengku Maimun Tuan Mat.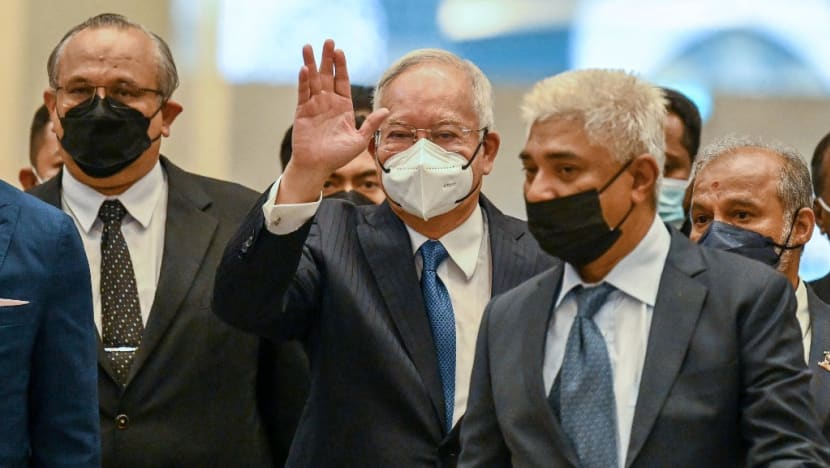 BID TO ADMIT FRESH EVIDENCE "FLAWED AND SELF-SERVING"
In his reply to Mr Teh's submission on Monday, lead prosecutor V Sithambaram described Najib's bid to adduce fresh evidence as "flawed and self-serving" as none of the five witnesses who supposedly supported the evidence had signed affidavits. 
"The allegations against Justice Mohamad Nazlan's conflict of interest are based on flimsy grounds of 1MDB's loan from Maybank.
"This application is not supported by a proper affidavit for the court to act," he was quoted as saying by the Star.
He also said the judge's previous role with Maybank was publicly known, and so it was preposterous to claim that it was a fact "recently discovered" or "deliberately suppressed".
"There is no evidence that could be considered as fresh evidence by the court," Mr Sithambaram said.
"This application is flawed and should be dismissed," he added. 
The court is adjourned until 9.30am on Tuesday.