The king of kings: Penang growers top competition with durians from 40-year-old Black Thorn tree
Black Thorn durians from the farm of Leow Cheok Kiang and Lee Kean Liang beat 45 other entries to emerge as the overall champion in a competition.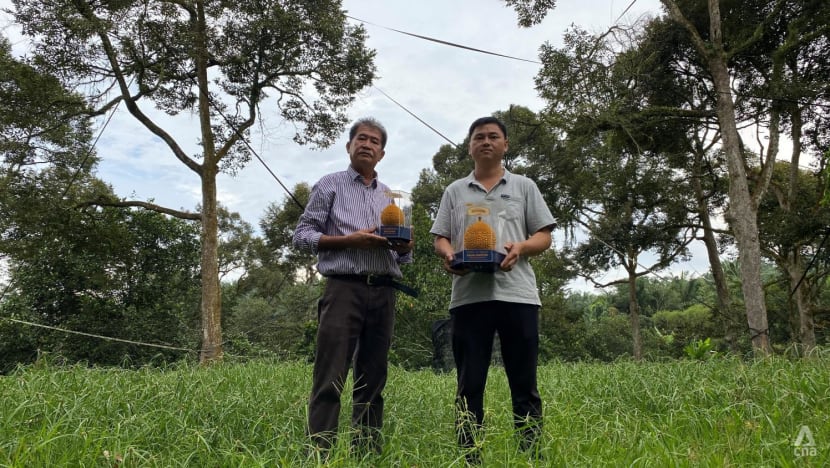 PENANG: At a durian farm in Sungai Baong on mainland Penang stands a towering 40-year-old tree that bears the much sought-after Black Thorn.
The fruits have just been crowned the "King of Kings" in a durian competition dubbed World Durian Championship 2022: Malaysia Edition held at the Bangi Golf Resort in Selangor recently. 
"Durians from older trees usually taste much better. They have more wrinkles around the flesh," said farm owner Leow Cheok Kiang, who runs the farm together with his business partner Lee Kean Liang.
Interestingly, this particular tree was originally a kampung durian tree, a non-specific breed, but had a Black Thorn tree grafted into it when it was about 15 years old.
Black Thorn, also known as "ochee" in Chinese and "duri hitam" in Malay, is the costliest durian in the market now and has for several years overtaken the famed Musang King or Mao Shan Wang variety in terms of desirability.
With a round shape and orange-red flesh, the durians have a black stem at the bottom, hence the name Black Thorn.
Mr Leow, 62, was the one who registered the Black Thorn variety or D200 with the Department of Agriculture back in 2016.
"The ochee is very good. It has a nice fragrant aroma and people from all over Malaysia like it. The flesh is very fine and there is a slight bitter taste," he said.
What does it take to cultivate the king of kings? Hard work and passion are key, as exemplified by Mr Leow and Mr Lee. 
PASSION FOR DURIANS
Their Black Thorn beat 45 other entries to emerge as the overall champion in the competition. 
It first won the best durian in the Black Thorn category; the other three categories were Musang King, Registered Clones and Open Category (Kampung Durian). 
Subsequently, it was named the "King of Kings" among the four winning entrants, a play on durian's nickname, the king of fruits.
The durians were rated based on their taste, texture, colour and aroma by a panel of 16 judges, including chefs, experts in the Malaysian durian farming industry, representatives from the Department of Agriculture and food personalities.
The two partners submitted one entry each but it was Mr Lee's that won over the taste buds of the judges.
"I am very happy," Mr Lee said when asked how he felt about winning the competition.
A man of few words, the 38-year-old gravitated to the business out of an interest in durian farming.
Recalling how he would join his father in the farm during holidays, Mr Lee said his late father was Mr Leow's business partner.
The youngest of seven children eventually quit his job as a technician and took his father's place in the business after the latter's death.
"I always enjoy working on the farm because there is more freedom," he said. 
Mr Leow's passion for durians, meanwhile, was inculcated in him since young as his father and grandfather were both durian farmers.
Today, he owns a few farms in mainland Penang and Kedah, some of which are joint ventures with friends.
Mr Leow, who studied until the second year in secondary school, put all his effort into the durian farms.
"You need to have passion and be very hardworking.
"Last time I used to start working at the orchards early in the morning when there was no light. I even used to work until night sometimes, until my father scolded me," he said.
Mr Leow is inseparable from his trees. He said he cannot fully enjoy his holidays when he travels as he misses his farms and durians very much.
"I have been to China, Europe and Japan and it is always like this. I would feel uneasy until I get home and see durians," he said with a laugh.
GROWING BLACK THORNS 
For Mr Leow, no two durians are ever the same.
"The flesh differs in every single one, just like human faces. This is why I am very passionate about it," he said.
His love affair with ochee began when a late friend from the same village introduced him to a durian variety that was brought in from Thailand.
His friend asked him if he was interested in planting the new variety, but Mr Leow was not very keen because he had an impression that round-shaped durians were inferior.
"I believed that 80 per cent of round-shaped durians were not good. After a year, my friend brought back the durians to me but they were not as round.
"I opened them up and the flesh was very good. This was when I started grafting his trees into the durian kampung trees," he said.
Tree grafting is a horticultural technique where parts from at least two trees are joined so that they grow as one.
After almost 15 years, the trees started to bear fruit in the 1990s. At that time, the variety was sold for about RM10 per kg.
The ochee prices only went up in the last decade when it won several accolades in durian competitions. Those from Mr Leow's farms also started to catch the attention of durian connoisseurs in contests.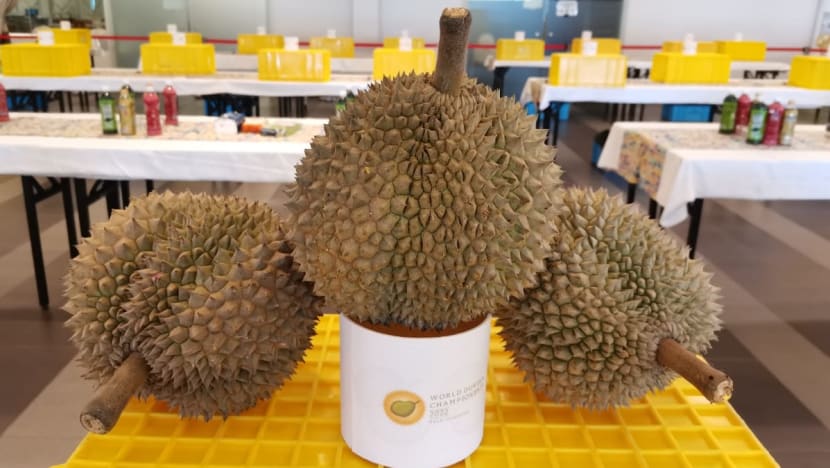 Mr Leow sells the Grade A fruits meant for exports for RM80 per kg while those for the local market are sold for RM50 per kg.
However, export demand for the so-called lesser grades of these durians has also increased, he said.
His durians sell out quickly at his stall and many times, customers have to leave empty-handed and disappointed.
"I am very ashamed if people come from as far as Johor, Singapore and Kuala Lumpur to eat my ochee but aren't able to get any.
"I really feel troubled because I am known as the ochee king … It is not about money for them, they just want to savour my durians," he said.
Mr Leow said he has no qualms in sharing his trees with other growers, and he loves all his durian trees equally, including the one that yielded the "King of Kings".
"I love this tree like how I love others. No special treatment or anything," he said.