Police investigating Kedah chief minister for claiming state's ownership of Penang: Malaysia PM Anwar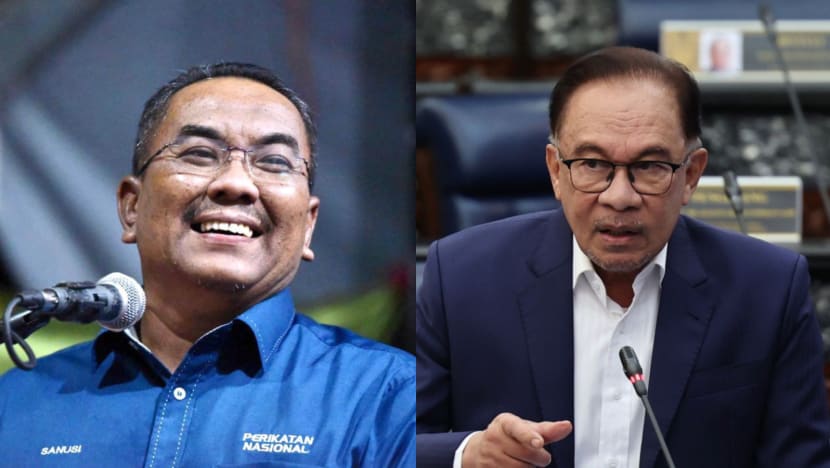 KUALA LUMPUR: Malaysian Prime Minister Anwar Ibrahim on Tuesday (Jun 6) said that the police have launched an investigation against Kedah Chief Minister Muhammad Sanusi Md Nor over his alleged claims that Penang falls under Kedah's ownership.
Mr Anwar said that he received a report from the police against Mr Sanusi who had "irresponsibly" issued several statements, including a demand that the Malaysian constitution be amended to return Penang to Kedah, and a claim that there is a legal basis for the ownership.
"As a person in a (high) position, these statements (made by Mr Sanusi) are irresponsible and the police have started an investigation. 
"(They) are ready to take appropriate action to avoid the continuation of statements that violate the constitutional and legal principles. This includes under the Penal Code and also under the Sedition Act," said Mr Anwar in parliament during the Minister's Question Time.
He also said that a part of the report has been submitted to the Attorney-General's Chambers (AGC) for further action. 
Mr Anwar was responding to Bagan Member of Parliament (MP) Lim Guan Eng who asked if any action would be taken against the Kedah chief minister.  
The prime minister told parliament that the position of Penang as a separate state is guaranteed under the Federal Constitution. 
Mr Anwar added that the issue was raised possibly due to the upcoming state elections.
"Is it because you are greedy for power (due to the) state elections that you are willing to sacrifice the principles of the constitution and bring chaos?
"This (issue) has never been raised except by an irresponsible leader," said Mr Anwar. 
Alor Setar MP Afnan Hamimi Taib Azamudden later pointed out that a former Kedah executive councillor had made a similar claim over Penang on 8 Feb, 2017. 
The United Malays National Organisation's (UMNO) Mohd Rawi Abdul Hamid had said then that "Kedah would do its best to take back Penang", according to Mr Afnan. 
Last Monday, Mr Sanusi, who is also the PAS (Parti Islam Se-Malaysia) elections director, reportedly claimed that Penang is under the ownership of Kedah, according to local media.
"I'm waiting for confirmation from the Department of Survey and Mapping Malaysia if there is a determined basis for the confirmation of Kedah's border with other states, from what I know, Penang is Kedah's," he was quoted as saying by Sinar Harian, adding that there is no such thing as the Kedah-Penang border.
He insisted that Penang had never "escaped" Kedah. "We are not taking it back, they weren't free (from Kedah), it's our right," he reportedly said.
Following this, Mr Anwar told reporters a day later that Mr Sanusi should understand and follow the Federal Constitution before making claims on ownership of Penang. 
"When a leader in this country speaks, he has to always understand the Federal Constitution … As a chief minister, he is bound by the legislation," he said, according to the Malay Mail. 
Subsequently, Mr Sanusi last Wednesday called for the Federal Constitution to be amended to support his claim that Penang belongs to Kedah, according to Free Malaysia Today (FMT). 
He reportedly said that historical and academic studies supported his claim that Kedah owned Penang. He added that there was a need for the current generation to rectify the "distortion of history" and amend the Federal Constitution accordingly.
"Given that the Federal Constitution can be amended in parliament to accommodate present needs, why should the discovery of strong evidence be disregarded simply because of what is written in the Constitution?" Mr Sanusi was quoted as saying by FMT. 
According to FMT, he first made his claim three years ago, after Penang's water company, Penang Water Supply Corporation (PBAPP), requested that logging cease in the Ulu Muda forest reserve to safeguard the water catchment area from encroachment. 
Mr Sanusi then accused Penang of interfering with Kedah's sovereignty after PBAPP made multiple site visits to the Ulu Muda forest reserve. 
He reportedly demanded in 2021 that Penang pay RM50 million a year for water it draws from Sungai Muda, alleging that PBAPP has been profiting at Kedah's expense. Penang refused, saying it had every right to draw water from its own territory. 
Mr Sanusi then retaliated by demanding RM100 million a year in lease payments, claiming that Penang and Seberang Perai were "leased" from Kedah, according to FMT.