In Penang, Pakatan Harapan braces for inroads by Perikatan Nasional during upcoming state polls
Perikatan Nasional could win more Malay-majority state seats in Penang, but wooing the non-Malay vote remains an uphill task.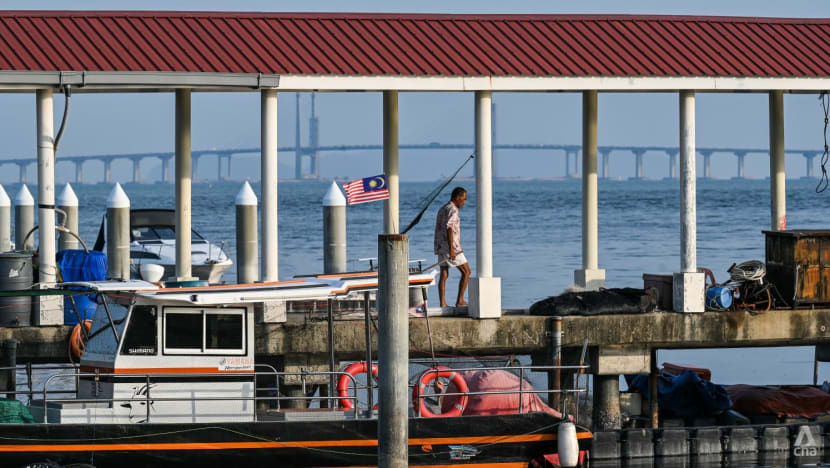 GEORGE TOWN, Penang: In the rural state constituency of Permatang Pasir in mainland Penang, a large signboard stands as a reminder that political strongholds do not always survive the people's vote.
"Thank you Permatang Pauh residents for giving me the mandate," the signboard says, below an image of Perikatan Nasional (PN) Member of Parliament (MP) Fawwaz Md Jan. "Permatang Pauh is in my heart."
Permatang Pasir is one of three Malay-majority state constituencies in Permatang Pauh, a federal seat close to the heart of PN's rival Pakatan Harapan (PH).
Permatang Pauh is considered the family seat of PH chairman and current Malaysia Prime Minister Anwar Ibrahim. It had been held by him, his wife Wan Azizah Wan Ismail and his daughter Nurul Izzah Anwar since 1982.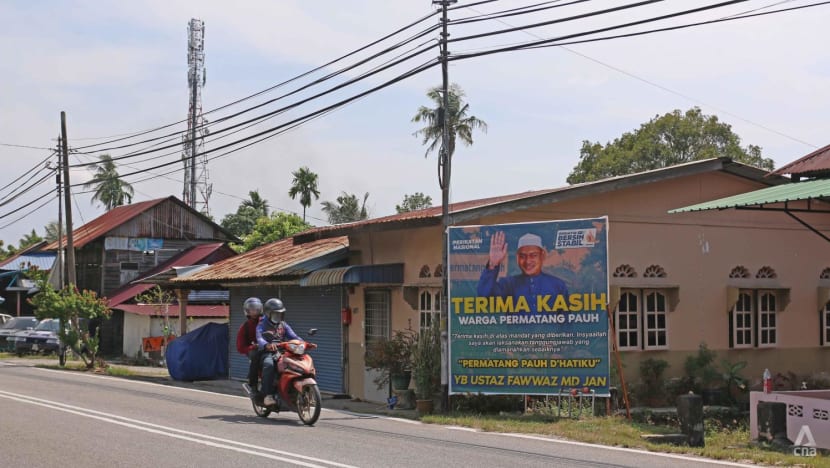 But at the 15th General Election (GE15) on Nov 19 last year, Nurul Izzah lost the seat to Fawwaz by a majority of 5,272 votes. It was among the shock results that pointed to a "green wave", used to describe PN's growing influence among Malay voters.
PH also fell short of its targets in Penang after losing to PN in the federal seats of Kepala Batas and Tasek Gelugor, two other Malay-majority constituencies. PH had aimed to make inroads into these seats, billed as Barisan Nasional (BN) strongholds.
PN, which eventually swept 74 seats in GE15, is now in the opposition after PH, BN and other Borneo parties formed a unity government following a hung parliament.
"We were surprised that Kepala Batas fell. All these years, it has been an UMNO (United Malays National Organisation) stronghold," former Penang state assemblyman Khaliq Mehtab Mohd Ishaq told CNA.
"Who would have thought that (former UMNO MP) Reezal Merican could lose? Then we (PN) won a lot as well. So, it was a good outcome for PN. It also gives us the boost to face the state elections."
The elections, which observers say could happen simultaneously in July, will involve six states: Penang, Negeri Sembilan, Selangor, Kelantan, Kedah and Terengganu.
Khaliq Mehtab, who is with PN's Parti Pribumi Bersatu Malaysia (Bersatu), was on Mar 6 booted from Penang's state legislative assembly together with three other Bersatu assemblymen, based on the state's anti-party hopping law.
During the 2018 Penang state election, he won the Bertam seat on a PH ticket. Bersatu left PH after the "Sheraton Move" in 2020 resulted in a change of power at the federal level. He argued that the anti-party hopping law does not apply to him as he did not switch parties.
But PH assemblymen say the state's anti-party hopping act does not make a distinction on this, and after legal challenges by Bersatu failed, the state assembly passed a motion for the four of them to vacate their seats.
Since 2008 when it was called Pakatan Rakyat, PH has held a two-thirds majority in Penang's 40-seat state assembly. PN is aiming to change the balance of power during the upcoming state elections.
Khaliq Mehtab said PN expects to retain power in the northern strongholds of Kelantan, Kedah and Terengganu, while Negeri Sembilan and Selangor are "50-50". He describes the state of play in Penang as an "uphill task".
"The green wave is really strong. And until now, I believe that it has not died down; I think it is just getting stronger," he said, identifying 15 Malay-majority seats in Penang that PN is cautiously optimistic about winning.
"So, if we can win these seats, we will make the voice of the opposition very strong in the state assembly. We will automatically deny the state government the two-thirds majority they've been enjoying all this while.
"We're also looking at mixed seats. If we can win five or six more mixed seats, we could change the government. It sounds kind of impossible at this particular time, but you never know."
The Malay-majority seats include BN's Permatang Berangan and Sungai Dua, as well as PH's Pinang Tunggal, Telok Ayer Tawar, Machang Bubok, Sungai Bakap, Bayan Lepas, Pulau Betong, Penanti and Permatang Pasir.
Rounding up the 15 are the former Bersatu seats - Bertam, Seberang Jaya, Sungai Acheh and Teluk Bahang - as well as Parti Islam Se-Malaysia's (PAS) Penaga.
PAKATAN HARAPAN NOT TAKING THINGS FOR GRANTED
The chief of PH's Penang chapter told CNA he was "mindful" of "talk outside" that PN has a growing influence in Penang.
"Bearing in mind the voting trend in GE15, all these suggest that we have to be very careful. We do not know how strong that would turn out," said Penang Democratic Action Party (DAP) chairman Chow Kon Yeow, who is also the state's chief minister.
Chow said both PH and PN will focus on the 15 Malay-majority seats, adding that these "closely watched" constituencies will determine the outcome of the election.
"But if you think that just the 15 seats are up for contest, that would indicate to you who will be returned as government, probably. We are working on the premise of all these," he added.
"We will return to power with probably a reduced number of seats. So, that is based on what is being said and the voting trend up till now… There are still a few more months. Things can change."
Despite that, Chow stressed the importance of PH retaining its two-thirds majority in the state assembly, noting that this goes beyond having the ability to amend the state constitution.
"More than that, it is the comfort of having a strong government and a weaker opposition, allowing the government of the day to be confident of the fact that the people are with you, to implement policies that you think would benefit the people," he said.
"That confidence level is important for investors, for our own people that the government will stay for the full term. All these matter. The more seats we win, the more we will instil that level of confidence."
Citing a survey that was commissioned by the state government, Chow said Malays in Penang had a "comfort level" for his administration. The survey, which has not been made public, was conducted by a local research firm from January to February this year.
"It's just how we can maintain this, the narrative, and address some of their concerns. Surprisingly, it is not even about Malay or Islamic issues. It's more of some development issues with regard to reclamation and all those," Chow said, citing the survey results.
Penang's controversial land reclamation project, which the government said will create jobs and attract investment, has faced opposition from environmentalists and fishermen. It was a hot-button campaigning issue during GE15.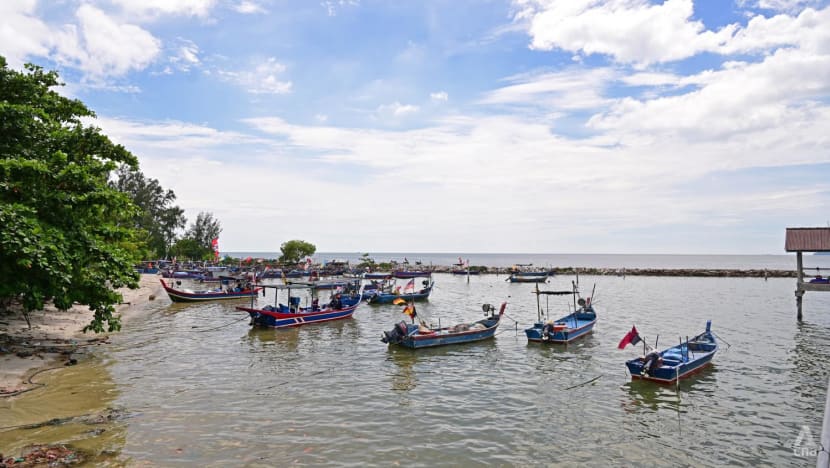 "So, that is in a sense good that despite PN giving the impression that race and religion can win them elections, this survey among the Malay electorate suggests that they are looking at other issues," Chow added.
"Whether it will stay that way or not over the next few months, I think that will be something that we need to work on, not to allow race and religion to take precedence over the people's choice."
When asked how PH might give special attention to the 15 Malay-majority seats, Chow said this would depend on the candidates that PH component parties put forward.
While he said DAP, Parti Keadilan Rakyat (PKR) and Amanah have not finalised seat allocations for the Penang election, he stated that PH traditionally follows the incumbent allocation.
In Penang, DAP holds 19 seats, PKR has 12 seats, while Amanah has two seats. UMNO, whose BN coalition will work with PH in the state elections, holds two seats.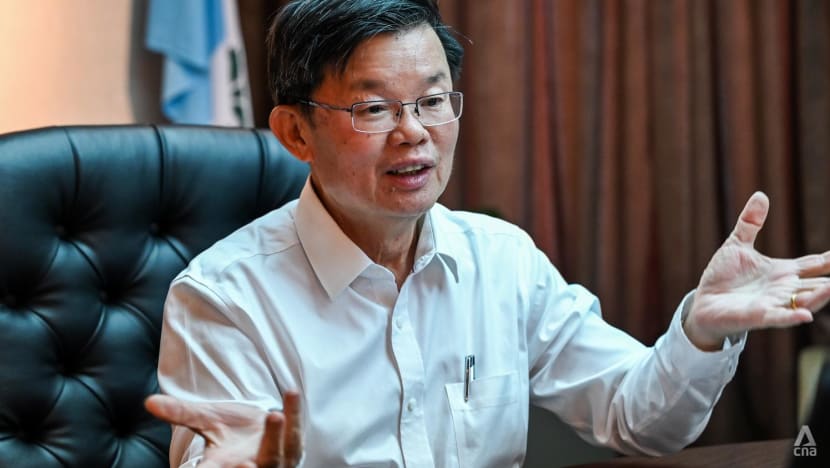 "If that incumbent principle is practised, then they (UMNO) will get only two seats, as a basis of the first round of negotiations," Chow said.
"So of course, the effect of cooperation between PH and Barisan would determine whether we are strong enough together against PN or not."
Chow said PH and BN members have held informal discussions on cooperating, and that official negotiations at the federal level will start "very soon".
"We will have to wait to see what happens at the federal level. What type of seat arrangement, negotiation and the formula is arrived at and determined or agreed upon before the state can do the negotiation," he said.
Local media quoted Chow as saying on Apr 9 that Penang PH is currently finalising its position before opening talks with BN by the end of the month.
GREEN WAVE WANING?
Back in Permatang Pasir, incumbent PH assemblyman Faiz Fadzil hopes to be given a chance to defend his seat, although he said he will leave the decision to PH and his party Amanah.
"We just focus on our groundwork, because the character of the Malays is that they require your personal touch," he said after having a meal at his neighbour's engagement ceremony in Permatang Pasir, where he has a home.
The assemblyman was dressed in a casual football jersey and slacks, joking with residents after taking part in a football tournament for youths, a key segment of voters that could tilt the balance at the polls.
While he admitted his surprise at PN's victory in Permatang Pauh at GE15, he believes that the scenario at the state election will be "different".
For instance, in GE15, he pointed to how PN used what he calls slander tactics against PH, like how it seemingly tied Mr Anwar to an Israeli and LGBT agenda. This has been proven wrong, he said, highlighting how the prime minister has since put forth his Malaysia Madani slogan rooted in Islamic principles.
The focus for Penang voters at the state election will instead turn to state issues, he predicted, believing that the state government has done well by easing the cost of living issues and attracting high levels of foreign direct investment.
"It will make a different perception on the people, so we cannot take the last result literally that PN will win. Having said that, of course, we have to work harder to get the people's support," he said.
"But I do believe that the green wave is being slowly eliminated."
Faiz said he is confident of defending his seat, pointing to how he has served his residents for almost five years and introduced facilities like a football field and multi-purpose hall in the rural area.
Nevertheless, he acknowledged that PN could claim more seats in Penang, noting how it has found success in wooing youths on social media and through activities like motorcycle races and convoys.
"We have to accept the reality because PH is still slow in participating in these social media platforms. But we have to do it. That's why I am also quite active on these platforms like TikTok," he added.
PERIKATAN NASIONAL REACHING OUT TO NON-MALAY VOTERS
Indeed, PN is also turning to social media to engage the Chinese community in Penang, with the help of its component party Gerakan.
"Let's say we assume that the Malay support for PN remains intact and grows, and we can win the 15 seats, we need another six mixed seats to form the government," Gerakan president Dominic Lau told CNA.
Lau, who is also chairman of Penang PN's liaison body, uploads TikTok videos in Hokkien - the dialect spoken by Penang Chinese - to try and change what he calls two "pain points" stopping non-Malays from supporting PN.
The first, he said, is that PN is not seen as a strong opposition coalition in Penang. "We have to be vocal, not only check and balance or criticise, but come up with solutions," he said.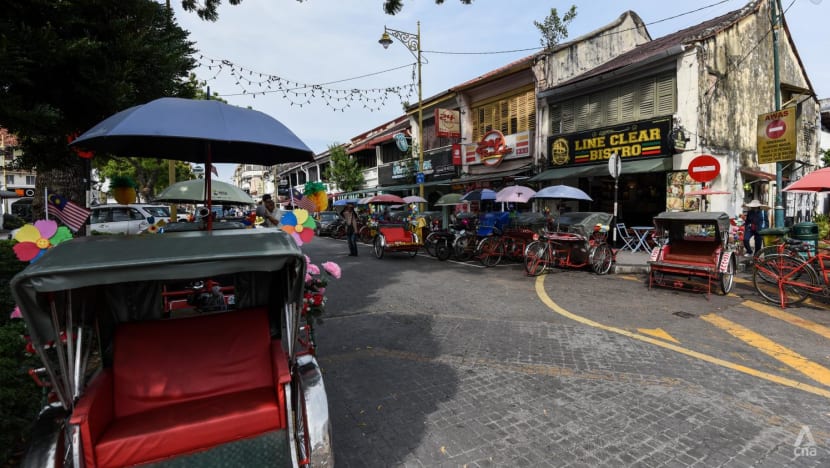 The other point is what he says are tactics by DAP to damage PN's image in Penang.
"(They say) if you support PN, Penang will be an Islamic state, can't drink or eat pork, no concerts or cinemas, all sorts of attacks. We have to come up with a lot of effort to counter all this," he said.
Lau said PN has held dialogues with Gerakan grassroots members in Penang to address these concerns, including with PAS president Abdul Hadi Awang. The coalition will also hold rallies in different states to change this perception.
"You can uphold the rights of the Muslims and Malays, but you don't affect other races and religions. This is the basis we are holding on to," he said.
MALAY SENTIMENTS REMAIN KEY
In the Malay heartlands of Penang, racial and religious issues continue to feature prominently in voters' minds.
Permatang Pasir resident Muhd Khairi Alias, 38, told CNA that most residents in his area used to be supporters of PAS, when the party was led by its late spiritual leader Nik Aziz Nik Mat. Pematang Pasir was held by a PAS assemblyman from 1999 to 2018.
"But when he (Nik Aziz) passed and (Abdul) Hadi Awang took over, a lot of things happened," he said at his home not far from the Fawwaz signboard and a house bearing a PAS flag.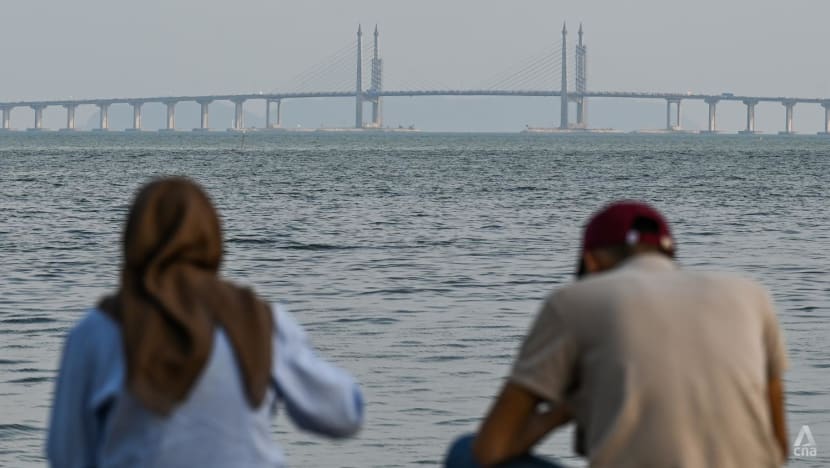 Khairi, a factory worker who has lived in Permatang Pasir for 28 years, described how a divide grew between supporters and non-supporters of PAS, with politics seeping into everyday life.
For example, when an ustaz (Islamic teacher) who is known to be a PH supporter went to a local mosque, mosque workers like the imam - who are traditionally PAS supporters - avoided going at the same time, he said.
Some families have also been broken up because of where their loyalties lie, he said.
"It shouldn't be like this, with politics creeping into mosques," he added, believing that this was why support in Permatang Pasir shifted to PH.
Furthermore, Khairi said he has observed a negative perception towards PH among Malay youths, especially first-time voters who are 18 or 19 years old. 
He recalled how on the eve of polling day during GE15, his neighbour's son asked his dad who to vote for.
"His dad said to support PH, and his son replied, 'But my friends say if PH wins, DAP will be in government and the mosque won't be able to sound the prayer call. I don't want that,'" he said.
"Before voting, they gather in motorcycle convoys and chat about this. They end up following their friends."
MUHYIDDIN'S COURT CASE
Another recent development that could affect Malay sentiments on the ground is the corruption charges against PN chairman Muhyiddin Yassin.
Muhyiddin has claimed trial against seven charges including money laundering and abuse of power. Observers are watching how this could impact support for PN, which ran its GE15 campaign on an anti-corruption agenda.
Bersatu's Khaliq Mehtab said its members believe party president Muhyiddin did nothing wrong, evident in how they rejected his resignation at the most recent party convention, and that he has been the victim of selective prosecution.
"We are saddened by these charges which affected the party, but it's just going to make us stronger," he said.
Amanah's Faiz argued that Muhyiddin was investigated by authorities led by officials he appointed himself, and that the charges show PN might not be as clean as it claims to be.
"I think it will have some impact on the people, especially the Malays, by showing that PN also has bad practices in governance," he said.
Down the road in Permatang Pasir, another Penang resident told CNA he has not thought about how he feels about Muhyiddin's case, as he has yet to read up on the issue.
"The closer we get to elections, the more these types of issues will crop up. It's the same with any party," said Qusyairi Suja, who lives in the southern Penang state constituency of Jawi.
Dr Wong Chin Huat, a political scientist from Sunway University, told CNA that the charges against Muhyiddin are a "double-edged sword".
"Some would cease to see PN as the clean and stable alternative to UMNO. Others could see this as a witch hunt or draw a cynical conclusion that all politicians are dirty," he said.
Dr Wong said the issue might turn Muhyiddin into a political martyr if PH leaders weaponise it to further taint Bersatu, or if instances emerge of the government "bending over" to save PH or UMNO politicians from graft charges.
Specifically in Penang, Dr Wong opined there is "no way" PN can attract the non-Malay vote, pointing to how the Permatang Pauh MP Fawwaz in January suggested to a mall in Seberang Jaya not to openly sell liquor, despite the display coinciding with Chinese New Year. He was criticised for his remarks. 
"In fact, the more PN campaigns, the more it will help DAP," Dr Wong said.
Dr Wong said PN's performance in Penang would depend on where the Malay middle-ground votes go.
"I would expect PN to win more seats and deny the two-thirds majority, but not enough to threaten (to form) the state government," he added.