In historic return to UMNO headquarters, Anwar says Malaysia unity government will face state polls together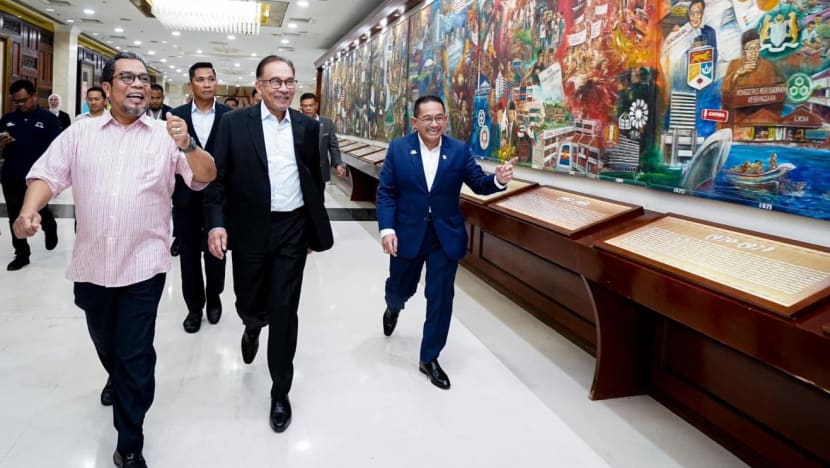 KUALA LUMPUR: With six state polls set to be held in the coming months, Malaysian Prime Minister Anwar Ibrahim announced on Tuesday (Feb 7) that all parties in the unity government will be working together to face the polls. 
Following his historic return to the UMNO headquarters to chair the unity government's first secretariat meeting, Mr Anwar told reporters that a committee will be formed to discuss details pertaining to the state polls. 
"The election committee will focus on the upcoming state elections, including issues of seat allocation to ensure a strong and united foundation between parties, including Sabah and Sarawak," Bernama quoted Mr Anwar as saying at a media conference after the meeting.  
He said that two other committees to be formed by the secretariat are the strategy committee and the government and political agenda monitoring committee. 
"The government and political agenda monitoring committee will also give priority to the monitoring of policies especially involving the rising cost of living," he said. 
Deputy Prime Minister Fadillah Yusoff has been appointed as the secretary general of the secretariat, UMNO youth leader Asyraf Wajdi Dusuki as the chief secretariat while party leaders in the unity government will hold the roles of deputy chairman of the secretariat. 
This meeting marked Mr Anwar's first visit to the UMNO headquarters at the Dato' Onn Tower in the Kuala Lumpur World Trade Center after more than 20 years since his sacking by then-party president Mahathir Mohamad on charges of corruption and sodomy. 
The Star reported that it was also the first visit to the UMNO headquarters by a DAP leader, Anthony Loke, who is the party secretary general. 
Also present at the meeting were Deputy Prime Minister and UMNO president Ahmad Zahid Hamidi as well as other coalition leaders, including Gabungan Parti Sarawak (GPS) secretary-general Alexander Nanta Linggi and Gabungan Rakyat Sabah (GRS) deputy chairman Maximus Ongkili. 
The unity government led by Mr Anwar comprises PH, BN, GRS as well as other smaller parties. 
In the coming months, state polls are expected to be held in Penang, Selangor, Negeri Sembilan, Kedah, Kelantan and Terengganu. 
Penang, Selangor and Negeri Sembilan are presently governed by PH while the state governments of Kedah, Kelantan, and Terengganu are led by Parti Islam Se-Malaysia (PAS) which is a component party of the Perikatan Nasional (PN) coalition. 
PH and PAS previously decided not to dissolve the six state assemblies during the 15th General Election (GE15) on Nov 19 which would have allowed for simultaneous state and parliamentary elections to take place. 
According to Malay Mail, the first of the six state assemblies whose five-year term is set to expire is Kelantan on Jun 9. This is then followed by Penang on Aug 2, Selangor on Aug 26, Terengganu on Sep 1, Negeri Sembilan on Sep 2, and Kedah on Sep 4.