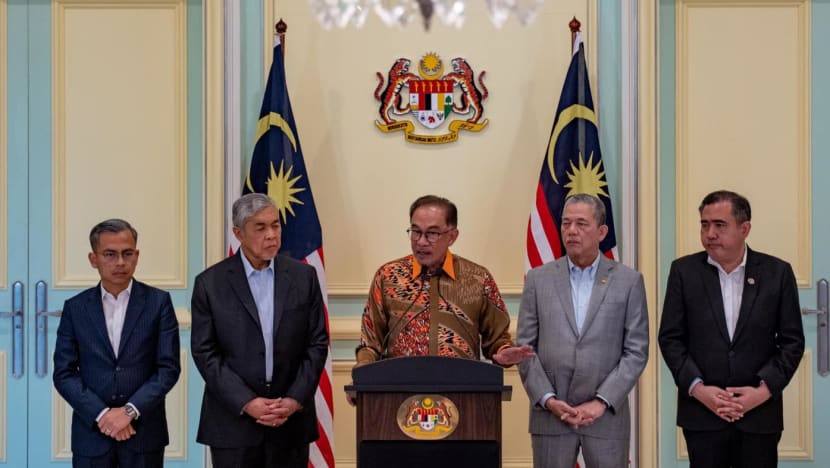 SINGAPORE: Malaysian Prime Minister Anwar Ibrahim said on Thursday (Feb 2) that his government did not influence an anti-graft investigation into Parti Pribumi Bersatu Malaysia (Bersatu) for allegedly embezzling billions of ringgit during the COVID-19 pandemic.
This came after Malaysian Anti-Corruption Commission (MACC) chief commissioner Azam Baki announced that the agency has frozen several Bersatu bank accounts as part of its investigation.
On Dec 6, Mr Azam said he had opened an investigation into the alleged embezzlement of RM600 billion (US$142 billion) in funds used by the previous government during the pandemic from 2020 to 2022.
This was when Bersatu's leader Muhyiddin Yassin was prime minister, and the Perikatan Nasional (PN) coalition led the government.
In a press statement on Wednesday, Bersatu's secretary-general Hamzah Zainudin said his party will continue to cooperate in the investigation so that the "slander" against them could be stopped immediately.
Mr Hamzah, who is also Leader of the Opposition, said his party is disappointed that the Pakatan Harapan (PH) and Barisan Nasional (BN) government was using the MACC as a political tool to "kill" Bersatu and PN's credibility.
Mr Muhyiddin added on Thursday that Bersatu will send a letter to MACC requesting for the bank accounts to be frozen as the funds are from "legitimate sources". 
On Thursday, Mr Anwar told reporters after a Cabinet meeting that it was "irresponsible" of the opposition to accuse the unity government of using its influence.
"We are not repeating the threatening style that happened previously (with past administrations). We are not using these agencies," he said.
"What happened was two things: Firstly, reports were made to the police and MACC on the use of funds by Bersatu. Secondly, while doing my job at the finance ministry, I found high-expenditure projects that did not go through a tender process."
This includes flood mitigation projects and Jana Wibawa, an economic generation project that took place during the country's COVID-19 movement control order, he said.
"The costs were too high, so I released this information through the finance ministry. What the MACC did was not based on my views," he said, adding that the MACC eventually found more than RM300 million in the party's accounts.
"So, if the party is as clean as its leaders claim it to be, they need to explain to the authorities why in such a short amount of time they managed to collect so much money, from what source, and to whom."
Mr Anwar said the MACC can then submit its findings to the attorney-general, stressing that authorities should probe and act against any party suspected of being involved in any wrongdoing.
When asked if his government had any influence on the investigation, Mr Anwar said "absolutely no".
"Not only against Bersatu, against any other individual, past or present. I think we made it quite clear, it's an issue of judicial independence and the rule of law," he said.
"Of course, the only thing I appeal is they must be more proactive, more efficient and act faster because the thrust of this administration has always been good governance and getting rid of corruption and abuse of power."
Calls for an official investigation into the pandemic-era stimulus spending had grown after what was perceived as a well-funded campaign by PN leading up to the 15th General Elections in November last year.
Mr Muhyiddin, who is also the PN chairman, has since denied the allegations, calling it an attempt by the new unity government to silence the opposition.