'What are we waiting for?': Ahmad Zahid says UMNO has power to set its direction in call for general election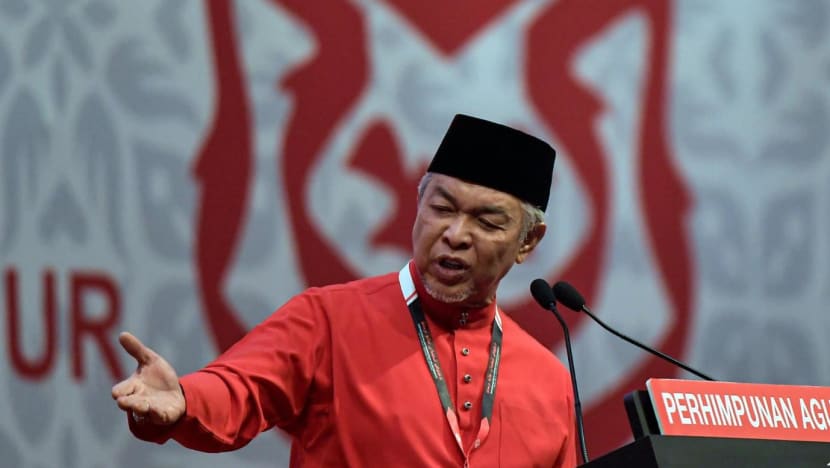 KUALA LUMPUR: United Malays National Organisation (UMNO) president Ahmad Zahid Hamidi said the party has the power to determine its direction as he called for parliament to be dissolved. 
"When the mood from the grassroots in the by-elections and state elections is in our favour, what are we waiting for?" he said when delivering his policy speech at the party's 2021 annual general meeting on Friday (Mar 18). 
The Bagan Datuk MP acknowledged that the decision to dissolve parliament is one to be made by the Cabinet, before it is presented to the king.
"We will not disturb this matter, but UMNO as a responsible party, we have the power to determine our party's direction," he told the delegates.
The UMNO president said the "beat of war drums" for Malaysia's 15th general election (GE15) has become stronger, and that this general assembly should listen to grassroots voices calling for a new mandate to be obtained through the 15th general election (GE15). 
"Do not let there be a lot of thunder and flash, but not one drop of rain falls to the ground."
"As such, I hope we can return (the mandate) to the people, leave it up to them. Give a new mandate to UMNO," he said. 
UMNO, a main component in the Barisan Nasional (BN) coalition, has ruled the country since its independence until its shock defeat in the 2018 general election. 
The coalition then allied with its rival Parti Pribumi Bersatu Malaysia (Bersatu) to regain control of the government following the defection of 11 MPs from Pakatan Harapan in February 2020. 
In August last year, Ahmad Zahid led a number of MPs to withdraw their support for eighth prime minister Muhyiddin Yassin from the Perikatan Nasional coalition. 
Mr Ismail Sabri Yaakob, who took office on Aug 30 last year, is the first prime minister from UMNO who is not a party president. He is one of the vice presidents. 
There has been talk of an earlier GE15 to capitalise on BN's victories in the by-elections and state elections in Sabah, Melaka and most recently Johor. 
In the Johor polls, BN clinched 40 out of the 56 state seats.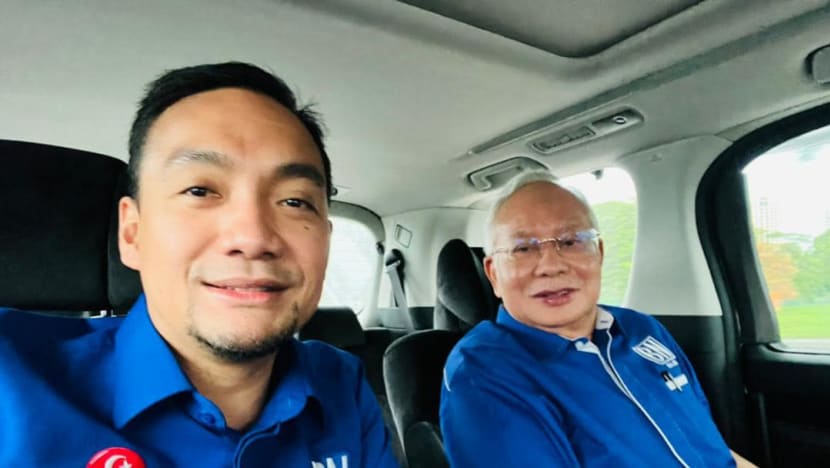 Mr Onn Hafiz Ghazi, a descendant of Malaysia's third prime minister Hussein Onn, was appointed to the position of chief minister, instead of incumbent Mr Hasni Mohammad as promised by Ahmad Zahid earlier.
This has prompted Johor delegates to announce that they would refrain from participating in the debate during the convention. 
Inviting the delegates to thank Mr Hasni, who is Johor UMNO chief, in leading the campaigning efforts, Ahmad Zahid said: "We made an online order, another item was delivered instead. But he is still the pride of Johor people." 
While congratulating Mr Onn Hafiz, the president said Melaka and Johor should not delay in carrying out what has been promised. 
"To the chief minister of Melaka and the new chief minister of Johor, remember, there is GE15 in front of us. 
"Do not become slack, people are observing us," he said. 
WARNING AGAINST INTERNAL DISSENT
The term for UMNO's current office bearers had expired in June last year, but the party had decided to postpone the election due to the COVID-19 pandemic. 
The UMNO president, who is facing corruption charges, said he respected the calls of "a small number" of party members who wanted party polls before GE15, saying this showed that the party was democratic. 
However, he said the party had already obtained agreement from the Registrar of Societies that party elections would be held before Dec 29 this year, and that anyone could contest any position. 
Ahmad Zahid also said 186 out of 190 party divisions throughout the country had met and agreed to hold party polls after GE15.
"This was not my decision. This was yours during the delegates' meetings at your respective divisions. It has been the practice before this that party elections are held after the general election, for years," he said.
 
In addition, UMNO's continuity comes first, he added and warned party members not to test his patience. 
"We do not take notice of attacks from outside, we get used to it over time. But I am disappointed with those who betray the party from within," he said. 
He also told delegates that UMNO has to be careful about which parties it allies with. 
"Our culture does not disparage friends, we can be insulted from all sides. But we always have to be careful, we have to draw the line in friendships," he told the delegates.
While some friends were loyal, others had left the party when it was in difficulty, he said, alluding to its relationships with former BN parties which had left the coalition after the 2018 defeat.