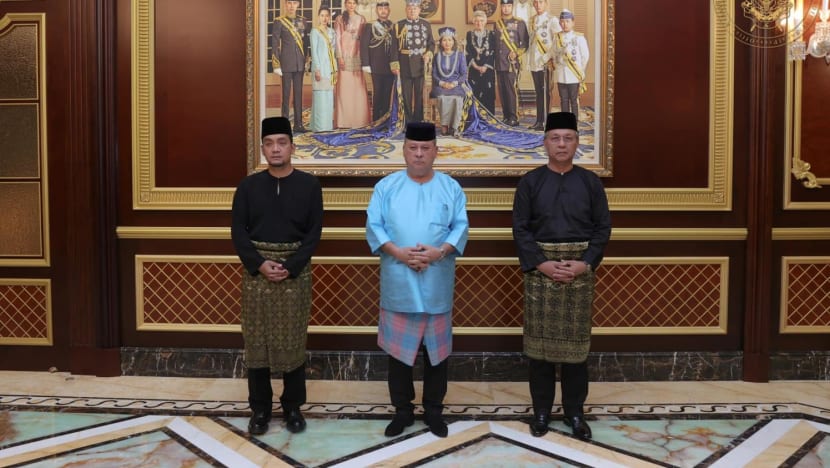 JOHOR BAHRU: Machap assemblyman Onn Hafiz Ghazi has been appointed Johor's new chief minister on Tuesday (Mar 15).
He was sworn in at Istana Bukit Serene by Johor ruler Sultan Ibrahim Sultan Iskandar. 
A statement on the sultan's Facebook page read: "Machap assemblyman Onn Hafiz Ghazi has taken the oath of office as Johor's 19th chief minister in front of His Majesty Sultan of Johor Sultan Ibrahim Sultan Iskandar today, March 15." 
The statement added that Mr Onn Hafiz received the letter of appointment during the ceremony.
"Datuk Onn Hafiz, who previously held the portfolio as chairman of the state's tourism, youth and sports committee, is very active in the youth movement," it said.
Also present at the swearing-in ceremony was Johor crown prince Tunku Ismail Sultan Ibrahim, former chief minister Hasni Mohammad and Johor's state secretary Azmi Rohani.
Mr Onn Hafiz's appointment came after Barisan Nasional (BN) cruised to victory in the state election last Saturday, clinching 40 out of 56 seats in the state legislature. 
His appointment has come as a surprise as United Malays National Organisation (UMNO) president Ahmad Zahid Hamidi said previously that caretaker chief minister Mr Hasni will be the party's only candidate for the post if BN won the Johor election.
Mr Hasni was Johor's chief minister from February 2020 until when the state assembly was dissolved in January 2022 to pave the way for polls. 
After BN's victory on Saturday, Ahmad Zahid, who is also the coalition's chairman said that it would nominate Mr Hasni to the sultan as chief minister candidate. 
However, in a statement released on Monday evening, Mr Hasni, 63, said the new state government should be led by a younger candidate.
"Looking at the support and the importance of youths in the development of Johor state, and also for long-term peace in the state, I suggest that the party leadership choose a younger candidate," said Mr Hasni, who is the Benut assemblyman.
Prior to the Johor state elections, Mr Onn Hafiz, 43, served as the state's tourism, youth and sports committee chairman.   
Mr Onn Hafiz is the nephew of Malaysian Senior Minister Hishammuddin Hussein and great-grandson of UMNO founder Onn Jaafar. 
In Saturday's polls, Mr Onn Hafiz won the Machap seat comfortably, getting 11,029 votes while his nearest challenger Mr Azlisham Azahar from Perikatan Nasional won 4,486 votes.
"I WILL FULFILL THIS VERY BIG RESPONSIBILITY" 
Following his appointment, Mr Onn Hafiz released a statement on his Facebook page, expressing thanks to the sultan for the appointment. He said that he felt "dwarfed by the trust and confidence" placed in him. 
"I will fulfill this very big responsibility with all my heart and dedication, as well as I can for the security and prosperity of the state and Johoreans," the chief minister wrote. 
He also thanked his party leaders - Ahmad Zahid, former prime minister Najib Razak as well as Malaysian prime minister Ismail Sabri Yaakob for their support. 
Mr Onn Hafiz also thanked Mr Hasni for his "sacrifice, commitment, help and leadership (that) he has given to stabilise the state of Johor." 
"The sacrifice by YB Dato' Haji Hasni bin Mohammad to make way for a younger candidate to lead Johor state not only shows how big his heart is and that he has the soul of a statesman, but also proves he has confidence in the role and ability of youths to lead the state of Johor," wrote Mr Onn Hafiz.  
"Hopefully the mixture of experience alongside the energy and idealism of youth can propel the development of this state, so that it continues to be respected and is able to make greater strides."
Mr Hasni also congratulated his successor via a Facebook post. He wrote that there is no political ideology, leader or party which is greater and more important than Johor itself. 
"Now is the time for us to work together to build a prosperous Johor. God willing with the new leadership, our beloved Johor will be more prosperous and peaceful," he wrote.