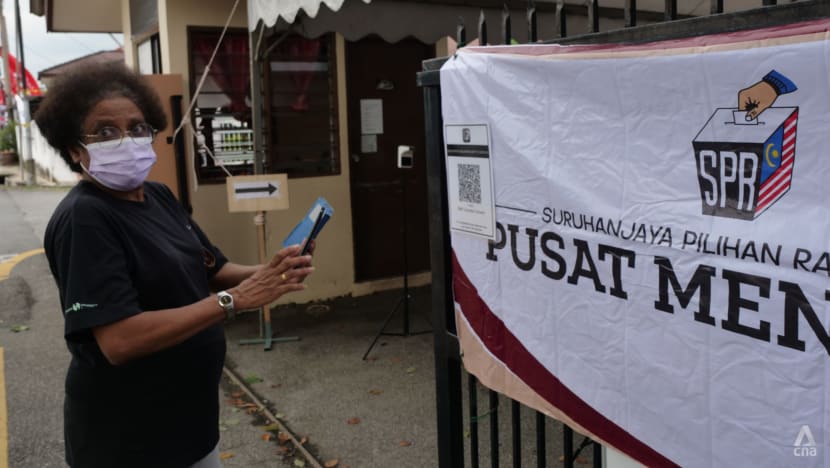 MELAKA: Malaysia's Barisan Nasional (BN) coalition has successfully retained control of Melaka, winning 21 out of 28 constituencies to defeat the other two major political blocs in the state's 15th election on Saturday (Nov 20).
Pakatan Harapan (PH), led by former chief minister Adly Zahari from Parti Amanah Negara (Amanah), won five seats, while BN's federal partner, Perikatan Nasional (PN), only won two. 
The election turnout as of 4pm was 61 per cent, said the Election Commission (EC).
In a victory speech on Saturday night, BN chairman and UMNO president Ahmad Zahid Hamidi said the results showed a change in attitude by Melaka voters towards the BN. 
"Melakans have returned the mandate to BN to form the state government. Their support is greatly appreciated," he said. 
Ahmad Zahid was joined on stage by Prime Minister Ismail Sabri Yaakob and state election director Mohamad Hassan.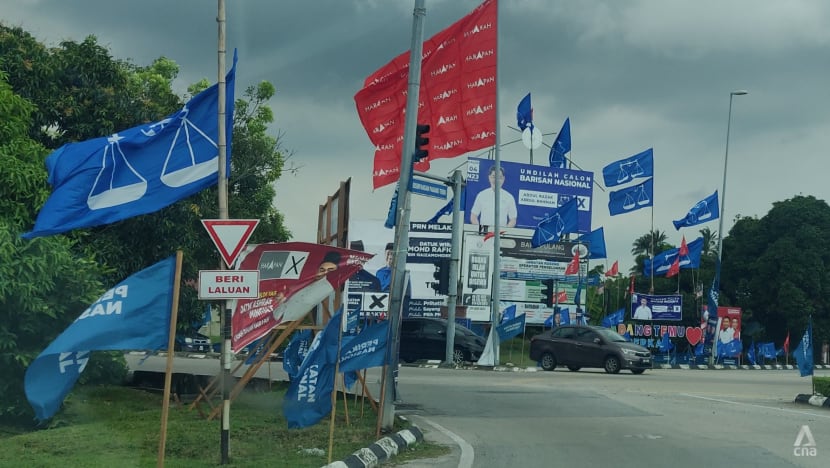 BN's chief ministerial candidate Sulaiman Md Ali retained his Lendu state with a 3,139-vote majority over Abdullah Mahadi from PN. 
Mr Sulaiman was the incumbent chief minister, having taken over the position in March last year. PH had lost its slim majority in the state assembly last February, following the exodus of Parti Pribumi Bersatu Malaysia (Bersatu) from the opposition coalition at the federal level. 
However, the BN-PN state government only ruled until early last month when four state legislators, including former chief minister Idris Haron, withdrew their support, triggering its collapse and a new state election.  
Mr Idris lost to BN in the rural seat of Asahan in this election.
The BN had campaigned on the theme of "Stability for Prosperity", with its manifesto anchoring on five core themes, namely maintaining political stability, realising the state's new economy, uplifting government administration, sustainable development and building unity. 
It also proposed amending the state's constitution to include five non-constituency members in the state assembly by appointment. 
The convincing win by BN further underscores tensions between the coalition and its current political partner PN in the Malaysian parliament.
Both coalitions fielded their own candidates in all 28 constituencies against each other and PH, turning multiple seats into three-cornered fights.
Other seats saw up to six candidates. Mr Idris, standing on a PH ticket, competed against his PN and BN rivals as well as three independent candidates in the Asahan seat.
Unlike the state election for Sabah last year, when traditional methods were used to canvas for votes, Melaka's election was a vastly different one. 
House-to-house and community visits, constituency walkabouts and public rallies to woo voters were banned by the Election Commission to prevent the spread of COVID-19.
With the restrictions in place, candidates had to reach out to voters on social media - making speeches and publicising their campaigning activities online.
HEAVYWEIGHTS WIPED OUT
A few veterans from the coalitions were defeated in the state election. 
Federal deputy minister Mas Ermieyati Samsudin, who stood in the Tanjung Bidara seat against former state speaker Ab Rauf Yusoh from BN's United Malays National Organisation (UMNO), lost by 419 votes. 
She was PN's candidate for the chief minister's post. 
Mdm Mas Ermieyati defected to Bersatu in 2019, after being elected as Member of Parliament (MP) for Alor Gajah on an UMNO ticket in the 2018 general election. 
Another casualty for Bersatu was its defeat in Teluk Mas, where party vice president Mohd Rafiq Naizamohideen lost to BN's Abdul Razak Adul Rahman by 2,071 votes.
Similarly, PH MP for Hang Tuah Jaya and Parti Keadilan Rakyat (PKR) vice-president Shamsul Iskandar Mohd Akin lost in Paya Rumput to BN's Rais Yasin.
This election also saw some parties making a comeback, with BN component parties the Malaysian Indian Congress (MIC) and Malaysian Chinese Association (MCA) winning one and two seats respectively.