Amid physical campaigning restrictions, Melaka state election candidates try new channels to reach voters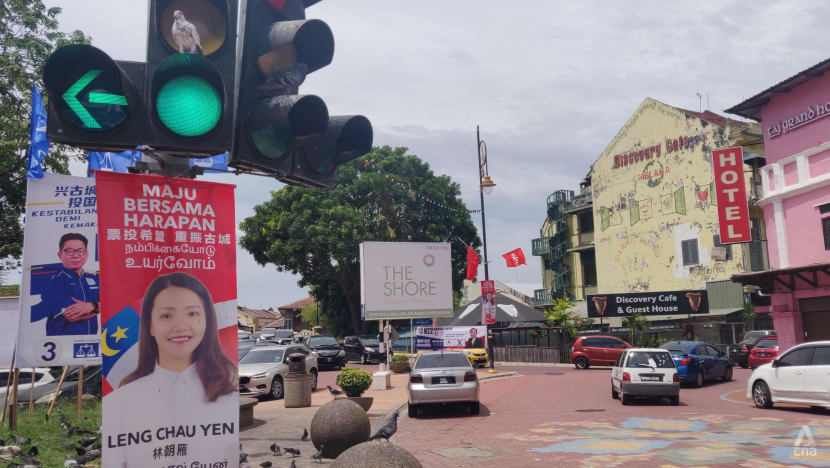 MELAKA: A small lorry trundled down the village road, bedecked with large posters of Ms Farzana Hayani Mohd Nasir, 21, who is standing for the Melaka state election in rural Sungai Rambai constituency. 
Loudspeakers fixed on the lorry's cargo hold broadcast her pre-recorded messages, but it was hard to catch the entire speech unless one followed the truck for the whole journey.
If passing through a more populated area, such as a commercial area at Jalan Bazar, the lorry might slow down and stop for a couple of minutes for passers-by to catch more than a snippet of Ms Farzana Hayani's speech.  
The Pakatan Harapan (PH) candidate from Parti Keadilan Rakyat (PKR) only started to mobilise her campaign truck last Friday (Nov 12), four days after nomination day. Voting will take place this Saturday. 
"My volunteers and I haven't been able to assess the effectiveness of the truck just yet. 
"Before using the loudspeakers, I started by introducing myself to the voters by going to the ground - within the restrictions - and posting my activities on social media," the youngest candidate in this state election told CNA.
These loudspeaker trucks are about the only form of overt political campaigning taking place in Melaka, as permitted by the Election Commission. 
Traditionally, election campaigns in Malaysia at federal or state levels are run by organising social and physical gatherings. 
Candidates' daylight hours are usually spent on walkabouts, house-to-house visits and publicity events. At night, they hold mass rallies, also called ceramah locally, to draw crowds and disseminate their political messages. 
For constituents, these activities are a chance for them to meet the candidates in person and get to know their manifestos.
However, physical campaigning activities have been banned by the Health Ministry for the Melaka state election from Oct 25 until Nov 27 in a bid to curb the spread of COVID-19 and prevent another massive outbreak similar to what happened after Sabah's state election last year. 
As such, candidates, both party-backed and independents, are experimenting with new channels to reach out to voters as well as to gauge voters' feedback. 
The quiet election campaign and the lack of walkabouts and rallies made this state election "less fun", said a trader in Durian Daun, a village next to Bukit Cina in Melaka town. 
Rahim Junaid, 49, said: "It's nothing like 2018 when everybody was eager, no matter which party you supported."
"The flags and banners are all put up, but the mood isn't there, it's not exciting," he added.
USING SOCIAL MEDIA 
Independent candidate Mak Chee Kin, an education activist standing in the hot urban seat of Bandar Hilir, opined that there were pros and cons to the campaign restrictions.
"I think one advantage is that we do not need so much manpower to move around, because if there was a rally or a ceramah, you would need more people for logistics, crowd control and equipment," he said. 
Without the backing of a major party and the funds and volunteer manpower that come with it, Mr Mak has had to economise on his approach. 
He found using a truck to campaign ineffective when the vehicle is not allowed to be stationary. 
"It would just be like the old 'suratkhabar lama' lorry," he said in jest, referring to the trucks that collect old newspapers in residential areas. 
"I am pretty sure that for all candidates, it's been narrowed down mainly to social media, using Facebook and other platforms to spread our messages," he said. 
On social media, the candidates' posts ranged from election manifestos and  short videos to live panels and talks. 
PH's Ms Farzana Hayani said she has been using social media to engage with potential voters in the constituency. 
"Through the comments (on my posts), we are able to identify who are voters in Sungai Rambai, and we have also been sharing posts on Sungai Rambai-related pages to reach voters directly," she said. 
The strategy has proven to be somewhat effective. 
"When I drop by food stalls to eat, or mosques to pray, occasionally there are voters who recognise me and tell me they saw my video or social media posts," she said.
But going on social media has its drawbacks too, for the Internet connection might be weak in rural areas. Also, some people do not have social media accounts although many households subscribe to broadband services, said Ms Farzana Hayani. 
"Because of this, we cannot assume the majority of voters have viewed my posts or seen my videos, and if they have, they might have only seen a few due to the slow connection speed," she said.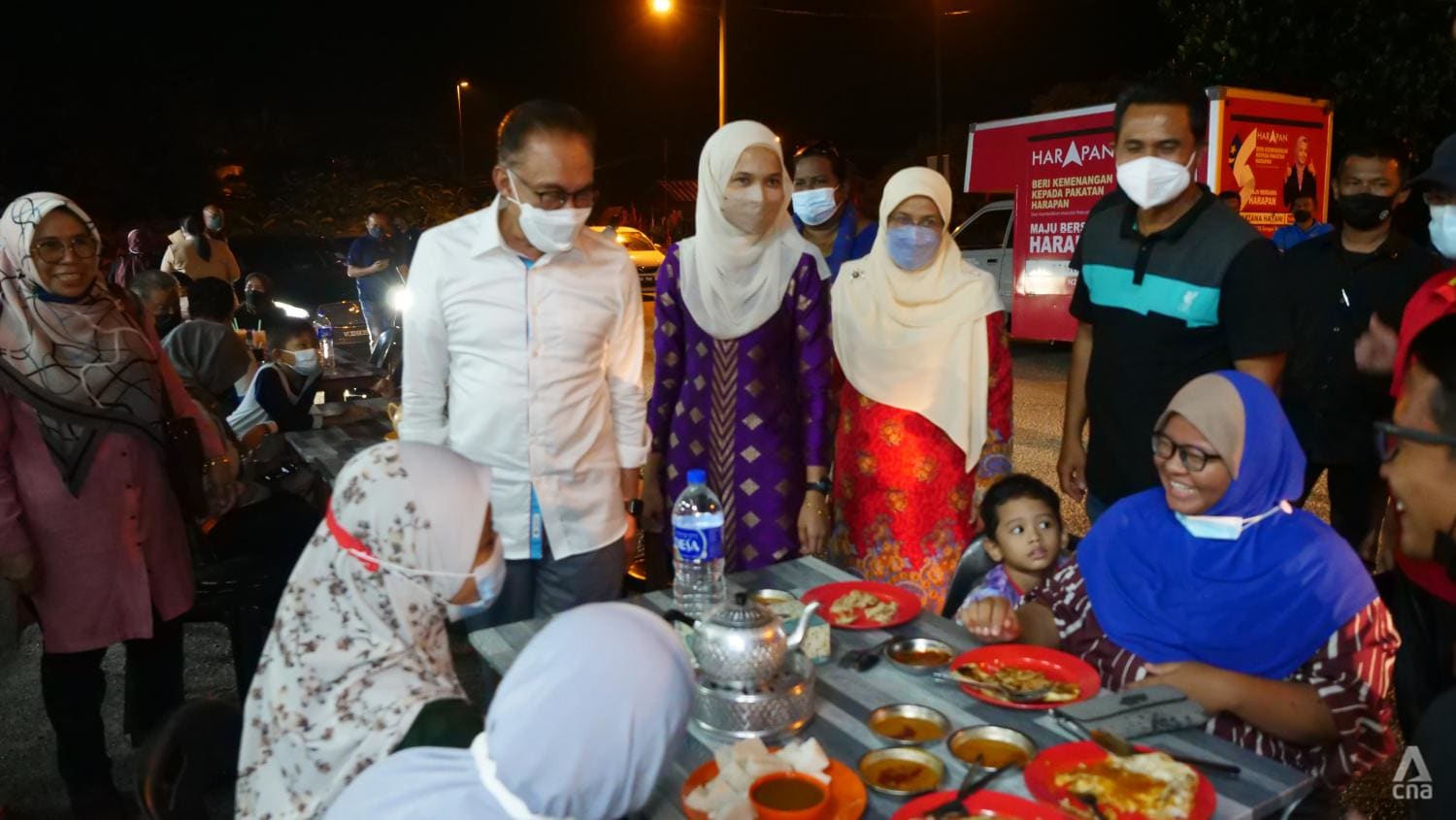 Social entrepreneur Dhanesh Basil, Perikatan Nasional's (PN) candidate standing in the rural Asahan constituency, said the alliance focuses a lot on social media in this election. 
"You can see videos, as well as live sessions and talk shows conducted to reach out to the public in Asahan," said the 38-year-old. 
Mr Dhanesh is in a multicornered fight, facing former chief minister Idris Haron and four other contenders in the Asahan seat. Mr Idris, formerly with United Malays National Organisation and now standing under a PH ticket, was one of the four assemblymen who brought down the state government ahead of its expiry last month. 
Active on Facebook, Mr Dhanesh has been busy posting photos of his campaigning activities and explaining his vision for the constituency. 
"We've also been focusing on coming out with infographics and manifestos to get the message out to the people of Asahan," he said. 
FLYERS AND PAMPHLETS ARE STILL USED 
Despite the focus on social media campaigning, physical campaigning is not entirely neglected.
All three candidates said they still hand out flyers and pamphlets to constituents, especially less social media savvy and older ones. 
For Asahan, Mr Dhanesh said, 67 per cent of the constituents are aged 40 and above, while the other 37 per cent are between 21 to 39. 
"They're not young people, and are mainly reached through traditional methods. We still hand out flyers," he said.
But given the restrictions on political campaigning, certain rules have to be followed. 
For instance, candidates said they have avoided wearing their party logos when they are on the ground as this is considered a "political activity". They also keep their interactions with the public short.
On Nov 12, PKR's communications director and Lembah Pantai MP Fahmi Fadzil tweeted a photo of a compound issued to a candidate in Alor Gajah for carrying out election campaigning by wearing a jacket bearing the PH logo.
However, the state police chief had denied this, and explained that the fine was issued for violating the state election's standard operating procedures, such as not observing physical distancing and breaking the no walkabout rule.
CHALLENGES IN GETTING FEEDBACK
One important aspect of campaigning is obtaining voter feedback, but this has not been easy with the various restrictions in place.
PN's Mr Dhanesh said his team has been reading the comments and feedback on social media.
"We can get their comments, reservations on what needs to be improved, and what needs to be done in the constituency," he said.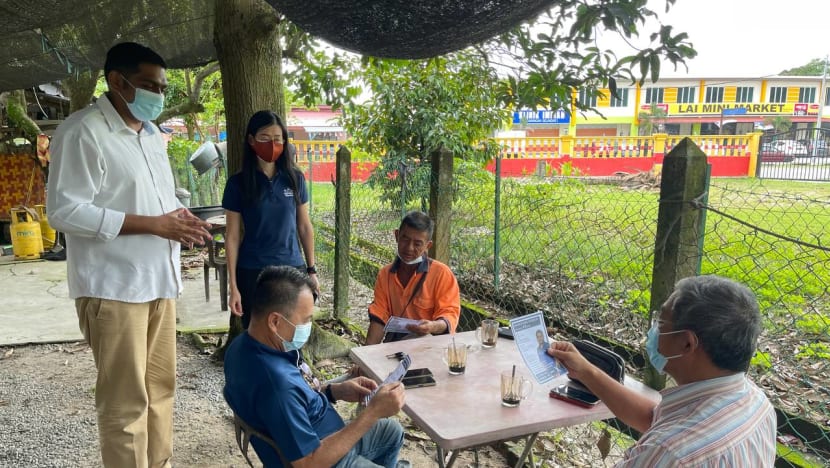 Ms Farzana Hayani said her team ran online polls targeting Sungai Rambai voters to obtain public feedback.
She added that the discovery of the patchy Internet connection issue in the course of her campaigning has resulted in her pledging to improve Sungai Rambai's Internet services, if elected.
Mr Mak, the independent candidate, agreed that physical campaigning would be more effective in terms of getting feedback directly from the voters. 
"Because if I were to hold a ceramah, I can gauge how I'm doing by the crowd size and their responses," he said. 
"But in the first place, this election should not be held … But since this has already happened, the assembly has been dissolved, we have to go to polls," he said.