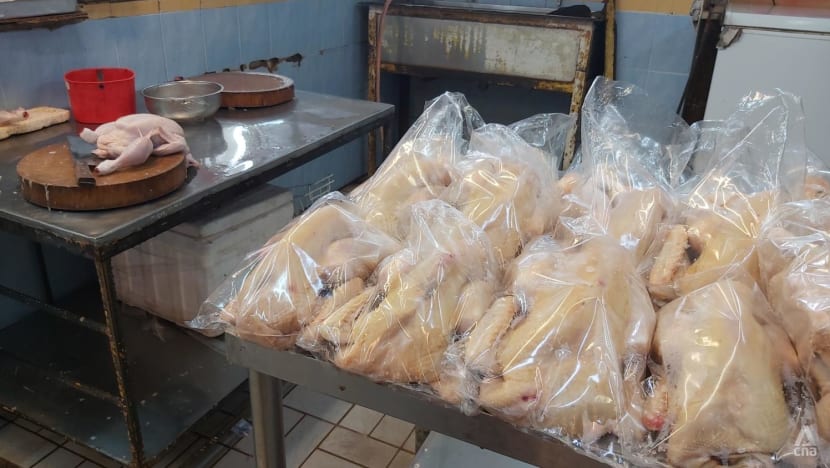 KUALA LUMPUR: The Malaysian government has decided not to float the price of chicken which was expected to take effect from Jul 1. 
Instead, a new price ceiling will be announced soon by the Agriculture and Food Industries Ministry (MAFI), said Prime Minister Ismail Sabri Yaakob in a statement on Friday (Jun 24). 
"The decision made proves the government's concern in safeguarding the interests of Malaysian families so that they are not burdened by rising prices and by the challenges of cost of living," he said.    
On Monday, Domestic Trade and Consumer Affairs Minister Alexander Nanta Linggi said that Malaysia would discontinue ceiling price controls for chicken and chicken eggs from Jul 1. 
He said the move was to stabilise the supply of food in the market, as well as prices in the long run. 
The maximum retail price of standard chicken in Malaysia is currently RM8.90 per kg. These are chickens that have been processed, and are sold with head, feet and organs. 
The maximum retail price for super whole chicken - which is slaughtered and cleaned, and then sold without feet, head, and organs - is presently set at RM9.90 per kg. 
Previously, the government had also announced that it would stop giving subsidies to poultry farmers from Jul 1. 
Following the announcement, poultry farmers had reportedly expressed the hope that the government would allow the price of chicken to be floated.  
Starting Jun 1, Malaysia had banned the exports of chicken to resolve the supply and pricing issues faced in the country.
Malaysia has been facing a shortage in supply of chickens, with the price of chickens skyrocketing due to the costs of breeding them. 
Malaysia had previously exported 3.6 million chickens a month to Singapore.
NO ELECTRICITY AND WATER TARIFF HIKE IN PENINSULA 
In his press statement of Friday, Mr Ismail Sabri also announced that  the electricity and water tariffs will not be increased in Peninsular Malaysia and that the rates will remain as they are for now.
"With this decision, the government is committed to cover the subsidy of RM5.8 billion, despite the sharp increase in the cost of fuel and other generation costs," he said.
On Wednesday, Mr Ismail Sabri unveiled an additional financial assistance totalling RM630 million (US$143 million) to help the bottom 40 per cent households cope with the rising costs of living.
Eligible households, senior citizens and single individuals will receive RM100 or RM50 of cash from Jun 27.
Opposition leaders, however, have criticised the financial aid as insufficient. 
They had also demanded that the government announce a comprehensive plan on managing the rising costs, adding that it would call for a mass mobilisation to voice the people's anger.