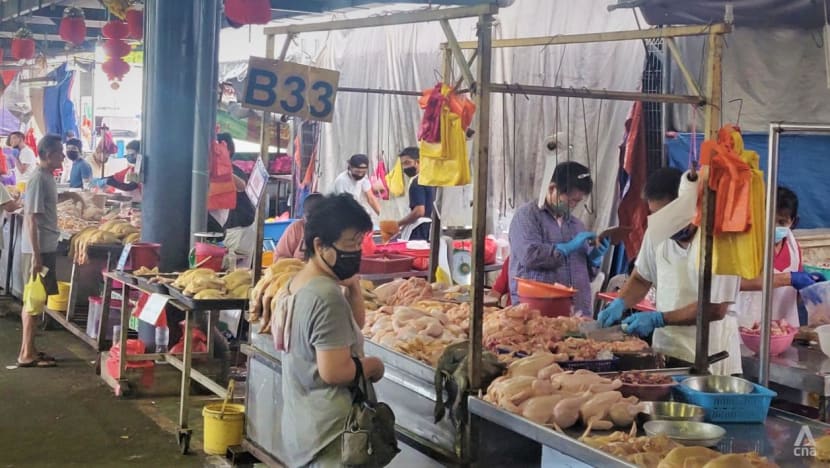 KUALA LUMPUR: The respective price ceilings for chicken and chicken eggs sold in Malaysia have been extended until the end of June, Alexander Nanta Linggi, Malaysia's Minister for Domestic Trade and Consumer Affairs announced in a press release on Thursday (Jun 2).
The ceiling price for standard chickens (processed and sold with head, feet and organs) was set at RM8.90 (US$2.02) per kg for four months from Feb 5 until Jun 5. It will now continue until Jun 30.
Similarly, whole "super" chickens, which have been processed, weighed and sold without their head, feet, or organs, have a maximum price of RM9.90 per kg.
"The extension is to ensure Malaysians are ready for price changes when the fixed price ends on Jun 30 ," said Mr Nanta Linggi. 
Price ceiling for eggs, graded A, B and C, which has been fixed at RM0.43, RM0.41 and RM0.39 per egg respectively, will also be extended till Jun 30. 
"For Langkawi, Sabah, Sarawak and Labuan (a Federal Territory off Sabah), the maximum price for chickens and eggs differ according to zone and district," said Mr Nanta Linggi. 
Prime Minister Ismail Sabri Yaakob announced on Wednesday that the government would stop giving subsidies to chicken farmers from July. Instead, the subsidies will be channelled directly to the people, especially the low-income groups. 
Mr Nanta Linggi said that the Finance Ministry would examine proposals for aid distribution to target low-income groups, including the rate and aid distribution mechanism to manage the rise in prices of goods when the ceiling price expires.
He also said that officers from his ministry would increase their enforcement daily throughout the country to ensure supply was stable and no hoarding took place in the markets.
"The trading community is reminded to always be ethical in their business and not to hoard for profiteering purposes."
"The government also calls on all consumers to use their spending power prudently and buy according to their needs," added Mr Nanta Linggi. The execution of the ceiling price mechanism, he said, would only be effective if all parties played their respective roles, including forwarding complaints and information to the ministry if any law-breaking was taking place.
On Wednesday, Malaysia's ban on chicken exports officially started.
Malaysia previously exported 3.6 million chickens a month to Singapore.
In a statement by the Ministry of Agriculture and Food Industries (MAFI), it was announced that the Malaysian Quarantine and Inspection Services Department (MAQIS) would enfoce the ban.
As such, permits for the export of live chickens, whole chicken carcasses, meat cuts and chicken-based food products would no longer be issued.
"All permits approved to export these commodities from Jun 1 are cancelled and blocked," the statement said.
Additionally, all exit points would be physically manned by MAQIS' personnel to enforce the ban.
Malaysia has been facing a shortage in supply, as the price of chickens has skyrocketed due to the costs of breeding them, as the price of chicken feed, which is imported, has increased month by month.
Although MAFI stated the government had allocated RM729.32 million in subsidies to help alleviate breeders' financial burdens, only RM50 million had been paid out as of late May, and Putrajaya said it would speed up subsidy payments.