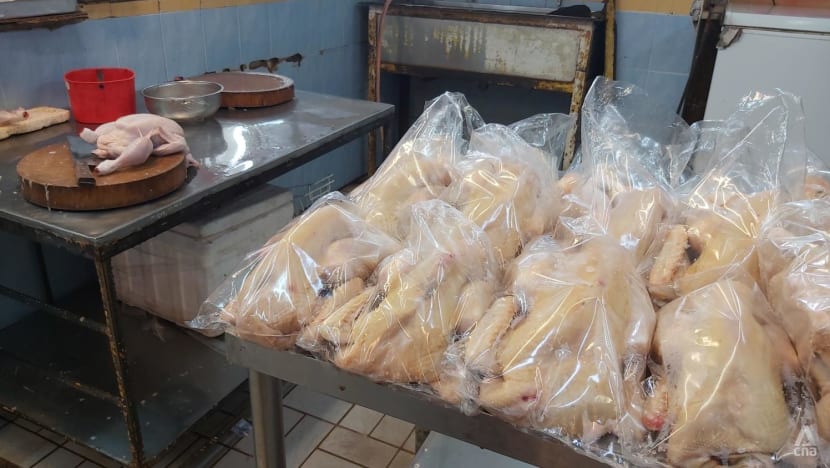 KUALA LUMPUR: Despite an export ban that took effect on Jun 1, prices of chicken at Malaysian markets have not shown any reductions over the past few days.
Checks by CNA at several wet markets over the week showed that prices have not come down, with standard whole chickens being sold at above the ceiling price of RM8.90 (US$2.03) per kg.
Mr N Rajaratnam, a chicken trader at the Jalan Othman market in Petaling Jaya, said he added a service charge of RM1.50 per kg for cutting and cleaning.
With the extra fee, Mr Rajaratnam sells his chickens at RM10.50 per kg.
"We also have to earn a living. Maybe after Hari Raya Haji (in July), the prices will come down. We can survive by selling chickens at RM10.50 to RM11 per kg," he said. 
Showing messages from his supplier about recent price hikes of chicken, Mr Rajaratnam said this price has gone up several times by 10 or 20 sen in May alone, adding that he now buys whole live chickens at about RM7.30 per kg. 
He said he has to rent another place to slaughter the chickens before bringing them to the market because the state government has forbidden slaughtering activities at the markets since the COVID-19 pandemic.
Factoring in the rent, his cost is about RM9 per kg, he added.
"If we are allowed to slaughter chicken at the market like previously, we can reduce our prices for sure," Mr Rajaratnam said.
Chicken supply has been affected lately by disease infection, weather conditions and rising chicken feed prices, according to breeders.  
On Jun 1, Malaysia halted the export of up to 3.6 million chickens per month to resolve the supply and pricing issues.
"The government's priority is our own people," Prime Minister Ismail Sabri Yaakob said on May 23 when he announced the ban.
Chicken traders have complained that the increased costs have cut into their profit margin, especially when a price ceiling is enforced. 
The price control mechanism has been in place since November last year. 
The government had lowered the price ceiling for whole standard chickens a few times, from RM9.50 per kg to the current RM8.90 per kg, while offering a subsidy of 60 sen per kg to breeders in February this year.  
Whole standard chickens are processed and sold with head, feet and organs, while whole "super" chickens, with a ceiling price of RM9.90 per kg, refer to poultry that has been processed, weighed and sold without their head, feet or organs.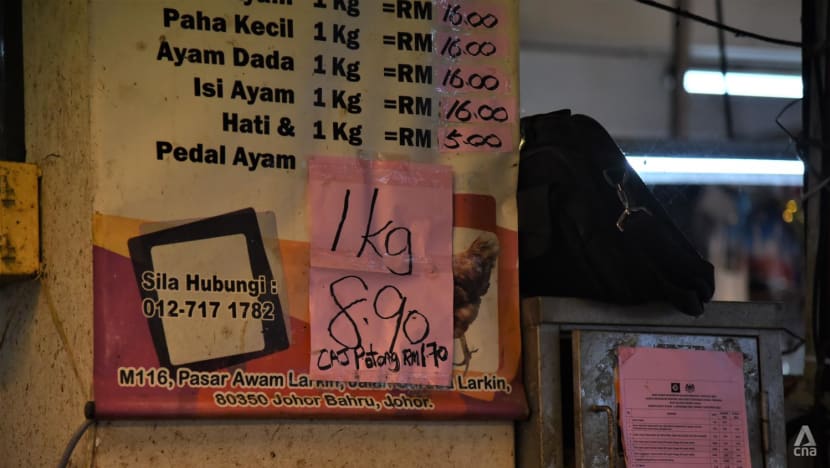 "THE PROBLEM IS THE PRICE CEILING"
Mr Tan Keng Hui, who owns a chicken stall at the Larkin Market in Johor Bahru, said they were hoping that the price ceiling would be lifted on Jun 5, but it was extended until the end of June instead. 
"The truth is we haven't been able to earn enough. We have families to feed, and the costs of everything have gone up - petrol, food - but our profits have not gone up," he told CNA. 
He currently purchases the chickens at RM9.50 per kg. 
"Each whole chicken we sell is at a loss. The only way is for us to charge a processing fee, so we sell at 8.90 per kg and charge RM1.70 extra to cut and clean the chicken. Our profit is only RM1 per kg," he said.
He said they cannot blame the suppliers as the cost of chicken feed has gone up again.
"The problem is the price ceiling; we cannot really operate if this continues. Larkin Market supplies mostly to the local population in Johor, and we are really the cheapest place to buy in town. But it cannot be to the point we don't earn enough for our own families," he said.
Another trader at the Jalan Othman market, who only wanted to be known only as Mdm Lili, said she purchased cleaned chickens at RM9.40 per kg and sells them for RM11 per kg to her customers.
For those buying in bulk such as restaurants, Mdm Lili said she sells the chickens for RM10.50 per kg.
"What can we do? Does it make sense to sell it for a cheaper price than we purchased it for?" said Mdm Lili, who has been selling chicken for a few decades.
PRICES NOT COMING DOWN ANYTIME SOON, SAY TRADERS
Department of Veterinary Services director-general Norlizan Mohd Noor said on Saturday (Jun 4) that the country's chicken supply shortage is expected to be resolved in a month.
He said there will be enough supplies to meet the demand for Hari Raya Haji celebrations next month and that inter-agency engagement sessions have been held with industry players to find out the issues affecting supply.
Chicken traders interviewed by CNA said they estimated that the prices would only go up further in the coming weeks. 
A trader at a morning market in Taman Pelangi, JB, who only wanted to be known as Ms Than Than, said prices are unlikely to reduce in the near future. 
"People still buy the chicken. We help them cut and clean too. I don't see the price dropping anytime soon. It's only going up. If the feed and petrol prices all go up, chicken prices will remain high too," she said. 
She sells her chickens for RM13.50 per kg and they are usually sold out by 10am.
She added that she knows the ceiling price is RM8.90 per kg but selling it at that price would only mean losses for her.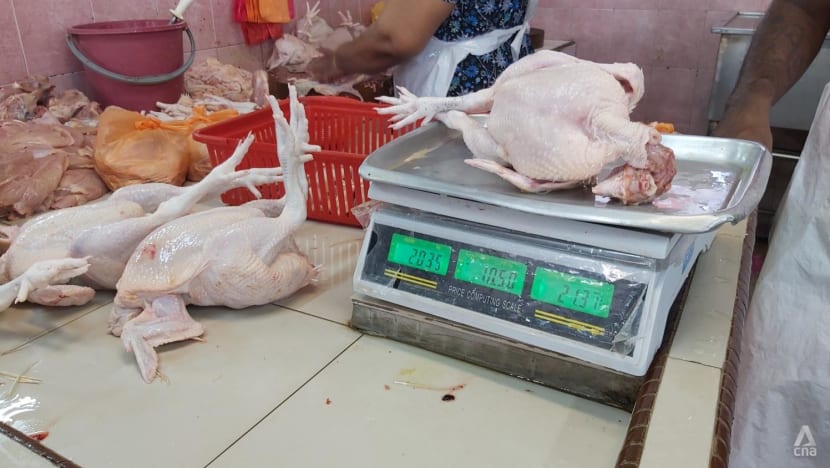 Trader Wan Rohaini, who has been selling chicken for about 30 years at the Jalan Othman market, currently sells her chickens for RM11 per kg. She purchases them from her supplier at RM9.60 per kg.
She said that prices have gone up after the Hari Raya celebrations in May instead of decreasing.
"I am afraid prices will go up further because of the whole situation. They have been going up over the last few months. I have had no choice but to explain to my customers the situation.
"I feel for them also because not everyone can afford the rise in prices. But if I have to sell at a loss, I might as well just sit at home," she said.