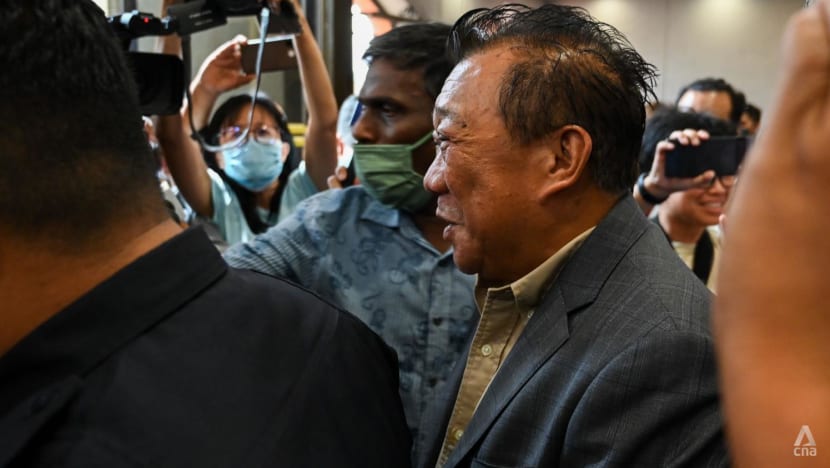 KOTA KINABALU: The Sabah state government led by Gabungan Rakyat Sabah (GRS) coalition has collapsed, after Barisan Nasional (BN) withdrew its support for the chief minister.
BN's decision was announced by Sabah United Malays National Organisation (UMNO) chief Bung Moktar Radin on Friday night (Jan 6). UMNO is the lynchpin party of BN.
Mr Bung Moktar was quoted as saying by Bernama that the decision was made due to a loss in confidence in the leadership of chief minister Hajiji Noor.
He added that the latter had breached an agreement between BN and Perikatan Nasional (PN).
He noted that BN and PN implemented an agreement to form the state government following the Sabah state elections in 2020. But Mr Hajiji and other leaders of the Sabah chapter of Parti Pribumi Bersatu Malaysia (Bersatu), which is a component party of PN, later left Bersatu. 
Mr Bung Moktar argued that this caused the state government to lose its legitimacy. 
He said: "Hajiji also threatened us with a Cabinet reshuffle without any discussion. We have also lost confidence after Hajiji lost his locus standi and qualifications to be selected as Sabah Chief Minister.
"According to the Sabah state constitution, the chief minister must be chosen from a party with the majority. He (Hajiji) is without a party, his standing is under GRS, which is a grand coalition party."
Mr Bung Moktar added that he would seek an audience with the Sabah head of state Juhar Mahiruddin to review Mr Hajiji's appointment as chief minister. 
In the 79-seat state assembly, GRS has 29 seats, while Warisan has 19 seats and BN has 17 seats. Pakatan Harapan (PH) holds seven seats.
Before the Friday night announcement, Mr Hajiji was backed by GRS, BN, PH as well as other smaller parties and an independent.
He was one of the 16 Sabah Bersatu state assemblymen who decided to leave the party led by former prime minister and chairman of Bersatu, Muhyiddin Yassin. 
The move followed the formation of the unity government at the federal level by Prime Minister Anwar Ibrahim last year. 
The federal unity government comprises PH, BN, Gabungan Parti Sarawak (GPS), GRS and Warisan.
Rumours of a change in state government were rife on Thursday, as local media reported that Warisan leader Shafie Apdal had called for a press conference in the afternoon, only for the event to be cancelled several hours later.
On Friday afternoon, Mr Anwar said that the political situation in Sabah was "calm". 
"I don't see any (new) developments. I was just informed that there were some issues, and I asked the chief minister (Mr Hajiji) to discuss it with (our) friends in Sabah," the PH chairman was quoted as saying by local media.