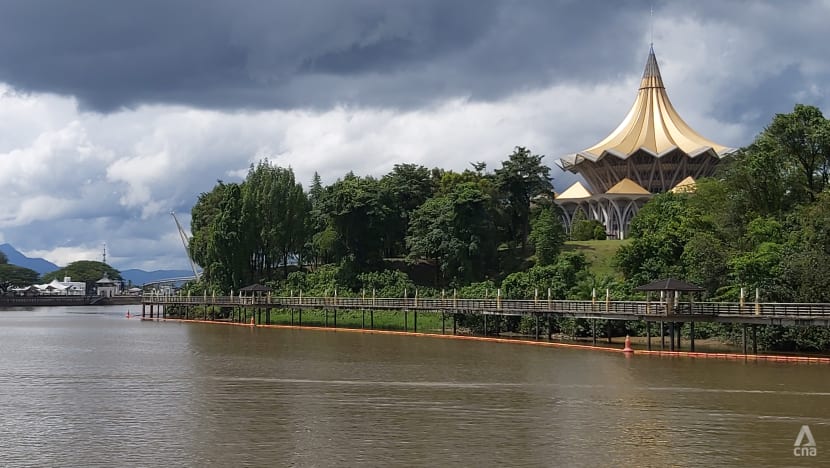 KUCHING: The upcoming Sarawak state election on Saturday (Dec 18) will see the most crowded field of contestants in the history of the Borneo state.
A total of 349 candidates are competing for the 82 seats in the 12th state election that was delayed because of the COVID-19 pandemic.  
In the last state election in 2016, a record of 229 candidates contested for seats in the state that is roughly equivalent in size to peninsular Malaysia. 
While it sees the most crowded field of candidates, the campaigning has generally been muted one so far, mostly due to the restrictions placed because of COVID-19 public health measures. 
Campaign talks or ceramahs are banned at some 18 urban state seats with limited physical campaigning allowed at 64 constituencies that are deemed to have poor internet connectivity.  
According to Malaysia's Election Commission (EC), around 1.25 million voters are eligible to cast their votes.
Nomination Day took place on Dec 6, while early voting was held on Dec 14.   
The election comes days after the parliament passed a bill approving constitutional amendments in line with the Malaysia Agreement 1963 (MA63). 
The amendments sought to restore the status of Sabah and Sarawak as equal partners with peninsular Malaysia.
Here's what you need to know about the parties contesting, their political platforms and pledges to the voters of Malaysia's biggest state: 
WHY GPS NEEDS A CLEAR MANDATE
The incumbent ruling coalition Gabungan Parti Sarawak (GPS) goes into the election as the clear favourite to win by a landslide, according to political analysts.
They are made up of Parti Pesaka Bumiputera Bersatu (PBB), Parti Rakyat Sarawak (PRS), Progressive Democratic Party (PDP) and Sarawak United People's Party (SUPP).
Previously, the four parties in GPS were part of the Barisan Nasional (BN) coalition that had ruled Malaysia for more than 60 years.
In the June 2016 election under former chief minister Adenan Satem, BN swept 72 of the 82 seats or almost 90 per cent of the seats.
The popular Adenan however died in January 2017 and was replaced by Mr Abang Johari.
After BN lost power at the federal level in the May 2018 general election, the four Sarawak parties withdrew from BN and formed the GPS coalition.
They now have an informal alliance with BN and Perikatan Nasional at the federal level.
Dr Jeniri Amir, a senior fellow with the National Professors Council said that the election was important for Mr Abang Johari as he needed his own personal mandate from the voters and to continue his development agenda.
"He is leading GPS, which is a new political entity. It is very important for him to enhance his reputation and for political legitimacy," said Dr Jeniri. 
BN has always held at least two-thirds of the seats in the legislature and there are no indications that will change this time around. 
"It is a foregone conclusion that GPS is going to win more than a two-thirds majority," Dr Jeniri predicted.
It will also be the first time that GPS would be contesting on its own ticket and without the influence of parties from peninsular Malaysia. 
WHY "SARAWAKIAN FIRST" MATTERS    
During the launch of GPS' manifesto with a "Sarawakian first" mantra, Mr Abang Johari said that they would now be able to make their own decisions without referring to any component parties at the federal level.  
"As a responsible government, GPS will not only wait for the elections to implement initiatives and development projects for the socio-economic development of the people," he said.
There were altogether 33 pledges in the manifesto encompassing issues such as state autonomy, standard of living of the people and infrastructure improvements. 
"The opposition parties can only criticise GPS. They don't have a track record of developing Sarawak," said Mr Abang Johari.   
However, one problem facing GPS is how to ensure that the voters know the hornbill symbol in the voting ballot now represents the coalition. 
Professor James Chin, director of the Asia Institute at the University of Tasmania believed that this will be the biggest problem facing GPS, as previously the parties were contesting under the BN's weighing scales logo. 
WHY ARE PH PARTIES GOING ON THEIR OWN IN SARAWAK?
The opposition parties under Pakatan Harapan (PH) are contesting in 62 seats. Parti Keadilan Rakyat (PKR) is contesting in 28 seats, Democratic Action Party (DAP) in 26 seats and Parti Amanah Negara (Amanah) in eight seats.
In the 2016 elections, PKR and DAP went head-to-head in several seats but this time around they have managed to avoid that. 
Back in 2016, DAP won seven seats while PKR won three seats. However, after some of them   switched allegiances, the number of seats held by these parties has reduced further.
As all of them will be contesting the election on their own with their own individual logos, PH as a coalition will only exist in name as far as the voters are concerned.
"All of them are using their own logos and don't have a common manifesto. They can't claim to be a common group," said Prof Chin.
Among the PH parties, Dr Jeniri said that only DAP, which won 20 per cent of the votes in 2016, is likely to put up a good fight. 
DAP is concentrating its election machinery in the Chinese-majority seats in the main cities such as Kuching, Sibu and Miri.
DAP Sarawak chairman Chong Chien Jien has called on voters not to split votes among the opposition but to focus their votes on helping DAP form a stronger opposition in the state assembly.
As for PKR, it is a pale shadow of its former self now because of internal problems, said Dr Jeniri.
The party has been weakened in Sarawak after all their representatives who won under their ticket in 2016 switched allegiances to other parties.
Another PH coalition partner, Amanah, is seen to be competing only to make up the numbers in Sarawak, said observers.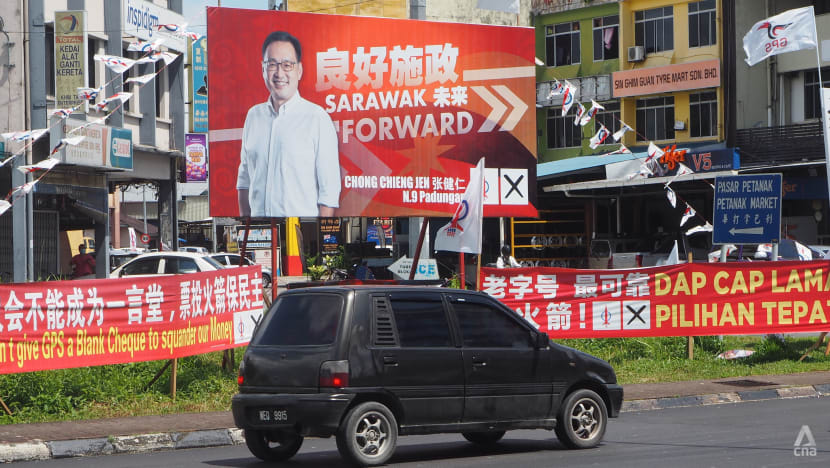 WHY PSB MAY POSE A CREDIBLE CHALLENGE
One of the parties that is seen to mount a credible challenge in the election is Parti Sarawak Bersatu (PSB), which is headed by former state finance minister Wong Sung Koh. It will be contesting 70 seats.
A splinter party of the SUPP, it was previously called the United People's Party (UPP) and was a pro-BN party.
It rebranded itself as PSB in December 2018 before opting to become independent in July 2019 following the resignation of Mr Wong from the state cabinet.
Among its key campaign issues, PSB pledges to enhance Sarawak's autonomy in getting back sea territorial rights, petroleum and gas rights as well as a fair share of parliamentary seats at the federal level.
PBS also pledges to appoint four deputy chief ministers - each representing one main ethnic group - to assist the chief minister.  
Dr Jeniri said that while PSB are seen as a credible party in Sarawak, the best-case scenario for them was winning about eight seats.
WHERE DO SMALLER PARTIES STAND IN THE SARAWAK ELECTION?
One notable feature that stands out in this year's Sarawak election, said Prof Chin, is the presence of parties that openly talk about Sarawak leaving the federation, or at least arguing for the first steps towards Sarawak independence.
"In any other Malaysian state, such parties and groups would be swiftly arrested and charged for sedition. Yet in Sarawak, they are on the ballot paper," he said.
One such party is Parti Bumi Kenyalang which will be contesting 73 seats, the second most number after the ruling GPS.
Led by ex-DAP member Voon Lee Shan, they are campaigning to "regain" the sovereignty and independence of Sarawak by constitutional and peaceful means.
Other parties that are campaigning along the same lines include Aspirasi that is contesting 15 seats.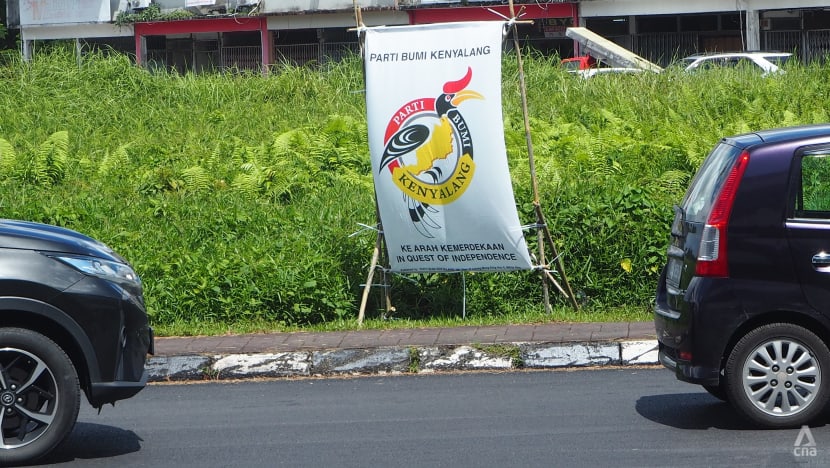 WHY ARE BN, BERSATU STAYING OUT?
Like BN, Parti Pribumi Bersatu Malaysia (Bersatu) - a key component party in Prime Minister Ismail Sabri Yaakob government, is also not fielding any candidates for the Sarawak polls. 
While both BN and Bersatu are staying out in the election, they have pledged to support GPS. 
With 18 seats in the federal parliament, GPS is an important component that allowed Mr Muhyiddin Yassin's Bersatu-led Perikatan Nasional (PN) to take over power in March 2020 and subsequently helped Mr Ismail Sabri become prime minister in August this year.
BN deputy president Mohamad Hasan had said they would not allow anyone to use the BN's logo during the election out of friendship with GPS.
PN chairman Mr Muhyiddin said they would not participate in the state election but looked forward to working together with GPS in the upcoming Malaysian general election.
Download our app or subscribe to our Telegram channel for the latest updates on the coronavirus outbreak: https://cna.asia/telegram