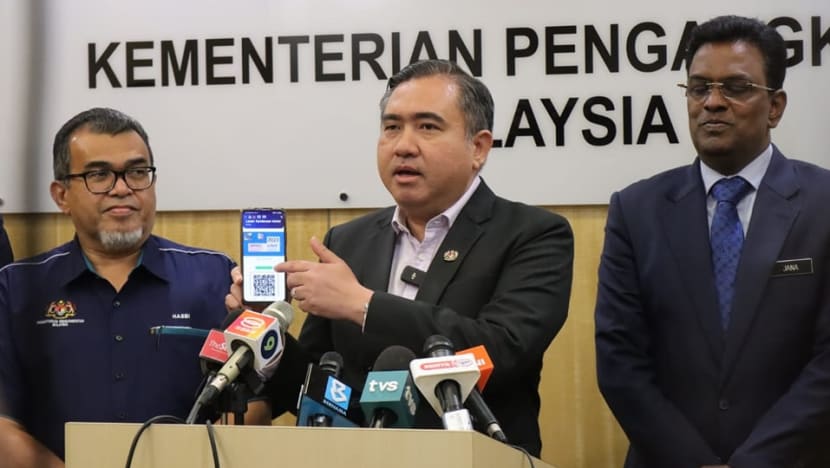 KUALA LUMPUR: Malaysian owners of private vehicles will no longer be required to display their road tax information on their vehicles, said Transport Minister Anthony Loke on Friday (Feb 10). 
There is also no more requirement for drivers to carry a physical copy of their driving licence. 
"Section 20 of the Road Transport Act 1987 … which requires every LKM (Motor Vehicle Licence) handle to be affixed and displayed on the vehicle, will no longer be enforced for vehicle owners who belong to the categories specified in the first phase," the minister said at a press conference, adding that this will be effective immediately. 
"(Owners of) private vehicles can remove that sticker. Just download the application, that's enough." 
Malaysian drivers can now download the MyJPJ mobile app as a means of showing that their road tax payments and driving licences are in order.
Mr Loke explained that the transition will be implemented in stages. He added that as for other vehicles, including those owned by private firms, foreigners and the public service, they are still required to display their road tax information.
"This will be done in stages, with the first phase involving individual private vehicles, including motorcycles, owned by Malaysians," he said.
He added that drivers who are not ready to transition to the app, such as those without smartphones, can still choose to keep their road tax information sticker displayed on their vehicles during the "interim period", which is expected to last for at least a year. Road tax is renewable annually in Malaysia.
Mr Loke also said that vehicle owners can keep a screenshot of their e-licence to be shown to the authorities if they happen to be in an area without an Internet connection. 
On expanding the regulation to also cover other road users, he said that his ministry will first consider the system's preparedness and public reception. 
The move was announced as part of Malaysia's digitalisation efforts by the transport ministry as well as the Road Transport Department (JPJ).
Mr Loke said that with the transition to the MyJPJ app, long waits can be prevented at the JPJ counters as fewer people will need to have their physical road tax information stickers renewed at the offices. 
"I understand that for each month, the number of LKMs that expire or need to be renewed throughout the country exceeds 1 million," said Mr Loke.
"With this digitalisation system, we can reduce (the queues by) more than 80 per cent."