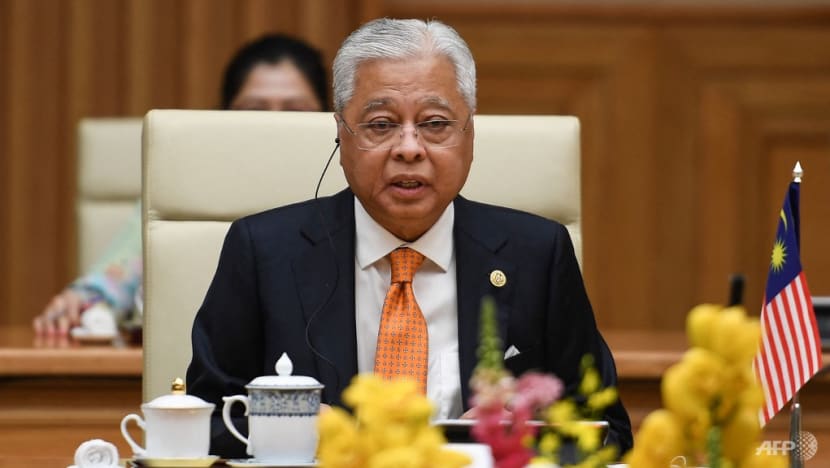 KUALA LUMPUR: Ismail Sabri Yaakob has been picked by the United Malays National Organisation (UMNO) as its prime minister candidate for the upcoming Malaysian general election. 
"The UMNO supreme council unanimously proposed for Ismail Sabri to be its prime minister candidate for the coming 15th general election," party secretary-general Ahmad Maslan said in a statement on Thursday (Apr 14).
Mr Ismail Sabri was sworn in as Malaysia's ninth prime minister on Aug 21 last year.
This came after Mr Muhyiddin Yassin, his predecessor, resigned after losing majority support in the Lower House.
After Mr Muhyiddin's resignation, all 220 members of parliament were asked to submit a statutory declaration stating their preferred prime minister candidate to the palace. A total of 114 MPs picked Mr Ismail Sabri, giving him a simple majority.
The UMNO statement on Thursday also said the organisation's supreme council, chaired by party president Ahmad Zahid Hamidi, decided that the Memorandum of Understanding (MOU) between the government and opposition Pakatan Harapan coalition should not be continued.
However, UMNO's secretary-general said the party will continue supporting the tabling of the anti party-hopping Bill and it would not compromise with any parties trying to stall the proposed Bill.
"UMNO's stand is that the anti-party hopping Bill must be expedited in order to ensure the rights of voters," he added.
The historic MOU on bipartisan cooperation was inked in September last year and is set to expire on Jul 31.
On Monday, an amendment to the Federal Constitution was tabled in parliament, the first step to enabling an anti-party hopping law.
   
The proposed Bill would result in seats being declared vacant and reelections held if parliamentarians switched parties or were sacked from the party.