Muhyiddin Yassin appointed Malaysian caretaker PM after resignation is accepted by the king
In a televised address, Mr Muhyiddin says he has lost majority support in the House.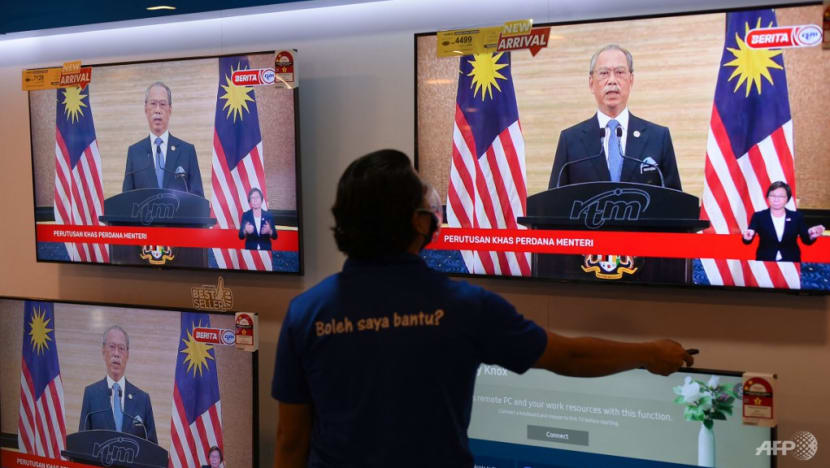 KUALA LUMPUR: Mr Muhyiddin Yassin has been appointed Malaysia's caretaker prime minister, after his resignation was accepted by the king on Monday (Aug 16). 
In a statement issued by the national palace, it said that the king has received the letter of resignation from Mr Muhyiddin and the entire Cabinet with effect from Monday. 
"Following his resignation, His Majesty has agreed that the Most Honorable Tan Sri Mahiaddin bin Md Yasin will serve as caretaker prime minister until a new prime minister is appointed."
The palace statement added that for the people's safety, calling for a general election during the pandemic was not the best option. 
"His Majesty was informed by the Election Commission chairman that as of Aug 10, 2021, 484 (or 79 per cent) out of 613 state seats are COVID-19 red zones. 
"At the same time, His Majesty was aware that the health facilities in the country are in a worrying situation," said the statement issued by palace comptroller Ahmad Fadil Shamsuddin. 
Local media reported that party leaders are expected to have an audience with the king on Tuesday.
I HAVE LOST MAJORITY SUPPORT: MUHYIDDIN
In a televised address at 3pm, Mr Muhyiddin said he tendered his resignation as he had lost majority support in the House. 
He said his earlier suggestion for his legitimacy to be tested in the parliament has become irrelevant, after 15 United Malays National Organisation (UMNO) MPs withdrew their support for him and that his proposal for bipartisan cooperation was rejected by the opposition parties.  
"Therefore, there is no need anymore for my legitimacy as prime minister to be proven in the parliament," he said. 
"Today I resign as prime minister and (on behalf of) all Cabinet ministers, as required by the federal constitution," he added. 
Mr Muhyiddin said he has tried various efforts to save the Perikatan Nasional (PN) government at least until the tasks to manage the pandemic are completed. 
"But this effort is not successful because there were greedy parties who were (more interested in) grabbing power than prioritising people's lives and livelihoods," he said without elaborating. 
He said he could take the easy way out by sacrificing his principles and staying on as prime minister, but that was not his choice. 
"I will never conspire with kleptocratic groups, interfere with judiciary independence and turn my back on the federal constitution simply to stay in power," he said. 
The opposition has welcomed Mr Muhyiddin's resignation. 
Opposition leader Anwar Ibrahim wrote in a Facebook post: "Tan Sri Muhyiddin Yassin's decision to resign today is welcomed and will open space towards change for the country." 
"I urge all parties to calm down and pray that Malaysia will rise up stronger in the face of health and economic challenges at this moment. I thank him for his service to the country." 
The Democratic Action Party also said that it "commends Mr Muhyiddin for taking the correct constitutional step following his resignation as prime minister after losing his parliamentary majority". 
"During his 17 months in power, Muhyiddin tried hard but fell short in handling the triple crisis of COVID-19 pandemic, economic recession and political instability," wrote DAP's secretary general Lim Guan Eng in a statement. 
"The new prime minister faces huge challenges and will have to do a far better job in dealing with the triple crisis, particularly to save lives and livelihoods badly affected by the surge of COVID-19 infections and deaths."
Earlier in the day, minister of science, technology and innovation Khairy Jamaluddin wrote on Instagram: "The Cabinet has tendered our resignation to the Agong. Thank you for the opportunity to, once again, serve the nation. May God bless Malaysia."
On Monday morning, Mr Muhyiddin chaired a Cabinet meeting, before proceeding for a royal audience with King Al-Sultan Abdullah Ri'ayatuddin Al-Mustafa Billah Shah.
The prime minister's resignation came amid a political power play unfolding in Malaysia.
Early this month, a number of UMNO lawmakers, led by party president Ahmad Zahid Hamidi, withdrew their support for Mr Muhyiddin, compromising his already razor-thin parliamentary majority.
The prime minister initially insisted that he still commanded the parliamentary majority, and promised to prove his legitimacy through a motion of confidence scheduled to be tabled in the parliament on Sep 7.
Last Friday, Mr Muhyiddin appeared in a televised address to seek bipartisan support to survive the confidence motion.
However, his proposal was rejected by Pakatan Harapan (PH), which said that this was essentially an open admission that he had lost the support of the majority of the Lower House. The opposition bloc called for him to step down.
UMNO, too, said it would not consider offers from "a person who no longer has legitimacy", adding that his offer could be characterised as an "open bribery".
Mr Muhyiddin is president of the Parti Pribumi Bersatu Malaysia (Bersatu) leading the PN coalition.
He was sworn in as the country's eighth prime minister on Mar 1, 2020 following a power tussle, which saw him pulling Bersatu out of then-ruling PH coalition and causing its collapse. 
During his 17-month tenure as premier, Mr Muhyiddin has been criticised by some quarters for failing to lead the Malaysian government effectively in handling the COVID-19 pandemic.
Malaysia is in the midst of its deadliest COVID-19 wave, with daily infection numbers exceeding 20,000 cases.
In total, the country has seen more than 1.4 million COVID-19 cases and more than 12,000 deaths.