Malaysia's key political parties hold meetings amid signs of imminent general election
UMNO president Ahmad Zahid Hamidi, Bersatu chairman Muhyiddin Yassin and PKR chief Anwar Ibrahim all made speeches on Saturday, issuing rallying cries ahead of possible national polls.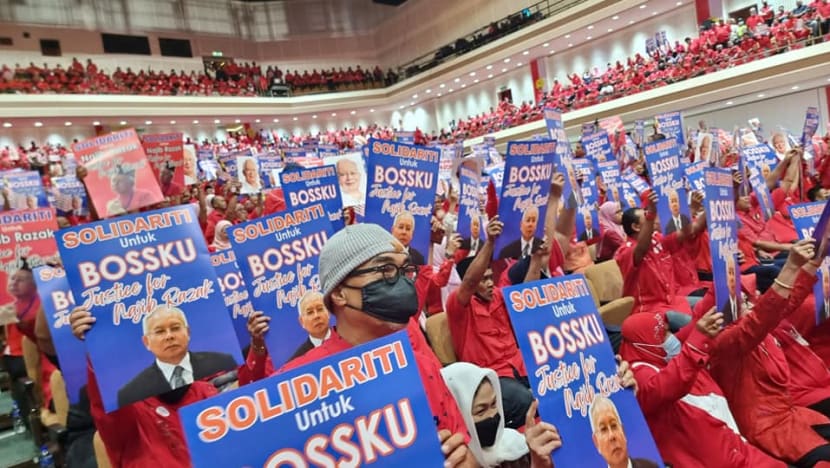 KUALA LUMPUR: Some of Malaysia's key political parties held meetings on Saturday (Aug 27) amid growing signs that a general election may be called imminently. 
On Friday, Minister in the Prime Minister's Department Wan Junaidi Tuanku Jaafar confirmed that Malaysia's 2023 budget will be tabled on Oct 7, three weeks earlier than the original date of Oct 28.
This has fuelled speculation within local media that national polls may be called soon despite Prime Minister Ismail Sabri Yaakob insisting that the decision to bring forward the tabling was not unusual.
The 15th general election is not due until September next year, but United Malays National Organisation (UMNO), a main component party in the ruling coalition, has intensified its calls for the dissolution of parliament, a move that would pave the way for the next general election. 
HOLD GE TO RETURN MANDATE TO THE PEOPLE: UMNO'S AHMAD ZAHID 
During a special briefing held at the UMNO headquarters at World Trade Centre Kuala Lumpur on Saturday, party president Ahmad Zahid Hamidi piled on the pressure for Mr Ismail Sabri, an UMNO vice president, to dissolve parliament.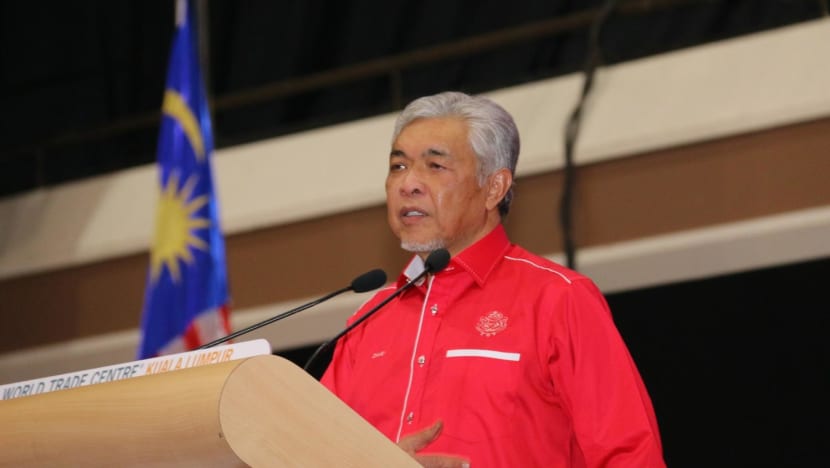 "The call to hold a GE is not a new issue. It's not a question of us being power-crazy or desperate … We have been consistent in calling for the elections to be held because we want a government built on the people's mandate, rather than by political machinations," said Ahmad Zahid. 
"We are firm on our stance that the general election must be held immediately. The UMNO supreme council has issued an advisory to the PM for the GE to be held after herd immunity (from COVID-19) is achieved. Now that all this has been achieved, the COVID-19 pandemic is over, so now when (will the GE be called)?" he added, to roars of "bubar" (dissolve) from hundreds of UMNO members in the audience. 
Mr Ismail Sabri and some UMNO cabinet ministers such as Health Minister Khairy Jamaluddin, Communications and Multimedia Minister Annuar Musa, and Federal Territories Minister Shahidan Kassim were not at the briefing. 
Three Malaysian prime ministers have been appointed since the last general election in 2018. Multiple instances of party switching have added to the political upheaval, resulting in changes in the federal administration from Pakatan Harapan to Perikatan Nasional (PN), and now a coalition made up of PN and Barisan Nasional.
In his speech, Ahmad Zahid also called for UMNO members to support a royal pardon for former premier Najib Razak, who began his 12-year prison sentence on Tuesday after the Federal Court dismissed his final appeal bid in the SRC International case.
"We must be ready to support a petition campaign to pardon (Najib) when the time comes. We leave it to the wisdom of the king to assess and do it in future," said Ahmad Zahid, who choked up as he thanked Najib's wife Rosmah Mansor and children for attending the briefing. 
Later on Saturday evening, an UMNO supreme council meeting was convened, with Prime Minister Ismail Sabri Yaakob among those who attended. 
After it ended, Sabah UMNO chief Bung Moktar Radin said that the focus of the meeting was to strengthen the party, restore harmony and stand in solidarity with Najib. 
He told reporters that that no date to hold the general election was discussed and that it was the prerogative of the prime minister on when to dissolve parliament.
WE ARE READY FOR POLLS ANYTIME: PN'S MUHYIDDIN 
Meanwhile at Serdang, Selangor, the Perikatan Nasional coalition held a convention attended by members of its component parties - Parti Pribumi Bersatu Malaysia (Bersatu), Parti Islam Se-Malaysia (PAS), Parti Gerakan Rakyat Malaysia (Gerakan) as well as Sabah-based entities Parti Progresif Sabah and Parti Solidariti Tanah Airku.
During his speech at the convention, PN chairman Muhyiddin Yassin said that it was possible that the election would be announced immediately after this year's budget is tabled on Oct 7.  
"While we are gathered here today, the other side (UMNO) is also meeting, to pressure the prime minister to hold a general election earlier. Based on an agreement between PN and the prime minister, and when the PM is deciding on the date for the national polls to be held, he has to discuss with us, because we are an important part of the government. But I don't know if the prime minister remembers this agreement," said Mr Muhyiddin.  
"Regardless, we are ready to face the general election at any time. If tomorrow the PM meets the king to recommend that parliament be dissolved, we are ready to enter the ring and win the polls," added the former prime minister. 
Mr Muhyiddin resigned as prime minister on Aug 16, 2021 after he failed to command the majority support of MPs, with Mr Ismail Sabri then taking over. 
Mr Muhyiddin added in his speech on Saturday that based on reports he had received, support for UMNO and the Barisan Nasional coalition was waning. 
"(Ahmad Zahid says) if BN waits until next year (to hold the GE), they may lose. But if it's this year, god willing BN will lose as well," said Mr Muhyiddin. 
In his speech at the same convention, PAS president Abdul Hadi Awang urged PN component parties to shake off the coalition's reputation as a "backdoor" government by winning big in the upcoming polls. 
He also backed calls by other member parties to name Mr Muhyiddin as the coalition's prime minister candidate if PN wins. 
"We take over to strengthen the government, establish PN and make Muhyiddin become PM," he said in his speech.
WE WILL BE READY BY OCTOBER: PKR'S ANWAR 
Over at Shah Alam, opposition party Parti Keadilan Rakyat held an election convention attended by its members from across the country. 
After the event, PKR president Anwar Ibrahim told reporters that the party will be ready for elections, whenever they are called.
"The focus today is on the (general) elections. PKR's election director has already set several strategies in place, and we will be ready for elections to be called either next month, or next year. We can see here that our comrades are stoked and excited, and they are ready to (be) mobilised at any time," said Mr Anwar. 
"We will be fully ready by October (to face GE15) because Budget 2023 will be tabled in October. As we know, that means elections will be called soon. Ismail Sabri is too weak right now because he is under pressure from UMNO leadership.
"He is not a prime minister who can make decisions on his own," said Mr Anwar, who is chairman of Malaysia's main opposition bloc, the Pakatan Harapan (PH) coalition.
PH consists of the Democratic Action Party (DAP), Parti Amanah Negara (Amanah) and the United Progressive Kinabalu Organisation (UPKO). 
When asked if PH would be pursuing a "big tent" strategy - to work alongside partners in the opposition to prevent the Barisan Nasional coalition from winning the next general election - he said that the coalition will move away from that and instead focus on building its own strengths. 
"In the last PH presidential meeting, we decided that our goal is to strengthen PH as it is first. Full stop," he said.
He added that the PH presidential council also decided that going into GE15, the coalition agreed that it would be contesting under the same logo.