ASEAN cannot go back to 'business as usual' with Myanmar: PM Lee
There is "no reason" to change the format of only inviting Myanmar to ASEAN meetings at a non-political level, says Singapore's Prime Minister Lee Hsien Loong.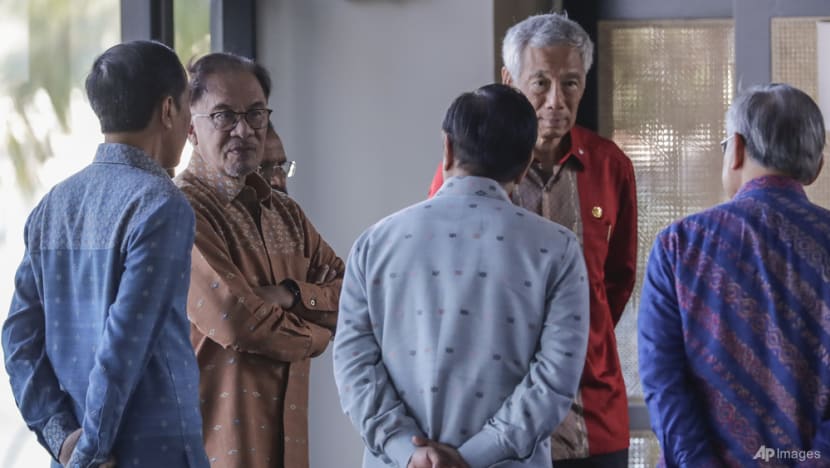 LABUAN BAJO, Indonesia: Amid the ongoing conflict in Myanmar, there is "no reason" to change the format of only inviting Myanmar to Association of Southeast Asian Nations (ASEAN) meetings at a non-political level, said Singapore's Prime Minister Lee Hsien Loong on Thursday (May 11). 
This current format signals that "all is not well" and "very little progress" has been made on the Five-Point Consensus (5PC), he told reporters on the sidelines of the 42nd ASEAN summit. 
The 5PC refers to a peace plan agreed upon between ASEAN and the junta in 2021, months after it overthrew the elected government of Nobel laureate Aung San Suu Kyi. It has yet to be implemented.
"If we now say, well, all right, we forget it and just carry on and go back to business as usual, what have we achieved except to demonstrate that we have not made any progress and that we are now carrying on as if nothing is wrong?" said Mr Lee. 
The conflict in Myanmar has dominated talks as ASEAN leaders meet in Indonesia. 
While problems in Myanmar cannot hold back ASEAN's work, including cooperation and engagement with dialogue partners around the world, not allowing Myanmar to participate in ASEAN meetings at a political level "has symbolic purpose" and "important practical consequences", Mr Lee added.
Amid the ongoing conflict in Myanmar, there is "no reason" to change the format of only inviting Myanmar to Association of Southeast Asian Nations (ASEAN) meetings at a non-political level, said Singapore's Prime Minister Lee Hsien Loong on Thursday (May 11). Saifulbahri Ismail reports.
CONTINUED ENGAGEMENT, PATIENCE NEEDED 
But while this position is maintained, ASEAN must continue to engage all parties involved, including the military leadership and the National League for Democracy party, Mr Lee said. 
This is to "try our best to influence things for the better, to get them to talk to one another, to help with humanitarian assistance to the population who are really suffering grievously", he said. 
"If possible, to encourage cessation of violence. It's very hard to do. It will take a long time." 
Mr Lee noted that the last time ASEAN faced a similar situation with Myanmar was when the 1988 uprising led to a coup later that year. The elections eventually took place in 2010. 
"I do not expect this time to be easier to solve. And we have to be patient. And we must be able to maintain a consistent rational policy, in order to derive the best outcome for Myanmar and for ASEAN," he said. 
The current conflict is a "domestic situation" for Myanmar, he noted. "It is a power struggle between different groups. To them, it's life and death.
"ASEAN influence is not huge and not their principal consideration – and we have to understand that." 
SINGAPORE TO CONTINUE SUPPORTING TIMOR-LESTE 
Speaking about how Singapore would help Timor-Leste in gaining ASEAN membership, Mr Lee highlighted the special technical assistance Singapore-Timor-Leste ASEAN Readiness Support (STARS) package that Singapore launched to train Timor-Leste officials in ASEAN knowledge and skills training, as well as education capacity building. 
About 800 Timor-Leste officials have come to Singapore, while officials from Singapore have also conducted courses in Timor-Leste for its officials. 
"I think that is not easy because it's a small country. They only have, I think, about a million (in) population. To generate this bureaucracy (and) the officials who can master all of this and participate, I think it will take them awhile. But we will help them to do it as soon as possible," he said. 
Mr Lee acknowledged that many issues in the region concern Timor-Leste, but to join ASEAN is "actually a very heavy responsibility". 
With ASEAN having grown in so many directions and cooperation frameworks spanning various fields, Timor-Leste officials must be armed with the know-how and expertise to participate in ASEAN meetings and "make a sensible contribution", or even to uphold their own interest and negotiate in "an informed way" to reach a "proper outcome", he said. 
During the plenary on Wednesday, Mr Lee assured Timor-Leste Prime Minister Taur Matan Ruak that Singapore will continue to support the country in fulfilling the commitments and obligations in the roadmap necessary for it to become a member state. 
Timor-Leste's Prime Minister Taur Matan Ruak was present at the session – where the roadmap was adopted – as an observer for the first time. He had also met with Mr Lee on the sidelines at the summit. 
After ASEAN had agreed in principle to admit Timor-Leste as its 11th member at the previous summit in Cambodia, this gave the country observer status at future ASEAN meetings, including plenary sessions. 
ASEAN CENTRALITY IMPORTANT AMID TROUBLED WORLD 
Mr Lee on Thursday also stressed the need for ASEAN to be unified, cohesive, effective and central amid a troubled world.
"The more troubled the world is, the more you need a safety life raft. And ASEAN is our life raft; it is the life raft for all ASEAN members. Because each one of us, in a global context, we are not that big," he told reporters. 
"But if we are together (as) 10 countries, it's a significant economic weight, and is a voice which counts for something in regional affairs." 
But upholding ASEAN centrality requires "a substance of the cooperation", not "just words", he added, pointing to ongoing discussions related to green and digital economies, upgrading economic cooperation, as well as upgrading free trade agreements with New Zealand, Australia and other countries. 
Highlighting the ASEAN Outlook on the Indo-Pacific as an "inclusive omnidirectional idea", which is not directed at any particular power but rather to enable ASEAN to cooperate with all of them, Mr Lee acknowledged that these countries "will have contradictions".
"But hopefully by having ASEAN work with all of them, that generates some common ground amongst them, and that will put ASEAN in a position to be at the centre of regional affairs."
That, he added, will enable ASEAN to help contribute to a balance of power in the region, therefore enabling ASEAN centrality.
"It's hard work when you have 10 countries working together, and one more waiting to join … It is never easy to reach a consensus, but it is work which needs to be done," he said. 
On Myanmar, observers said that there is an acceptance that dialogue with all sides is necessary. 
"At this point, there's no real consensus within ASEAN about how to go forward on this issue," said Ms Susannah Patton, director of the Southeast Asia Program at the Lowy Institute. 
Myanmar does not seem at all interested in engaging with ASEAN, Ms Patton told CNA938 on Friday. 
She added that "it is hard to see what points of leverage ASEAN still has over Myanmar" other than considering a total suspension from the regional bloc, which is something that many members are unlikely to be willing to contemplate.