Dissolving Aung San Suu Kyi's NLD party makes junta's election plans less credible: Analysts
Observers said a new military-drafted electoral law – which the NLD had refused to re-register under – serves to extend the army's grip on power, as political parties would be forced to either comply or be disbanded under "the pretence of a legal decision".
The dissolution of Aung San Suu Kyi's National League for Democracy (NLD) party and much of Myanmar's opposition puts the military junta's election plans under greater scrutiny.
The move will cause the upcoming polls – which the military government has yet to set a date for – and their results to be less likely accepted by citizens and most of the international community, analysts said.
They added that this is expected to incite more unrest and violence in one of Southeast Asia's poorest countries, more than two years into a bloody crisis following a military coup that has displaced over a million people.
Myanmar's election commission – which is fielded by military officials – on Tuesday (Mar 28) announced that the NLD and 39 other political parties would be dissolved, after failing to adhere to a deadline to re-register under a restrictive new electoral law.
Observers said the new law serves to extend the army's grip on power, as parties would be forced to either comply or be disbanded under "the pretence of a legal decision".
"I don't see how it's possible to hold credible elections under these circumstances. This might mean that there will be such a poor electoral response that it would hardly be worth doing," said Professor Christopher Lamb, president of the Australia Myanmar Institute.
CAN THE ELECTIONS BE CREDIBLE?
Analysts stressed that any elections held by the military rulers under the current climate would not be seen as credible.
George Washington University's Professor of International Affairs Christina Fink said the junta is likely hoping that an election resulting in the semblance of a civilian rule would persuade the international community to re-engage with the government.
"From the military's perspective, as long as there are some parties that are running, they can put a veneer of legitimacy, a veneer of civilian rule on top of what is really going to continue to be military rule in Myanmar," Prof Fink told CNA's Asia First on Wednesday.
"The problem is, the majority of the people in Myanmar will not accept an election process under the military regime when there have been no negotiations and no efforts by the military to stop its reign of terror. And this is just going to lead to more political violence."
Independent analyst David Scott Mathieson said junta chief Min Aung Hlaing is "not looking to restore democracy, (but) to stage some weakly-orchestrated sham elections to justify the coup".
"(Everyone) knew that the NLD and many other parties (that oppose the military), would not re-register under the regime's laws," he said.
"It is yet another step in the farce of a process to justify military rule."
NLD'S REFUSAL TO REGISTER
The NLD had repeatedly stated it would not register with election authorities, saying it does not recognise the legitimacy of the military council or its planned polls.
The pro-democracy party won a landslide victory in 2020, but hundreds of its members were arrested after the military ousted the civilian government in February 2021.
Notably, Ms Aung San Suu Kyi and former president Win Myint are currently serving decades-long sentences after being convicted of multiple crimes.
"The NLD has faced a lot of persecutions and a lot of harassment in the past, but nothing like what we have seen in the past two years – the targeting, mass arrest, persecution and assassination of so many of its leadership," said Mr Mathieson.
"But I don't think a lot of the people who are members of the party and who are resisting the coup think that this is the end (of NLD)," he said, adding that the party's victory in the 2020 polls would not be forgotten by voters.
This latest crushing of NLD and other opposition parties also makes it more difficult for the junta to build public goodwill, said Prof Lamb, a former Australian Ambassador to Myanmar from 1986 to 1989.
"The NLD, whether registered or not, will continue to be a serious force in the country's political future, as would the other 39 parties that have been deregistered," he told CNA's Asia Now.
BLOODSHED EXPECTED TO CONTINUE
Observers expect the bloodshed to continue, saying the junta's violent reaction to peaceful protests fuelled the armed resistance.
"Because the regime cracked down so brutally on those peaceful protesters, many people felt they had no other choice but to join the resistance movement… (and has) only driven further support for the resistance," said Prof Fink.
When Myanmar's military seized power, citizens responded with non-violent strikes and street rallies in protest of the takeover.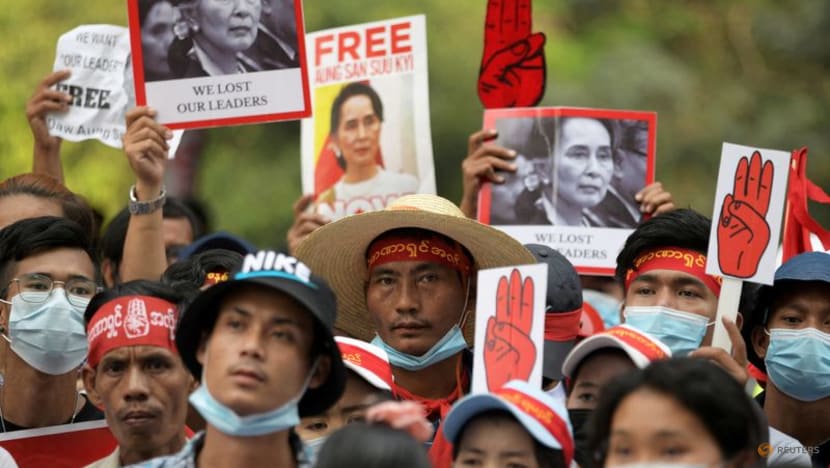 The army, also known as the Tatmadaw, used lethal force to suppress dissent and called opposition resistance groups "terrorists".
Last month's extension of the state of emergency shows that the military is facing a much bigger opposition to the coup and their rule, which they did not anticipate, Mr Mathieson said.
"(The state of emergency) is an indication that they are really losing ground, both on the battlefield and in terms of legitimacy among the people of Myanmar," he added.
"This really illustrates (the limits) of their ability to conduct elections, even sham ones."
ASEAN'S ROLE IN QUESTION
When asked if Myanmar's rulers would bow to the increasing threat of isolation from the international community, Prof Fink said the junta is used to that experience.
Since gaining independence from the British in 1948, the nation has been under military control until its short-lived decade of democratic governance in 2011.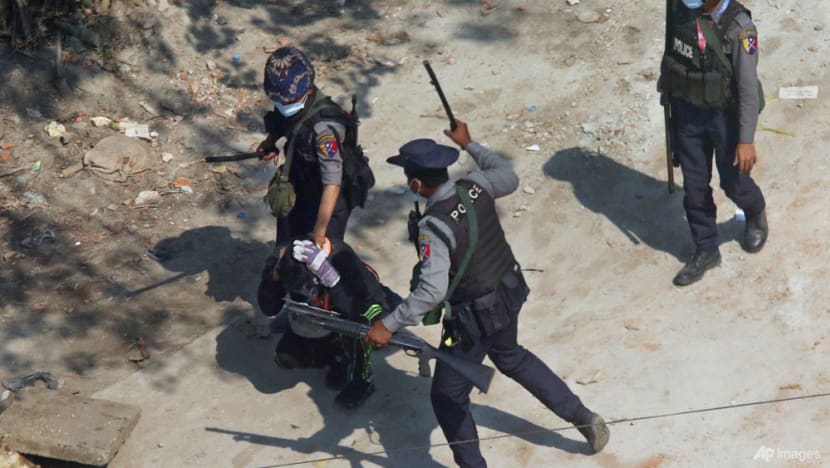 Prof Fink also pointed out that Myanmar will not be in complete isolation, with backing from China and Russia, and a divided Association of Southeast Asian Nations (ASEAN).
While the regional grouping has been criticised for its efforts on the crisis, experts said that hopes have been pinned on Indonesia, which became the rotating Chair of the bloc this year.
"ASEAN hasn't been able to be as effective as it could be. But Indonesia seems to be trying to find ways to see if they can get the (Myanmar) regime to consider negotiating," Prof Fink said.
Mr Mathieson, however, has a bleaker view on ASEAN's capabilities.
Although members of the 10-member bloc "must be appalled by the violence and absolutely shocked by the complete inability of the Myanmar military to seek a diplomatic solution", the junta is just not interested in resolutions that are not on their terms, he said.
"Unfortunately, even with the good intentions of Indonesia and others in ASEAN who must feel incredibly frustrated at two years of trying to reach out and help the military find a way out of this mess of their own creation … you are dealing with a military regime that is obstinate to any kind of mediation or assistance.
"We are just not going to see any positive fruits coming out of diplomacy from anyone – be it ASEAN or the United Nations. This is a military struggling for its survival right now, and diplomacy just won't work."