Myanmar coup: Two years on, humanitarian groups have their hands tied as aid efforts grind to a halt
Since February 2021, humanitarian groups have found it difficult to assess the security situation on the ground, while many of their partners have exited Myanmar.
JAKARTA: Two years have passed since Myanmar's military seized power in a coup against the elected government of Nobel laureate Aung San Suu Kyi.
Since then, more than 2,000 pro-democracy civilians have been killed. According to the United Nations, more than 1.4 million people have also been internally displaced since the coup, and the future of Myanmar's 54 million people remains uncertain. 
Myanmar was already one of Southeast Asia's poorest countries prior to the coup. With more than 100 ethnic groups in the Buddhist-majority country, the central government fought for decades against some of them.
Many humanitarian groups in Indonesia, the country with the world's largest Muslim population, had been involved in helping people in Myanmar. 
Among them is Jakarta-based Dompet Dhuafa, a non-governmental organisation (NGO) that used to regularly send humanitarian aid to Myanmar. However, its philanthropic work in Myanmar has come to a complete standstill, said its general manager for advocacy and strategic alliance Arif Rahmadi Haryono.
"Since the takeover of power by the military, the partners of Dompet Dhuafa have pulled many of their personnel out of Myanmar," Mr Haryono told CNA. 
"To our knowledge, it was because of safety and security issues related to the social and political situation," he said.
Prior to the coup, Dompet Dhuafa worked with other humanitarian organisations as well as the Indonesian government to distribute aid. 
Without local partners, Dompet Dhuafa is unable to assess the real condition on the ground and coordinate with stakeholders.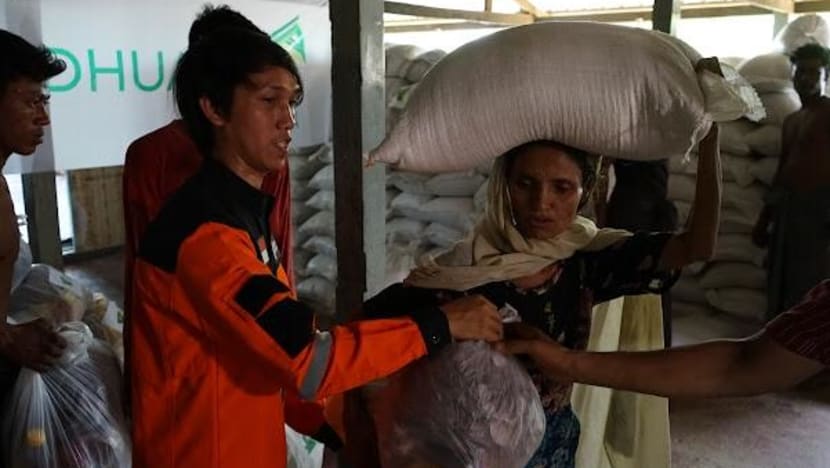 The Tatmadaw (the official name of the armed forces of Myanmar) detained State Counsellor Aung San Suu Kyi and other officials from the ruling National League for Democracy (NLD) party in the wee hours of Feb 1, 2021, as it claimed that the country's election three months earlier was a fraud.
The junta sealed off roads around the capital Naypyidaw, shut the international airport and cut off communication lines.
General Min Aung Hlaing took over the government, declared a year-long state of emergency and pledged to hold an election in a year's time.
Two years on, the election still has not taken place. Given the uncertainty, humanitarian groups in the region have their hands tight while civilians are unable to get international assistance.
About 40 per cent of Myanmar's population lives below the poverty line, according to the World Bank last year. 
They need food, shelter, access to healthcare and clean water, according to the United Nations Office for the Coordination of Humanitarian Affairs (OCHA). About 5.4 million people also need access to education, it added.
The number of displaced people has continued to grow since the coup, with the situation remaining volatile in regions such as Chin state and Sagaing where there are active armed clashes.
Landmine explosions have also been reported in Rakhine state where ethnic Muslim minority Rohingyas are being persecuted prompting them to seek refuge in neighbouring countries such as Bangladesh and Thailand. 
There are also reports of rape and other sexual violence occurring in conflict-affected areas, according to rights group Amnesty International. 
SECURITY AND VISA ISSUES
Before the coup, Dompet Dhuafa regularly sent humanitarian assistance to Myanmar, in particular during the Islamic holy fasting month of Ramadan and Hari Raya Haji, said Mr Haryono.
From 2015 until the coup took place, it ran regular programmes such as those for Iftar, which means breaking the fast during Ramadan, for Myanmar Muslims. 
"Dompet Dhuafa sent assistance to Myanmar several times and created regular programmes such as the Ramadan programme Iftar in exile and for Myanmar Muslims. 
"This was done regularly from 2015 until the coup and we also gave other humanitarian emergency assistance," he said. The group also deployed medical personnel to Myanmar and gave out medications as well as food, he noted.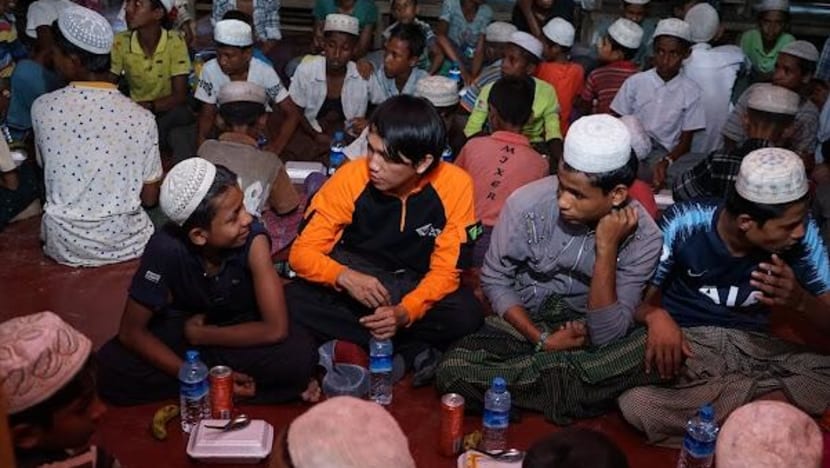 Dompet Dhuafa also worked together with a consortium of Indonesian humanitarian agencies supported by the ministry of foreign affairs and the Indonesian embassy in Myanmar to build schools there. 
"The inclusive schools were open for everyone and not intended for one particular ethnicity," he said. 
Mr Hariyono asserted that they have tried their best to continue distributing aid: "Especially through humanitarian diplomacy by the ministry of foreign affairs which previously has greatly assisted Dompet Dhuafa and many humanitarian agencies in delivering programmes for the people of Myanmar. 
"However, until now these efforts have yet to achieve the desired results."
The Indonesian ambassador to Myanmar Iza Fadri told CNA that since the coup, the relationship between the two countries has changed. 
"It is not just aid (that is difficult to distribute), but our relationship is a bit difficult.  
"Because there were certain periods when Myanmar tightened (controls for) foreigners coming in and out and this includes ASEAN (Association of Southeast Asian Nations) countries which usually do not need a visa (to enter)."
"It is also a bit difficult to predict the situation (on the ground). We in Myanmar try to anticipate (possible) security situations for our own safety," he said, explaining that some Indonesian companies have been advised to withdraw as they were operating in areas that might see conflict. 
Over in neighbouring Malaysia, NGOs are facing similar constraints. 
The President of the Malaysian Consultative Council of Islamic Organizations (MAPIM) Azmi Abdul Hamid said that its work in Myanmar started back in 2012 when violence against the Rohingyas resulted in a number of them fleeing the Rakhine state.
Many crossed over to Bangladesh or endured more difficult journeys to countries such as Thailand, Indonesia, and Malaysia.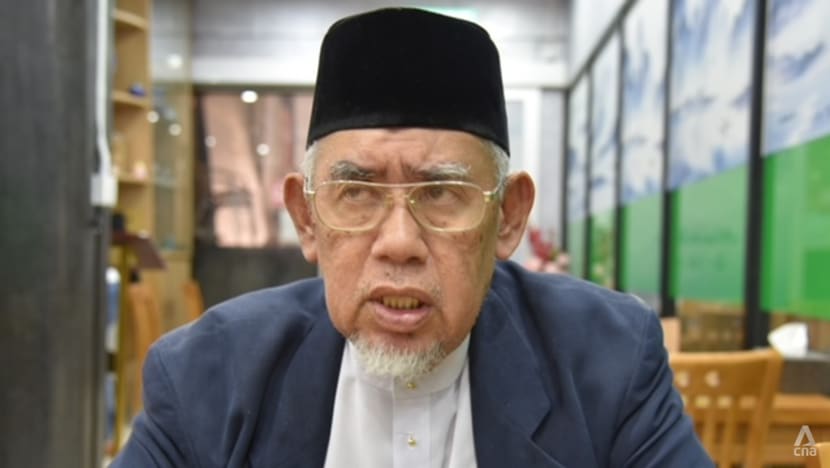 According to the United Nations High Commissioner for Refugees (UNHCR), Malaysia hosts some 181,000 refugees. About 85 per cent of asylum-seekers are from Myanmar and the majority are Rohingya refugees. 
In early 2017, MAPIM tried to send aid via a flotilla to Myanmar but they were denied entry by the country. The flotilla eventually landed in neighbouring Bangladesh. 
"Even back then, we were already facing problems and the situation wasn't conducive," said Mr Azmi.  
MAPIM then decided to concentrate on helping the refugees who were in Malaysia and focus their efforts on the island of Langkawi as more boats carrying refugees arrived in the country.
He said that the situation in Myanmar became worse after the coup in Feb 2021 and that they registered their condemnation against it. 
"There wasn't much more we could do," he said. He highlighted that humanitarian agencies faced difficulty sending aid to other parts of the country and engaging with the junta.
Mr Azmi said that apart from the Rohingya, other ethnic groups such as the Chin, Kachin, and Karen were also affected by the political coup, with civil war raging in several parts of the country.
ASEAN OFFERS GLIMMER OF HOPE
Despite the various difficulties, Mr Fadri, the ambassador, noted that Indonesia successfully delivered aid to Myanmar in September 2021 through the ASEAN Coordinating Centre for Humanitarian Assistance on disaster management (AHA Centre).
He said Indonesia sent aid worth US$200,000 in the form of KN95 masks, gloves and personal protective equipment (PPE) to help Myanmar fight the COVID-19 pandemic.
"With the AHA Centre mechanism, we hope to give aid without looking at the recipients' background.
"And we also hope and try to monitor so that the aid is received by various parties in Myanmar, including the Rohingyas," he stated.
ASEAN's Five-Point Consensus on Myanmar states that it shall provide humanitarian assistance through the AHA Centre. The Five-Point Consensus was adopted in April 2021 when ASEAN leaders met in Jakarta following the coup.  
It also called for an end to violence and the appointment of an ASEAN special envoy to facilitate dialogue and visit Myanmar to meet all parties concerned. 
However, two years on, there has been little discernible progress in terms of implementation.
In November last year, ASEAN leaders met in Phnom Penh during an ASEAN summit where they issued a statement indicating that "little progress" has been made in the implementation of the Five-Point Consensus.
This year, Indonesia is the rotating chair for ASEAN and its chairmanship theme is ASEAN Matters: Epicentrum of Growth.
On Sunday (Jan 29), President Joko Widodo kicked off the chairmanship in a ceremonial event in downtown Jakarta accompanied by several ministers as well as foreign dignitaries.
Mr Widodo said as chair, Indonesia will consistently push for the implementation of the Five-Point Consensus.
"Well, we will be consistent that the Five-Point Consensus can really be implemented, be run consistently," Mr Widodo said in response to questions from journalists.  
Speaking at the same event, Minister of Foreign Affairs Retno Marsudi added that the Five-Point Consensus will be the main platform and mechanism of ASEAN to help Myanmar. 
"We will continue to try to invite all parties in Myanmar to implement the five points of consensus," she said.
ASEAN's foreign ministers are scheduled to meet in Jakarta this weekend for the 32nd ASEAN coordinating council and foreign ministers' retreat.
Mdm Marsudi told reporters that the Myanmar crisis will be one of the topics discussed in the meeting. 
In early January, Mdm Marsudi told journalists that Indonesia will engage with all stakeholders and work together with Noeleen Heyzer, the UN Secretary General Special Envoy on Myanmar.
Responding to CNA's queries, Mdm Marsudi said humanitarian aid has been one of the issues Indonesia has been working on since taking over as the ASEAN chair.
"One of the issues that we've been trying to move forward is humanitarian aid. I have spoken with the AHA centre and the ASEAN Secretariat, and suggested that communication should be resumed to discuss humanitarian assistance including issues of access and distribution with an emphasis on the principle of humanitarian assistance for all needed," she said.
For the situation in Myanmar to improve, Mr Azmi of Malaysia's MAPIM believes that the junta must open its lines of communication soon as they will face difficulty in their economic and diplomatic relations. 
He hoped for Indonesia as the ASEAN chair to put pressure on Myanmar. 
Meanwhile, Mr Haryono from Dompet Dhuafa, like many around the world, is also still hopeful for better days in Myanmar. 
"We will wait and see how the political conditions in Myanmar will evolve."