'Don't want to live in Yangon anymore': Skilled workers leaving for jobs abroad 2 years after Myanmar coup
Since the Feb 1, 2021 military coup in Myanmar, there are signs that both skilled labour and capital are leaving the country for other cities in the region.
BANGKOK: Myoe has no plan to go back to his homeland in Myanmar. 
A coup d'etat two years ago has thrown his country into turmoil and filled his future with uncertainty.
The raging civil war, persecution of dissidents and economic crisis made it hard for him to keep hoping that things would get better. The return of democracy began to feel like a distant dream as the weeks and months went by.
Sad and dejected, the 37-year-old quit his job in the telecommunication sector. He said goodbye to his family in Yangon and moved to Bangkok in March last year. 
"I'm very excited and enjoying it even though I'm stressed every day because I'm freelancing with no fixed income," he told CNA.
Life in a foreign country is challenging for Myoe, who cannot speak Thai and has no regular income or work permit. He has to constantly fret over whether he can pay his rent on time, while searching for job opportunities that would allow him to work legally in Thailand. 
Still, he prefers it to returning home, where his future prospects seem bleak under military rule. 
Many Myanmar people share his view. There are signs that the country is suffering from a brain drain as professionals relocated overseas after the military under army chief Min Aung Hliang seized power on Feb 1, 2021.
Widespread unemployment, soaring commodity prices and the plunge of the Myanmar kyat have forced many people to seek new opportunities abroad. These include Myoe, his cousins, friends and former colleagues.
"They don't want to live in Yangon anymore. They just left everything there and came here," he said. 
"I feel like I'm home because everybody I know is here."
Singapore, Thailand and the United Arab Emirates (UAE) are among the popular destinations for Myanmar white-collar professionals with the means to relocate overseas. 
According to Myoe, those seeking jobs in the hospitality sector tend to move to the UAE while engineers usually opt for Singapore. As for people with no clear career plan, neighbouring Thailand is a favoured option.
However, making a living abroad is not easy. Myoe said a number of Myanmar expatriates including himself are struggling to find permanent jobs in Thailand due to the language barrier and visa issues. 
Their short-term solution after travelling to Thailand is to enrol at an educational institution to obtain a student visa. Those who are on a student visa are not allowed to work, but this does not stop them from seeking jobs or business opportunities. 
Myoe, for example, is taking a Thai language course and freelancing as an agent for clients based in Myanmar. "If they want to get some service done in Bangkok, I'll do it for them," he explained. "If they want to get a condominium unit, I'll find it for them. I can be here and collect information for them."
Income from freelancing may not be stable but it is enough to cover Myoe's living expenses. He mostly works online and can earn about 50,000-70,000 baht (US$1,520 to US$2,130) in a month, compared to US$610 in Yangon. 
"Or sometimes, no income at all," he added.
MYANMAR'S UNCERTAIN FUTURE
The World Bank reported last year that the impacts of COVID-19 and the aftermath of the Myanmar coup have erased almost a decade of poverty reduction progress in the Southeast Asian country, with about 40 per cent of the population living below the national poverty line.
"Inequality is estimated to have worsened, with those already poor falling into deeper destitution," said the World Bank in its economic report on Myanmar published in July 2022.
Unemployment is also a big problem in the country. An estimated 1.8 million jobs were lost in 2021 alone, according to the International Labour Organization (ILO). Its report in August last year said Myanmar remained "deeply affected by heavy job losses and growing decent work deficits" 18 months after the coup.
Despite "a small recovery in jobs" in the first half of 2022, the report concluded that employment in Myanmar was well below 2020 levels, and that rising prices of food and fuel have placed more pressure on the economy as well as livelihoods.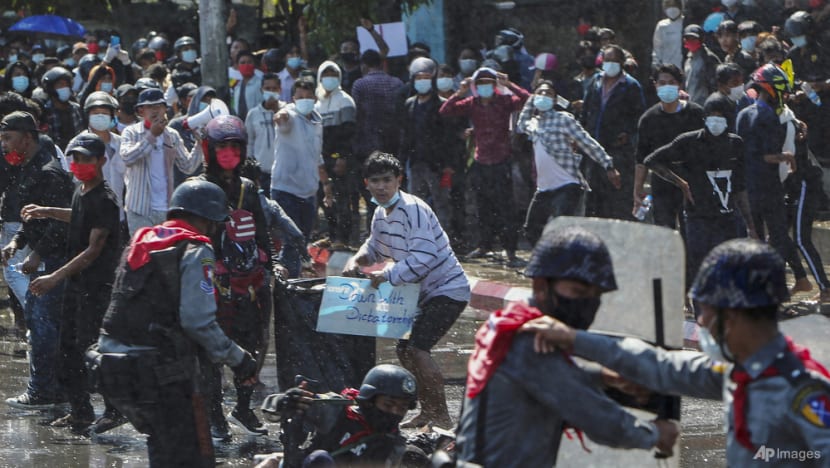 "There are so many problems and it's a very difficult situation for so many people to survive in our country," said another Myanmar expatriate, who only wanted to be known as Aung, 38.
His family operates guesthouses in the mountainous town of Kalaw, Shan State. They used to welcome both international and domestic travellers but that changed after the coup.
"Now, there is no one coming from abroad," he told CNA. 
"I was very disappointed in the situation. I felt like we'd lose our future in our country. That's why I changed my life plan to come to Bangkok."
Aung left Myanmar in February last year, hoping to find a job or a business opportunity in the Thai capital. His parents and two siblings remain in Kalaw to keep the guesthouses running.
Eventually, the family plans to move their business to Thailand and provide hospitality services to Myanmar travellers. 
"For Myanmar people, the future is difficult to survive," he said. 
"There are so many jobless people in Myanmar. So, our young people go abroad."
Despite his two degrees in technology and business development, plus eight years of experience in the hospitality sector, Aung was not able to secure a job in Bangkok. 
Like many Myanmar expatriates, he cannot communicate in Thai and only holds a student visa, which does not allow him to work. 
Currently, he is studying interior design and relying on financial support from his family. He has no plan to return home. Even if the military regime comes to an end, he believes Myanmar's economy will still take many years to recover.
"I'll stay here or try another country if I can find a job with a visa," said Aung.
THAILAND SEES A SURGE IN MYANMAR PROPERTY OWNERS
Myanmar has a long history of military rule. It was governed by the military for 49 years, following a coup led by Ne Win in 1962.
The country enjoyed a decade of civilian rule before another military takeover reversed its course in 2021.
"Many people initially kept fighting in the first year, but as the situation dragged on, it seems like there's no way for things to return to how they used to be," said Natty Tangmeesang, a Thai blogger and former resident of Myanmar.
She has closely monitored developments in the country for more than a decade. Her Facebook page, which provides information related to Myanmar, currently has about 76,000 followers. 
"With this military coup, nobody knows how long it will last. Judging from what happened in the past, it could last a very long time, many decades. So, many people think if they can move, they'd better do it," she said.
In Thailand, Tangmeesang told CNA that wealthy Myanmar people have begun to buy properties for investment due to the instability of the kyat.
Last year, the Thai property sector saw a sudden increase in Myanmar ownership of condominium units. 
Data from Thailand's Real Estate Information Centre (REIC) showed that between January and September 2022, 7,290 such units were purchased by foreigners. The biggest group of buyers came from China, followed by Russia, the United States, the United Kingdom, Germany, France and Myanmar.
In terms of value, however, REIC pointed out a clear surge in spending among Myanmar buyers. Their combined purchases of condo units during the same period were recorded at 1.34 billion baht, making them the fifth biggest spenders after Chinese, Americans, French and Russians.
According to the REIC report, Myanmar buyers had never made it to the top ten list since 2018.
"The Thai market has been traditionally dominated by Chinese, Hong Kong, Taiwanese, British, and Singaporean buyers, but based on CBRE transactions, we are now seeing other target groups from Southeast Asia," said Artitaya Kasemlawan, head of Residential Sales Project at CBRE Thailand, a property consultant firm.
"For example, there is increased interest in luxury condominiums from Myanmar in prime locations like Central Lumpini and Sukhumvit. As CBRE's focus is on the luxury segment, the average transaction ranges from US$ 500,000 to US$ 2.5 million, and the unit sizes of these transactions are suitable for living and long-term investment," she told CNA in a written interview.
For those who cannot buy properties, they have to keep looking for jobs in order to stay on, and that can be stressful.
"Here, money has become the first priority. So, we can't be very choosy. In Yangon, I could. If I didn't like something, I'd go for another option. I can't do that here. I don't have so many choices," said Myoe.
Some of his friends even felt depressed after moving abroad because they have not been able to get a good job despite their high educational qualifications. 
"We are in a very difficult situation," he said.
*Myoe's name has been changed to protect his identity.
Read this story in Bahasa Melayu here.