SINGAPORE: Twelve months on from the military coup, the United Nations has projected that about half of Myanmar's 55 million people could fall under the poverty line this year. 

In 2017, Myanmar's poverty rate stood at about 25 per cent.  
Myanmar has seen three waves of the COVID-19 pandemic since its first case on Mar 23, 2020, when it was still under the rule of former state counsellor Aung San Suu Kyi. 
The latest wave came after the military launched a coup on Feb 1, 2021.
By then, many had lost their jobs: Factories were forced shut amid widespread protests in the early months of the coup. Many who came to Yangon to make a living decided to either go back to their hometowns or change jobs.
With limited skills and a tight job market, finding new employment was not easy. 
One Yangon resident, who requested not to be named, said: "Some people used their vehicles to make ends meet by either helping to transport goods or people. But that was tough as they had to grapple with rising petrol costs.
"It's not uncommon to find many families in debt. They borrow money just to buy daily essentials and feed their children and loved ones."
MAKING ENDS MEET
A contractor, who had been in the construction sector for 30 years, said he is one of the lucky few who can still make ends meet despite the coup.
"In my heyday, I used to hire up to 130 workers, but we're down to 25 now," he said, asking not to be named.
The contractor now takes on odd jobs at construction sites on days when he has no projects to handle. 
He added that in the early days of the coup, he could still carry out construction jobs.
"But when the army started shooting at protesters, our work came to a halt," he said.
"Protesters fleeing gunshots often hid in small streets where we worked. And when the security forces came hunting for protesters, our workers also had to go into hiding for their safety.
"These days, we wrap up work at 5pm. In some areas, you can't find people on the streets by 7pm or 8 pm. We need to think of the safety of our workers. And now, it's even harder because there are random power cuts."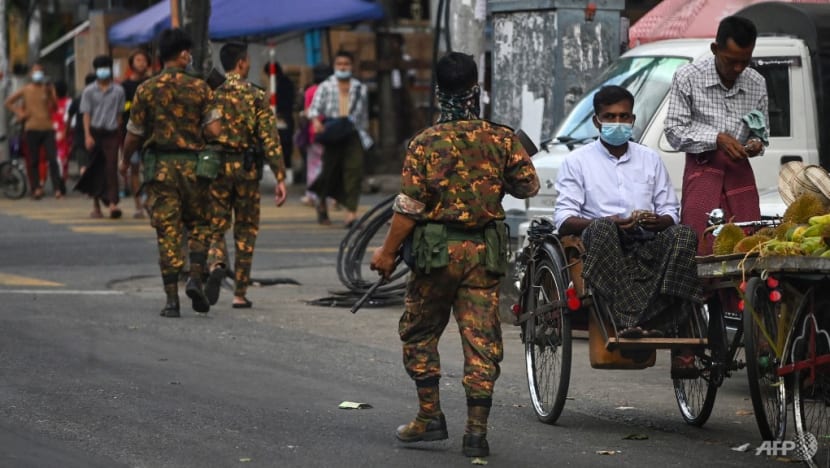 Another Yangon resident told CNA that many informal, voluntary groups have emerged to help the poor.
"People have started collecting essential items to give them out to the needy," he said. "Sometimes, there are no formal structures – they can be spontaneous and small in scale."
The resident noted that even the Myanmar army and the military-backed Union Solidarity and Development Party have gone around distributing food rations to communities.
"But these are often for show," the Yangon resident said.
"They go to communities where their supporters are, and give them the aid. Sometimes, they put on a big publicity campaign with photographers snapping away, and when that ends, they leave without even giving out anything to the people."
Meanwhile, groups such as the Singapore Association in Myanmar have begun donation drives. The association kicked off a lunchbox donation drive in Yangon last October to help people cope with the effects of COVID-19. 
To date, the Singapore Association in Myanmar has given out about 5,500 lunch boxes to the poor in Yangon.
INFLATION, PROTESTS, BLACKOUTS
Food prices have also been on the rise since the military coup. 
A sack of rice (50kg) that used to cost about US$25 before the coup is now around US$38. The price of fish has doubled – it is now about US$7 compared to US$3 before the coup. 
Blackouts are common in many parts of Myanmar too, as electricity supplies are no longer stable.
Many have also stopped paying bills to the Myanmar army – it is estimated the army lost about US$1 billion in revenue since Feb 1, 2021.
But despite these hardships, people have voiced out that they would rather persevere than go back to the "dark days" seen three decades ago.
"People do not want to return to that situation of living in a certain environment and atmosphere of fear. Fear for one's family; one's friends, one's community, in terms of how the freedoms, of expression of association," said Ms Moe Thuzar, Myanmar Studies programme co-coordinator at the ISEAS-Yusof Ishak Institute.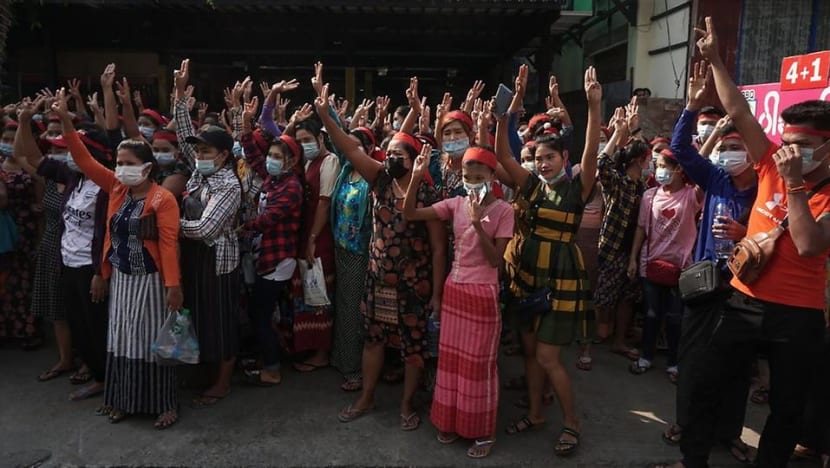 People are now starting to adapt to a "new normal" in Myanmar. 
In the last 12 months, living with explosions, gunshots, and sirens ringing day in, day out have become a part of their lives.
One Myanmar citizen told CNA that people also no longer post about attacks on social media.
"Local resistance groups have appealed to people not to do that on Facebook as such details reveal the locations and nature of attacks," she said. 
"This leads to swift arrests by the junta ... So people refrain from saying too much online when there are attacks made on soft targets in urban areas."
These days, people avoid going near security checkpoints, public hospitals, government buildings and police stations, for fear of being caught in the crossfire, between the Myanmar army and local resistance forces.
People are also generally more cautious around strangers and are less trusting. 
"But our strength is also resilience," said one anonymous Myanmar protester.