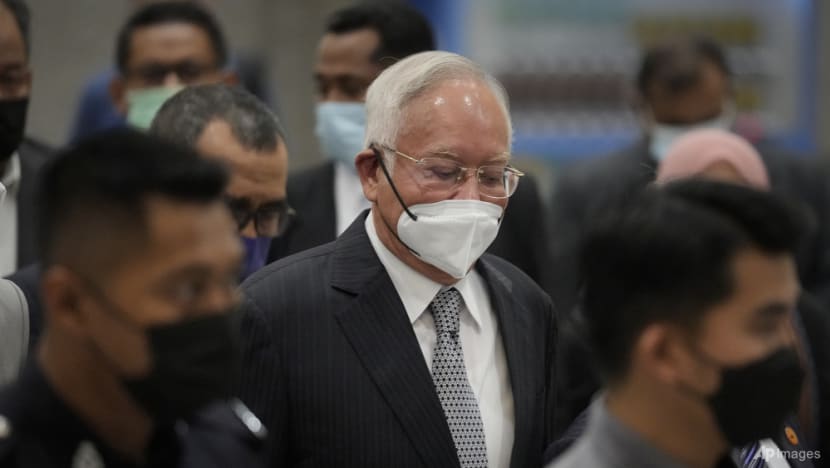 KUALA LUMPUR:  The trial for Najib Razak's case on misappropriating funds belonging to 1Malaysia Development Berhad (1MDB) had to be cut short on Monday (Sep 12), after the High Court was told that the former prime minister's health condition was "quite bad" and he needed medical attention.
The court was informed that Najib needed to be sent to hospital for medical attention as the high blood pressure medication that he was taking had given him adverse effects.
Senior deputy public prosecutor Gopal Sri Ram, who is leading the prosecution team, told judge Collin Lawrence Sequerah that he was informed by a Kajang Prison's department officer on Monday morning that Najib's condition was "quite bad".
"The accused's medication for blood pressure has been changed and it has adverse effects on him," Mr Sri Ram was quoted as saying by Bernama.
He added that despite Najib's health condition, he was prepared to be in court until 12.30pm.
By 2pm, Najib had to be taken to the hospital to see a doctor, said Mr Sri Ram. The judge agreed to adjourn the trial to allow Najib to seek medical attention.
The 69-year-old former prime minister was in court on Monday for his second 1MDB-linked corruption and money laundering case involving RM2.3 billion (US$466 million) of money belonging to a subsidiary under the fund.
He is currently serving a 12-year jail sentence after the Federal Court on Aug 23 upheld his conviction in the SRC International corruption case.
NAJIB'S BLOOD PRESSURE "DANGEROUSLY HIGH": DAUGHTER  
Najib's daughter Nooryana Najwa said that her father's blood pressure turned "dangerously high" on Monday after doctors changed his medication to treat his stomach ulcer last Saturday.
According to Ms Nooryana, the doctors who did a biopsy procedure on Najib at the Hospital Kuala Lumpur (HKL) discovered that he had multiple ulcers in his stomach.
"During the scope, the doctors at HKL also did a biopsy which led to some bleeding and the ulcer had to be clipped to stop the bleeding," said Ms Nooryana in an Instagram post on Monday.
She said that doctors also changed his medication from the usual that he had been taking for years and sent him back to Kajang Prison.
However, a test by a medical assistant on Monday morning showed that Najib's blood pressure was "dangerously high", potentially due to the change in medication, she added. 
Ms Nooryana said that on humanitarian grounds, her family would like to plead for the prison authority, the hospital and the government to do the "right thing" and allow for her father to receive proper medical care and observation.
On Sep 4, Malaysian media reported that Najib was admitted to hospital after experiencing some pain in his stomach.
Subsequently, Ms Nooryana posted a statement saying that her father had a recurring issue with his stomach and is prone to ulcers that can flare up during stress or after an episode of gastritis.
NAJIB WAS HEALTHY BEFORE DISCHARGE: HEALTH MINISTRY
In a statement issued on Monday afternoon, Health Ministry director-general Noor Hisham Abdullah said Najib was admitted to HKL last Friday as an elective (non-emergency) case to make sure that his health was in good and optimum condition.  
Following examination and test by expert consultants, HKL conducted two family conferences with Najib and his family, he said. 
They were informed of the test results during the conferences, per professional medical practice. 
"They were also informed that the unanimous decision of the consultants was for Najib to be discharged from HKL," Dr Noor Hisham said. 
He added that they were also told that the medicines prescribed for Najib when he was admitted to the ward were the same types as he had previously taken. 
"He was healthy before he was allowed to be discharged from HKL," Dr Noor Hisham said. 
The director-general said the ministry is committed and transparent in providing health services to any individuals, while adhering to the ethics of patient confidentiality under the Medical Act 1971. 
He also said that any detailed information on a patient's health can be presented to the court if it is directed to do so.