Nepal earthquake: Journey to the epicentre
Carrying cameras, lenses, a tripod, live broadcast equipment, food, water, medical supplies and a tent and tarpaulin, Channel NewsAsia's three-man news team headed to the earthquake epicentre.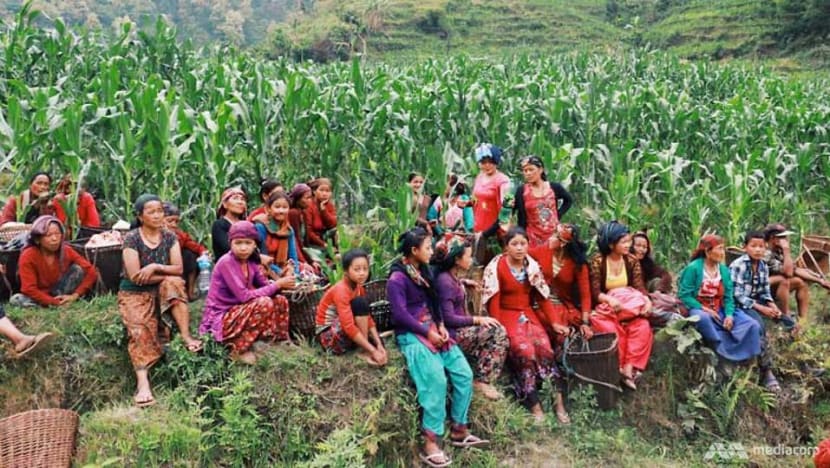 BARPAK: The road to Barpak is a bone jarring one. For six hours northwest from Kathamandu, it winds deeper into Gorkha country, up steep mountains, over creeks and through impoverished villages. Dust whips at the wheels and windows of our 4x4 and before long even the cabin is choked with a film of earthy grime.
Along the way, there would be points when the road becomes impassable and local people rush to help push our vehicle out of deep, muddy ruts. We are headed to the mountains - the earthquake epicentre - but even by Nepal standards, this is a difficult place to get to.
Eventually the road runs out. It had been cut off at Baluwa - a village that is swarming with refugees from the hills who have come to shelter in the relative safety of the valley.
A digger has made some progress clearing the sole path to the upper villages and towns, but multiple landslides of boulders means there will be no vehicle access for the foreseeable future.
Along with dozens of local people carrying heavy baskets strapped at their foreheads full of rice, water hygiene kits and even small babies, we begin the trek up. The path snakes past a river of growing rapids and across a wooden bridge with a worrying number of missing planks before it rises sharply up a sheer, slippery slope. Every step is uncertain and laboured. It remains like this for hours.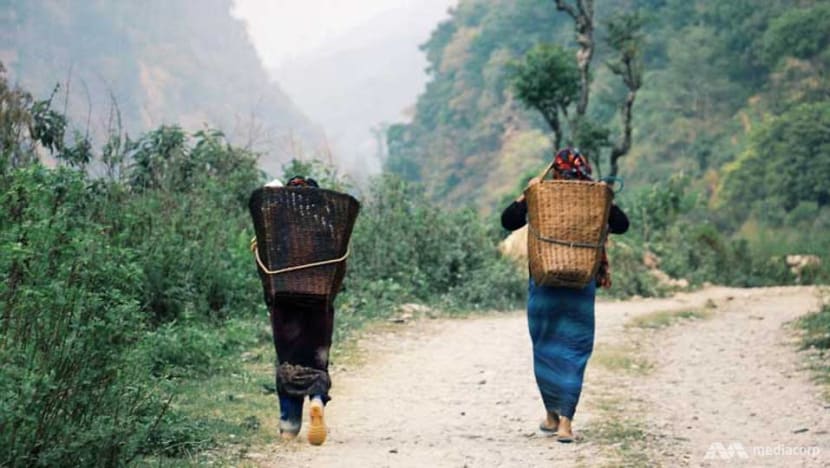 Earthquake survivors begin the long walk from Baluwa to Barpak with aid baskets. (Photo: Jack Board)
Our three-man news team is kitted out with cameras, lenses, a tripod, live broadcast equipment, food, water, medical supplies and a tent and tarpaulin. Sweat grips our faces and backs and there are many times I thought we won't make it as daylight fades.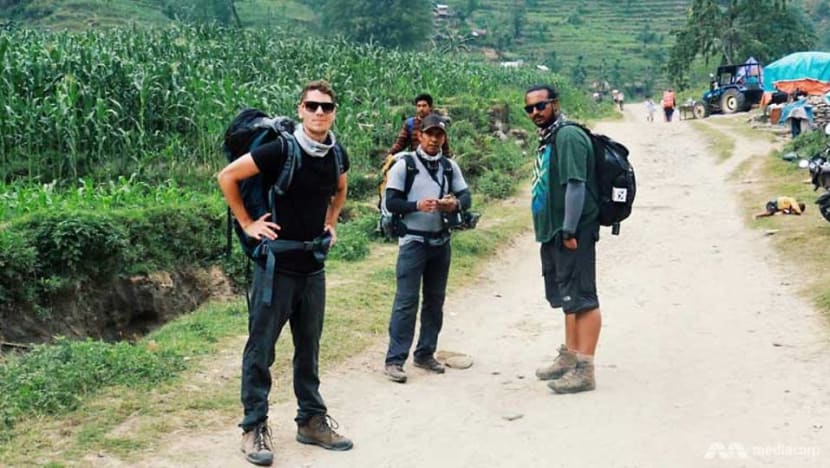 Utter destruction is clear as we climb higher. What was once the village of Mandre is now eerily deserted. Houses lay crumbled with former personal possessions dotted here and there - shoes, toys and broken furniture poke out of the forsaken rubble. The smell of rotting corpses, probably of animals, punches the mountain air at intervals. No one pauses to investigate.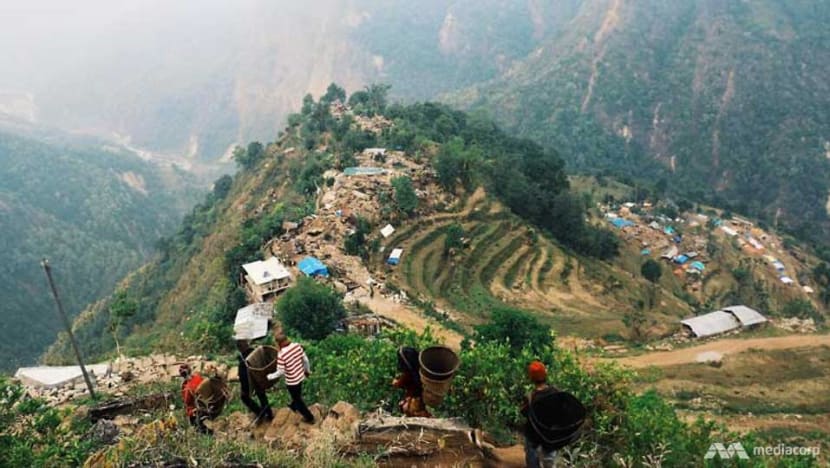 Earthquake damage at mountain village on Mandre. (Photo: Jack Board)
Earthquake damage at mountain village on Mandre. One man carries a heavy load down the steep slope. (Photo: Jack Board)
As lightning illuminates the taller peaks ahead of us, where Barpak still lies, we abandon the path for the day, setting up camp in an abandoned home fortified by Australian Aid tarpaulins. It is welcome shelter from the midnight rains as we sit and eat canned fish and noodles. The silence is broken by an aftershock that lingers for just a couple of seconds. It is unsettling being on such broken ground as the earth rumbles.
Locals carry aid packages up the slippery path to Barpak - the epicentre of the #NepalQuake - which is in need of supplies to prepare for the monsoon season. cna.asia/1E08uY4

Posted by Channel NewsAsia on Sunday, 10 May 2015
By dawn, the track is busy with villagers rushing down to the valley to collect the next wave of food aids from international donors. Singapore, Australia and Canada have teams working to deliver relief. Some of the keener young locals actually run down the steep, broken stone steps, while others laden with large suitcases and boxes are forced to proceed with caution.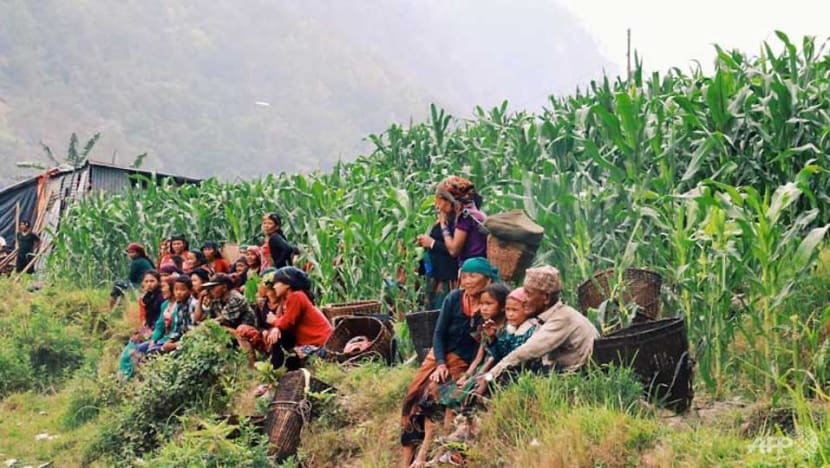 Nepalese who have left the mountain villages for safety in the valley. (Photo: Jack Board)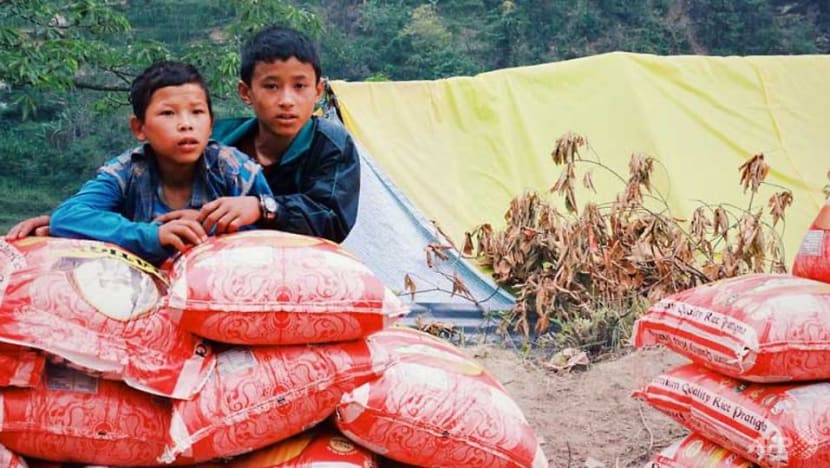 Two Nepalese boys left the mountain villages for safety in the valley. (Photo: Jack Board)
Prem, who was wearing a Singapore Police Force shirt, said his brother serves in the force, one of the many from here in the Gurkha contingent. He said more aid is badly needed in Barpak - the basics people here are used to like rice and lentils, not noodles and chocolate.
Sharp peaks with permanent snow caps emerge on the horizon and a mountain breeze cools our steps as we continue what seems an endless ascent. Finally out of the mist, elevated more than 2,000 metres is Barpak, as widespread destruction marks the spot.
It is here where the earthquake did its worst and, of the 1,200 homes, all but a handful are destroyed. Somehow it is still a beautiful place, sad but beautiful.
There is a constant tinkering throughout the town from locals attempting to disentangle the wreckage of their houses. There are piles of corrugated iron, broken bricks and splintered wood and many of the once tidy, narrow streets are difficult to pass through.
Lots of children with faces smeared with dirt are doing the work of adults, carrying large planks and stones that used to be part of their homes. They giggle and point at us as we walk by, the amusement of foreign strangers for youth still trumps the pile of devastation in front of them.
Manbahadur Gurung works in Bahrain as a construction worker to send money back to his family. The quake destroyed his small home and killed his wife. He wasn't here, and now he will never hold her again.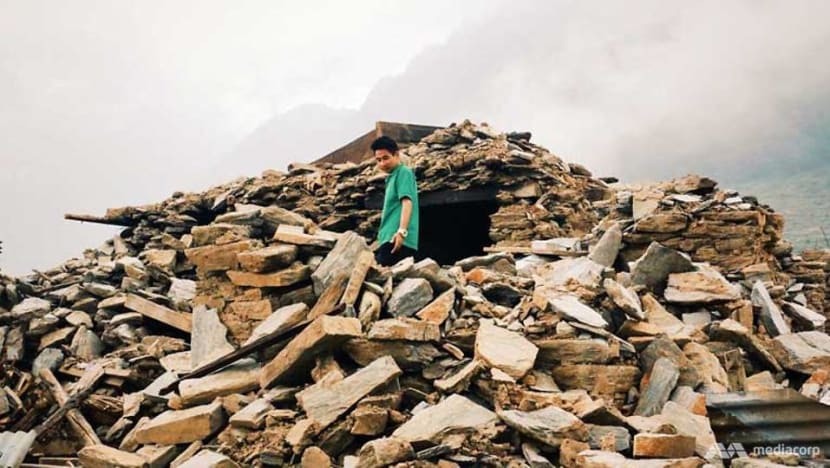 Manbahadur Gurung surveys his house in Barpak, where his wife was killed in the earthquake. (Photo: Jack Board)
"I was thinking about my family that whole day, I didn't hear any news about my family," he said. "When I contacted the police, then only I heard that my wife had died in the earthquake and my house had fallen down."
"The company where I was working, they didn't give me holiday time to come home. So I had to leave that job and pay for my own airfare back to Nepal," he said. "I was totally shocked and I can't make any decisions for my family. I was going totally mad. Now I only live for my children's future."
A man calls out to us and asks to show us his new makeshift house. Tek Bahadur Ghale and his five brothers were neighbours, but now they are living under one roof - 24 in total in a shelter without proper walls or floor.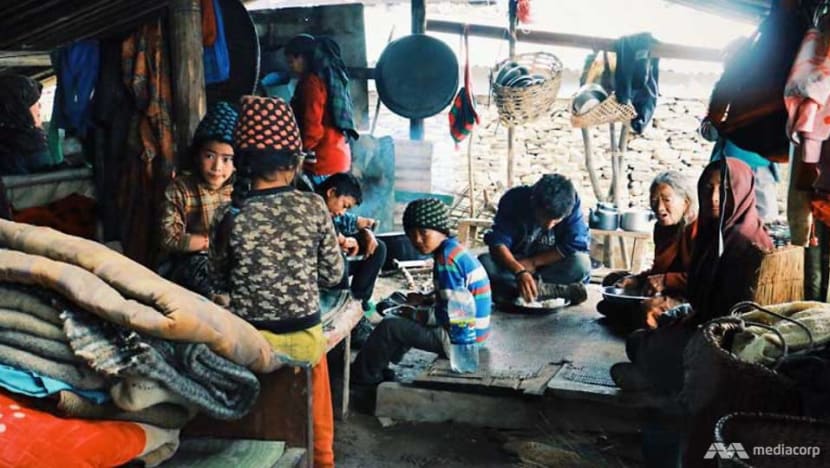 A total of 24 family members live in this small shelter in Barpak after all their houses were destroyed. (Photo: Jack Board)
He said they expected to live there for at least the next six months. His father-in-law is unwell and the children are hungry and restless, but they consider themselves lucky that everybody survived. There are fresh graves marked by white stone on the hillside behind the town. There have been hundreds of new additions of late.
Much of the body retrieval process and medical treatment has been performed by members of the Indian Army stationed in Barpak since a few days after the quake. "We came here initially for two or three days. We managed infected wounds, lacerations, contusions and lower limb fractures," said Dr Maj Sanjeev Malik from 60 Para Field Hospital, Agra.
"All of the critical patients have been evacuated to Kathmandu. We are managing minor injury patients here. These people need food, shelter, fuel and restoration of transport, communications and power. In foods, particularly, they need cereals because these people have been getting biscuits, Maggi noodles, juice, which are not in their culture. What they require are cereals, rice for their household consumption," he said.
Locals say they are pleased the Indians have helped them when others have not. They will leave soon though.
The tourist trade that helps stimulate its small economy may not return. Just one small guesthouse and restaurant is still open, albeit without power. 'I am providing food for the guests. But our reserved food is getting low and when it runs out, I am afraid for my family," said Min Gurung, the owner of Ruping 'La' Guesthouse.
This village is a proud place full of strong people, but its foundations have been shaken. The path to survive has never been harder.