SEOUL: Eighty-one year old Lee Chun Woo thought his sister in North Korea was dead. The last time he saw her was in 1943 before the division of the Korean peninsula. His mother also believed she was dead, so they never thought of trying to find her.
"I witnessed the Korean War, and so many people died then. My father also died of a disease during the chaos of the Korean War," said Lee. "So we assumed she must have died too."
But through other South Koreans who had already made contact with their family members in North Korea, Lee found out in 2013 that his sister was alive and wanted to meet him.
And so, for the first time, he applied for government-organised reunions.
It is not easy to be selected as a participant for the reunions because there are still more than 50,000 people waiting for their turn. Since 1988, 132,000 South Koreans have registered for the programme - and more than half of them have since died.

But Lee's turn eventually came in 2015, when his sister in North Korea applied to take part in the reunion from the North Korean side.
"She was sent to my relatives in North Korea before the Korean War. I never thought that would be the last time I would see her," said Lee.
Although decades had passed, he said he recognised her immediately because she resembled their mother.
Very soon, they were talking about their childhood days when they lived together - except he was now no longer the five-year-old boy his sister used to carry around on her back.
As for his sister - who was 11 years old then - she was now old and suffering from dementia.
"I went to the reunion with my other younger sister. But she didn't seem to remember her and just kept hugging me," he said.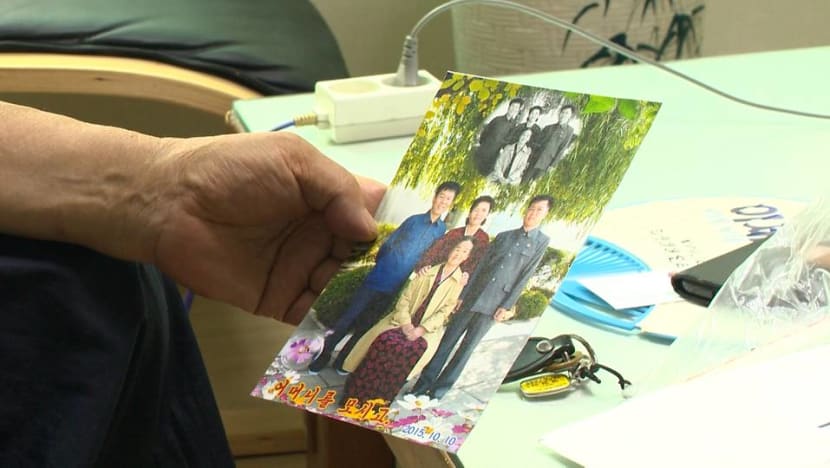 Lee knows he will never see his sister again. But as South Korea prepares for another government-organised reunion with North Korea, the emotions he felt three years ago are coming back.
"It was so good to see her. I really miss her," he said.
The reunions are an emotional event for all South Koreans, after millions of Koreans were separated following the three-year Korean War that ended in 1950.
An armistice was signed to technically end the conflict, but a permanent peace treaty was never signed.
All contact between people living on both sides of the border remains illegal, and it is only through the government-organised reunions that separated families from the two Koreas can legally meet.
However, these happen only once in a while, when relations are good between the two sides.
Since 2000, the two Koreas have held only about 20 rounds of reunions. 
MORE DIFFICULT THAN WINNING THE LOTTERY
The two sides agreed in June to resume the reunions of families torn apart by the war after a landmark meeting between North Korean leader Kim Jong Un and the South's President Moon Jae-in in April.
A total of 93 people from the South will travel to the North's Mount Kumgang resort to meet their relatives, while 88 citizens of the North will meet their southern kin in a separate reunion at the resort.
Held from Aug 20 to 26, this latest round will be the first in three years, after a period during which North Korea carried out missile and nuclear tests.
This was why several elderly South Koreans who have loved ones left in North Korea set up an association in 2012 to help reunite more families and allow them to contact each other. 
Kim Kyung Jae, who heads the association, said that being selected as a participant for the reunion was more difficult than winning the lottery. 
"The government selects 100 people to participate in the reunion event. But only one out of every 596 applicants is selected," he said. 
Still, he said he was one of the lucky ones. In 1986, after more than five years of searching, he finally learnt that his sister was alive and still living in North Korea.
"I tried several ways to find her. Through China, and then later through Japan. But I was lucky because I was able to find out where she lived," he said.
Since then Kim, who is now 87 years old, has been exchanging letters with his sister at least five to six times a year.
He also sends her packages filled with things that might help her live a better life in North Korea. But he admits that sending those packages to her has also helped him heal his wounds.
"Just imagine how difficult life must have been for her. All her older brothers were in the south when she was only nine years old," he said. "So I send the packages to help wipe the tears she must have shed all those years."
He still has one wish left: To see his sister in person. 
He was hoping that his chance would come with this latest round of reunions, but he did not win the lottery. And he does not know if he will get a second chance.
GOVERNMENT SHOULD DO MORE
Shim Goo-Seob, another association member, also found out about his family in North Korea through alternative routes. He was able to meet his North Korean brother in China in 1994 when he was 61 and since then, he has organised private reunions for many other family members. 
He said holding organised reunions was not the solution to resolving the separated family issue, and that more should be done by the government. 
"Nowadays you can make phone calls with smartphones to any country in the world for the cost of one coffee," he said. "There are smartphones in North Korea.
"What the government should do is to help separated families find out if their loved ones are at least alive or dead, or at least let them exchange a postcard." 
Shim is unsure how long he or the association will be able to continue this work as it has become more difficult in recent years, with North Korea's leader Kim Jong Un tightening security around border areas. Most of the reunions are arranged in third countries, mainly China. 
However, he knows he cannot stop.
"Many of them just want to know if their loved ones are dead or alive," he said. "There won't be many left anymore." 
Among those taking part in this August reunion is a 101-year-old man and a 100-year-old woman. Thirty-five others are older than 90 years old.