For old folks left to die at Myanmar's roadsides and cemeteries, these homes are their last hope
Cast aside "like rubbish" and turned away even by nursing homes, these elderly outcasts are given dignity at the end of life by volunteer groups outraged by their plight.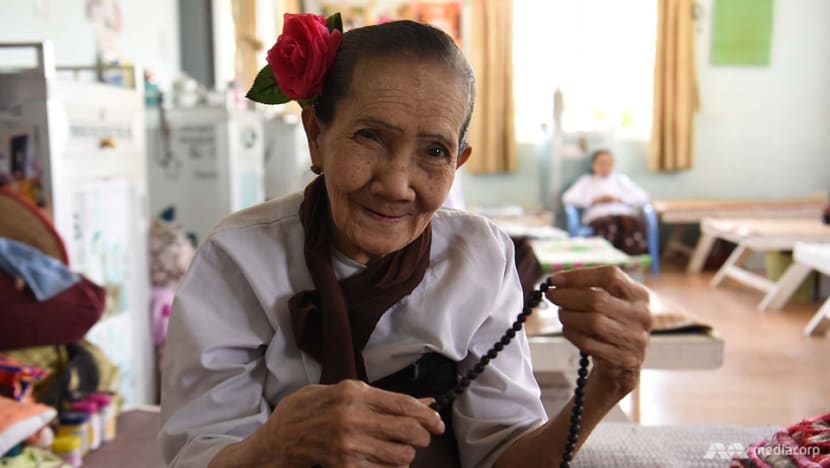 YANGON, MYANMAR: There she lay, on the ground in the darkness of night, moaning in pain as rats - drawn to the smell of blood from the lacerations on her body - nibbled at her wounds.
The elderly woman had just been involved in a road accident. But instead of getting help, the driver had abandoned the woman next to a rubbish dump by the road to fend for herself.
Daw Khin Ma Ma said her stomach churned at the sight of the battered old woman who was eventually conveyed to her nursing home. "Her rib bones were broken, some of which had pierced her lungs. We could see a hole in her back that had been gnawed on by the rats," she said.
"I've never seen such a terrible case before."
The woman died some six months after arriving at the home.
WATCH: More elderly getting abandoned in Myanmar (2:13)
Daw Khin is the vice-president of Twilight Villa (See Sar Yeik), a nursing home in Myanmar which takes in abandoned sick elderly citizens whom other homes turn away. This horrifying episode is just one example of why she is so dedicated to helping this group.
Cases of seniors being left abandoned by families near markets, railway stations and even cemeteries are on the rise. "These grandpas and grandmas at our nursing home have been cast aside at hospitals and under bridges like rubbish," she said with heat.
(LINK: Poverty forces families in Myanmar to ditch their elderly)
Twilight Villa is tucked in a quiet corner surrounded by thatch and bamboo houses, an hour's drive from downtown Yangon.
It started out with just eight senior citizens housed in a one-storey building in 2010, but today, it operates out of a modern four-storey building that includes an intensive care floor, courtesy of generous donors.
The home currently has capacity for about 70 people, but there are 50 more on the waiting list. It takes in only those over 70 years of age who are ailing and without any traceable family.
FAMILIES GO TO LENGTHS TO DUMP THEIR ELDERLY
Daw Khin is among a small but growing number of individuals and local non-profit organisations that have stepped forward to help the sick elderly who are in the last years or even months of life.
They have no training in nursing nor geriatrics, driven only by their passion to provide this group with dignified end-of-life care.
Daw Khin, a criminal lawyer by profession, co-founded Twilight Villa along with local philanthropist and award-winning writer Daw Than Myint Aung in 2010, after they found that nursing homes were unwilling to accept the sick elderly.
She said that some of these seniors are referred to them by the police, and they have little memory of their identities.
"Sometimes in the pocket of their jacket, there would be a note with just their name and age, such as Daw Pu, age 80. That's all. When we ask them more, they can't remember anything else," she said.
Daw Khin fumed at how some caregivers go to great lengths to abandon these seniors - even using different modes of transport to ensure that they can't find their way home.
"They might be transported in a car, then a trishaw, and then by ferry to the other side of the river where they're abandoned," she said.
Some are dumped because they had suffered a stroke or some mental illness. "When we ask them where they live, they would say, 'a market is near my house, and I have little grandchildren'. If they could remember more details, we would surely send them back," she said.
Then there are those like 87-year-old Daw Kyi Kyi, who was referred to the home after her husband and two sisters died. She has no children.
She wakes at 5am every day and spends her time praying and meditating. The company of friends and the staff at the home help to relieve any loneliness. "I am happy here," she said. "I can live peacefully; it's like living in heaven with all my friends."
TURNING TO SOCIAL MEDIA TO RALLY HELP
Like Twilight Villa, the group Save The Aged focuses on the sick elderly who have nowhere else to go.
It was started by a group of 15 young, public-spirited volunteers who were so moved by their plight, they took to the Internet and social media to rally help for them.
So successful were they that - for a country with a low Internet penetration rate - they managed to raise enough funds solely through social media to open a nursing home in 2015.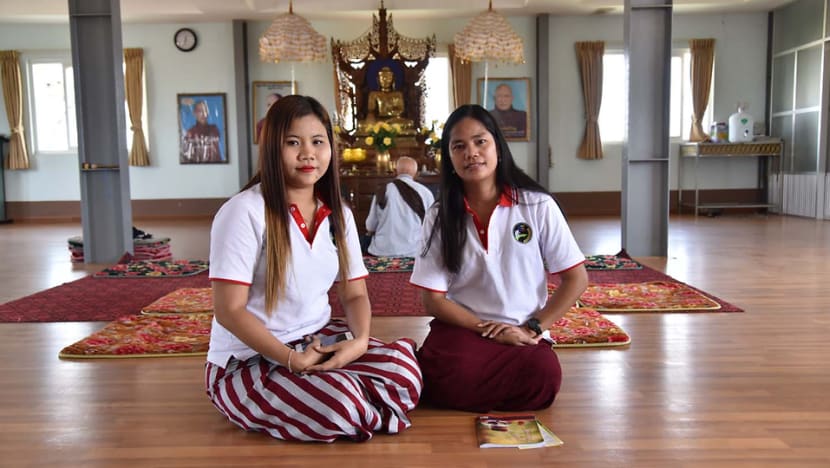 Volunteer and accountant Daw Phyo Thiri said: "There were other organisations such as Save the Children but there were none that looked after the elderly. We were inspired to create a group to help those that we had met."
They started out by repairing the homes of these old folks and helping them with expenses such as for food and medicine, as well as conveying them to the hospital when they were sick. They had no donors initially, and most of their expenses were borne by the volunteers.
With no physical office, they communicated via WhatsApp and social media, posting pictures and videos of their activities on Facebook. As their digital presence grew, they managed to get donations and more volunteers, especially among the young.
Save the Aged currently provides care and accommodation to around 25 homeless elderly, all aged above 65.
Resident Daw Kyi Kyi Khin, 85, was living alone and surviving on occasional donations when some Save The Aged volunteers brought her to the home.
She said: "Now I live peacefully here and I have nothing to worry about. They treat us like their own parents or grandparents."
WATCH: Finding peace at this home (7:16)
NO MONEY TO DO MORE
However, funding continues to be an issue for these NGOs - a problem made even more acute in a poor country like Myanmar.
Daw Phyo said Save The Aged would like to do more but is limited by the lack of resources. The NGO relies solely on donors, who include Myanmar nationals overseas in countries such as Singapore, South Korea and Australia.
When they were building the home, they had to pay for the construction in instalments - and at one stage, they ran out of funds. Thankfully, another appeal for funds online managed to raise enough to complete the project.
"We only have enough funds to run the day-to-day operations," said Daw Phyo. "For the longer term, we would like to expand, to buy new land and build new homes. We would like to support the elderly even more, and we are looking for donors."
Twilight Villa, too, relies mostly on public donations.
The government's Social Welfare Department provides the organisation with 25,000,000 kyats (S$26,000) a year in subsidies but they can only use it to buy rice.
Daw Khin said she would prefer to have more flexibility with the subsidy, for medical supplies or to pay their employees.
AN AGED HOME WITHOUT ELDERLY?
But more than that, she would love to see the day when there is no more need for homes such as hers.
She cited the example of one home for the aged she knows of which - curiously enough - has no seniors living there.
The residents in that village in the state of Kachin have learnt to value and respect their elderly folks for the part they have played in society, and so everyone chips in to take care of them in their twilight years, she said.
"If a family is too poor to take care of an elderly person, they will bring that person to another family who will take care of him or her. The whole village takes care of the elderly. That's why there is no old person in the home for the aged.
"This is excellent. We need this to be the situation in every family," she said.
This is part of a CNA Insider series exploring the issues of elderly poverty in Vietnam, South Korea, Singapore and Myanmar.
To read more: Poverty forces families in Myanmar to ditch their elderly, Vietnam's ticking time-bomb of elderly poverty, and South Korea's elderly who will 'work until they die'.