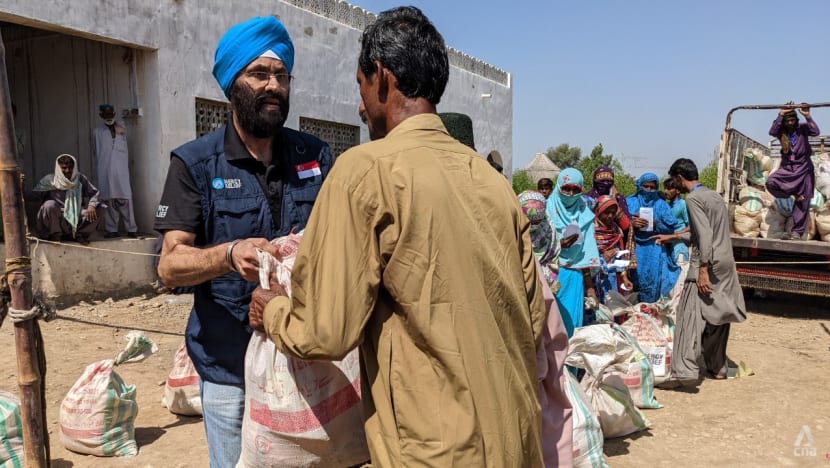 HYDERABAD, Pakistan: Four months pregnant with her ninth child, Ms Zoya Hashim was looking forward to receiving a much needed food hamper at a relief camp in Matiari district.
Standing in line while waiting for her turn, Ms Hashim shared with CNA on Monday (Oct 11) that the food supplies will help feed her growing family who have been displaced by the recent floods in Pakistan, alleviating some of their financial burden.
Her husband used to earn 500 Pakistani rupees (S$3.30) a day working on a banana farm, but when the disaster hit, he was put out of work.
The 35-year-old said she is also worried that she may be unable to afford the 7,000 to 8,000 Pakistani rupees needed to give birth in a private hospital, as she had planned.
More than 1,700 people have died and 33 million have been affected by floods across the country, according to Pakistan's National Disaster Management Authority.
In response to the disaster, Mercy Relief arrived in Pakistan on Monday to deliver essential items to affected villages in two districts of Sindh, one of the hardest-hit provinces.
The aid agency was represented on the ground by chairman Satwant Singh, a lawyer by profession, and senior executive for international programmes Alex Park.
It is partnering Pakistan's National Rural Support Programme (NRSP), a nationwide organisation focusing on poverty alleviation, to procure and deliver the relief items.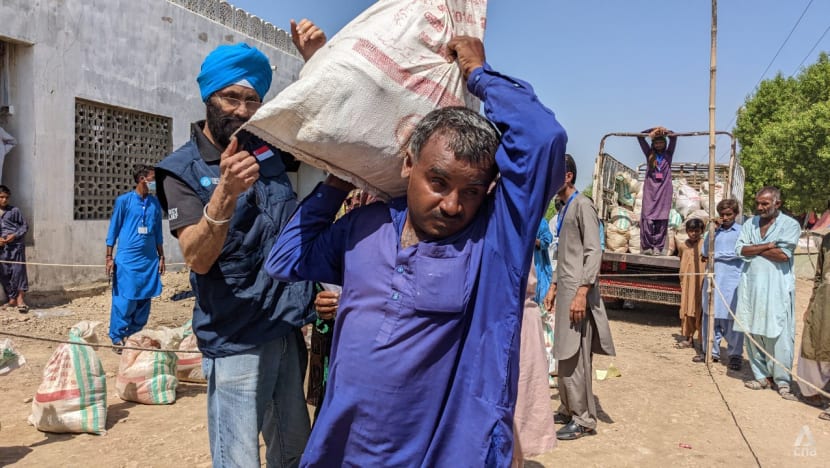 In Matiari district, the team visited two relief camps and delivered 250 food hampers containing essential items like flour, rice, mung beans, cooking oil, soap and milk. Families in Tando Allahyar district also received tarp sheets for temporary shelter.
One of the displaced residents was Ms Shahnaz, 25, a manager in a local support organisation from Malook Khaskheli village in Matiari. The village has been uninhabitable since it was flooded in August.
Ms Shahnaz said that when it started to rain in June, the villagers initially did not evacuate as they thought the waters would soon subside.
But in August, Sindh province experienced more than seven times the average rainfall. In neighbouring Balochistan province, almost six times the average amount of rain fell.
Floodwaters in her village reached a dangerous level over a single day on Aug 23 and the residents had to evacuate, said Ms Shahnaz.
NRSP regional general manager Ghulam Mustafa pegged the scale of this year's disaster at "four to five times" that of Pakistan's floods in 2010, which killed close to 2,000 people and affected more than 20 million.
"This is the cost Pakistan has paid. This is the cost of climate change," he said.
Rainfall over Sindh and Balochistan has intensified by up to 75 per cent more than it would have without global warming, a study by an international team of climate scientists at the World Weather Attribution group found.
Pakistan's Prime Minister Muhammad Shehbaz Sharif said that the "biblical flood" pushed one-third of the country underwater, in his address to the United Nations General Assembly last month.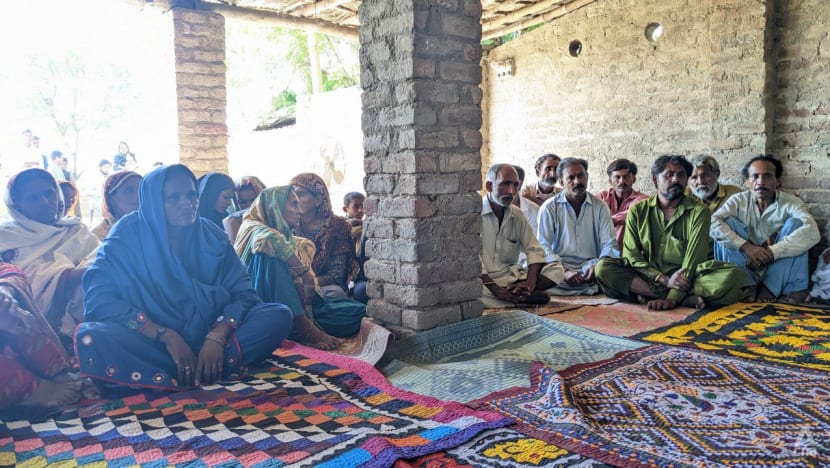 LIVES AFFECTED
Residents of villages damaged in the floods have been displaced to temporary shelters along roadsides or near their inundated homes.
When the village that he was born and grew up in flooded with more than 6 feet of water, Mr Bharo Mal and his family were forced to leave and shelter by the roadside in rural Sindh province.
Last month, his granddaughter died of a snake bite. Nine days later, the displaced villagers moved to temporary housing they constructed themselves out of dried cotton plants killed in the floods.
Their shelters now overlook the flooded homes and fields where they used to live and work."It is difficult to survive," said Mr Mal, 60, who was a shopkeeper in his village.
He is now supporting his family by selling a much reduced stock of melons, potatoes and salt that he has salvaged.
The rain also flooded farm lands and killed crops, depriving locals of income from both the harvest and providing agricultural labour.
Famer Ali Haider told CNA that when the floods destroyed his entire cotton crop in Majno Rind village, he was unable to use his earnings from the harvest to repay loans for the agricultural materials, as is the traditional practice.
As a result, the 50-year-old owes about 30,000 Pakistani rupees at an annual interest rate of 18 per cent.
For many students, the floods have disrupted their education.
At a makeshift school set up under tarp sheets near Malook Khaskheli, schoolteachers said that about half of the batch of 63 students aged five to 12 are still attending classes, while the rest had moved away.
University student Wasseem Ali Khan, 21, was pursuing a bachelor's degree in medical sciences at Makhdoom Mohammad Zaman Talib ul Moula Government Boys Degree College, New Saeedabad.
Two months ago, the college building was converted into temporary housing. Mr Ali Khan has not been able to attend classes since then. He is among 400 people from his village now sheltering on campus.
WOMEN'S HEALTH
Besides students' education, the floods in Pakistan have also severely disrupted access to healthcare.
This is compounded by the spread of malaria and waterborne illnesses in the wake of the disaster, with the United Nations warning of a "second wave of death and destruction".
On Wednesday, the Mercy Relief team visited a roving clinic serving about 80 women from three villages in Tando Allahyar district.
This is part of a medical camp for ante- and post-natal care organised by NRSP, which provides free consultations and medicine to pregnant women and new mothers.
The clinic will move on to serve different flood-affected villages over the coming days.
Gynaecologist Dr Maira Yaqoob, 27, said that most patients she sees are showing signs of pain, fever and weakness. Some also had symptoms of waterborne illnesses such as diarrhoea and skin infection.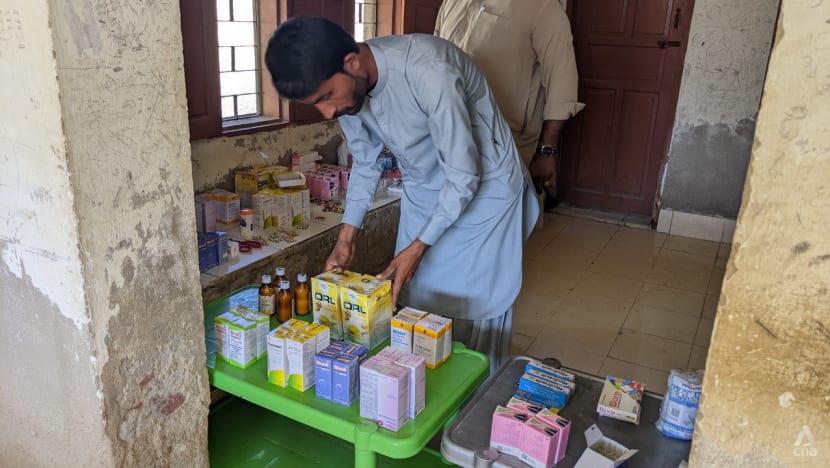 Mercy Relief has collected about S$120,000 as of Wednesday, of which US$43,000 has been disbursed in this first tranche of disaster relief.
For future relief missions, Mr Singh said the agency would look into funding shelters, more ante- and post-natal clinics and "cash for work" schemes, which involve paying locals for the labour needed to rebuild their villages.
He identified medication, housing and clothing for the winter season as immediate priorities.
"After we have given them these basic needs, we want to ensure that they are able to sustain their own growth," said Mr Singh.
Mercy Relief's fundraising drive for Pakistan continues.