Joint mission by Indonesia, Malaysia to EU in bid to counter 'discrimination' against palm oil industry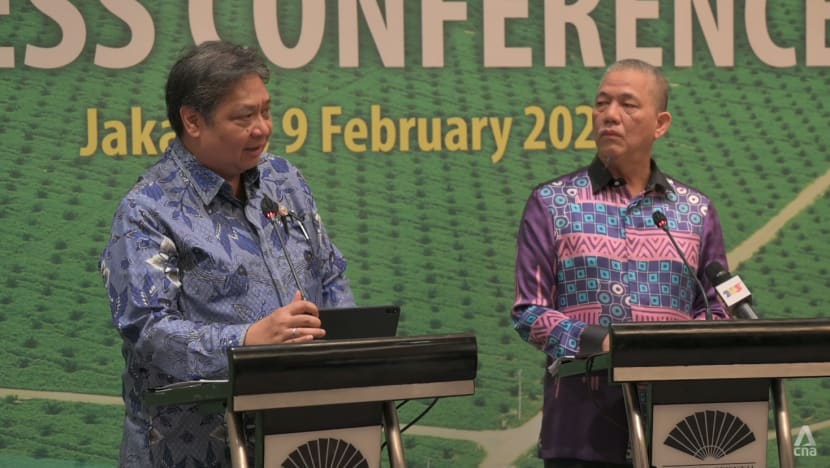 JAKARTA: Indonesia and Malaysia have agreed to conduct a joint mission to the European Union (EU) to discuss the impact of the bloc's regulations on the two countries' palm oil industries.
In a joint press conference on Thursday (Feb 9), Indonesia's Coordinating Minister for Economic Affairs Airlangga Hartarto said that the two countries held a meeting to discuss "several pressing issues" related to the palm oil industry.
In recent years, the EU has imposed rules to regulate palm oil imports, noting that the cultivation of such crops results in excessive deforestation. This has drawn the ire of top producers Indonesia and Malaysia.
Mr Airlangga on Thursday met with Malaysia's Commodities Minister Fadillah Yusof to discuss a joint approach in dealing with the EU.
"We agreed to continue to protect the palm oil sector by strengthening efforts and cooperation to overcome discrimination against the palm oil industry," said Mr Airlangga.
He added: "The meeting (with Malaysia) agreed to conduct a joint mission to the EU to communicate (to them) and prevent unintended consequences of the regulation to the palm oil sector and seek possible collaborative approaches with interested parties."
Mr Airlangga also said that there needs to be a strategy for the wider recognition of the Indonesia Sustainable Palm Oil (ISPO) and Malaysian Sustainable Palm Oil (MSPO) certifications in the global market.
Separately, Mr Fadilah, who is also Malaysian Deputy Prime Minister, said that the palm oil producers had put in place measures to protect the environment, without specifying what they are. 
Last December, the EU agreed on a new law that makes it an obligation for companies to ensure that commodities sold in the EU do not come from deforested land.
The Council of Palm Oil Exporting Countries (CPOPC), led by Malaysia and Indonesia, has said that the regulation is discriminatory
Last month, Mr Fadillah said that Malaysia could stop exporting to the EU if "they (the EU) are giving us all a difficult time to export to them."
When asked by the media on Thursday whether the issue of an export boycott to the EU was discussed in the meeting with Mr Fadilah, Mr Airlangga said that it was not.
"Stopping exports was not something that we had discussed. As a country involved in the import and export (of products) … that was not an option," said Mr Airlangga.