Pakatan Harapan unveils Malaysia election manifesto, cost of living high on the agenda
PH chairman Anwar Ibrahim said that the coalition is determined to rebuild Malaysia after it had been devastated under PN and BN governments in the past 30 months.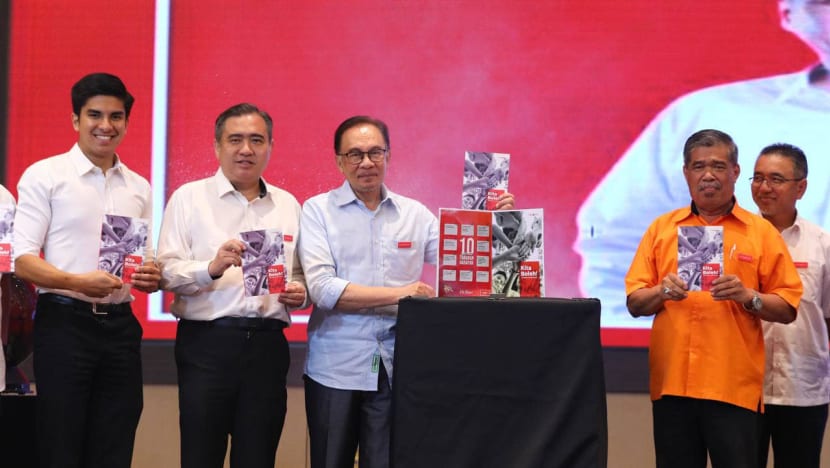 KUALA LUMPUR: Pakatan Harapan (PH) launched its manifesto for the upcoming Malaysia's 15th general election (GE15), with an emphasis on addressing cost of living issues and improving the country's economy.  
The coalition altogether listed down ten priorities in its action plan that was launched during an event in Klang on Thursday (Nov 2).  
PH chairman Anwar Ibrahim said during the launch that they were determined to rebuild Malaysia that had been devastated by their main rivals Barisan Nasional (BN) and Perikatan Nasional (PN) in the past 30 months. 
He claimed that during the COVID-19 pandemic, the government under both PN and BN administrations was plagued by uncoordinated policies and wasteful governance. 
"They are devoid of ideas concerning long-term issues like the people's needs, climate change and the recovery of the lost generation in education," said Mr Anwar who is also PH's prime minister candidate in GE15.  
Since the fall of the PH government in February 2020, PN took over the administration in Putrajaya under then-prime minister Muhyiddin Yassin. 
It was subsequently replaced in August 2021 by the BN-led administration under the leadership of current caretaker prime minister Ismail Sabri Yaakob. 
Mr Anwar said that under the Harapan Action Plan, policies will be introduced that can bring Malaysia into a future filled with promise. 
Some of the priorities listed in the PH manifesto include managing the cost of living, combating corruption, empowering economic opportunities for the youth, improving competitiveness and protecting the environment. 
NOT A POPULIST MANIFESTO: ANWAR 
During a press conference after the launch, Mr Anwar denied that the manifesto was populist. 
"We considered the cost and the overall financial implications as well as the demands of the people.
"It is inaccurate to term it as populist…It should be acceptable to the people and has to be popular but it is tied to the larger framework of the economy and by ensuring growth," he added. 
Mr Anwar said that what the coalition wants to do is to first secure the people's mandate to govern and then to commit itself in implementing  programmes as soon as possible.
This includes its major task of reviving the economy, he added. 
Mr Anwar also said that the coalition is united as a force as never before.
"Those involved in treachery have left or have been kicked out. Those that remain are really committed to the struggle and reform agenda," he said.
POSSIBLE CHANGES FOR PKR CANDIDATES: RAFIZI 
In a separate development, PKR deputy president Rafizi Ramli has hinted that there might be changes in the PH's candidate for the Sungai Buloh seat in the coming GE15.
In a tweet on Wednesday, Mr Rafizi said that discussions will be held with Mr Anwar as PKR president and coalition  chairman, after receiving feedback from constituents on its announced candidate Ramanan Ramakrishnan.
"As the president of the party, the final decision is his," said Mr Rafizi.
Malaysian media reported that there have been unfavourable comments on Mr Ramanan since PKR's announcement about his candidacy for Sungai Buloh.
The former Malaysian Indian Congress (MIC) politician was reported to have joined PKR after the so-called Sheraton Move.
In announcing its list of candidates for Barisan Nasional on Tuesday, BN chairman Ahmad Zahid Hamidi said that the coalition's candidate for Sungai Buloh will be caretaker health minister Khairy Jamaluddin. 
Previously the former Rembau MP had said that he was almost certain to be given a seat which was held by the opposition.
More than 21 million eligible voters will cast their ballots in GE15 to elect 222 new members of the Lower House of parliament. 
Polling day has been fixed on Nov 19 with early voting on Nov 15. Nomination is on Saturday, Nov 5.