Divisions persist among coalitions led by Anwar, Muhyiddin and Mahathir as Malaysia election looms
Analysts are expecting multi-cornered contests in most seats and this could give Barisan Nasional the upper hand due to its stronger core voter base. 
KUALA LUMPUR: In the months leading up to the 15th General Election (GE15), Malaysian media reported that there might be a "big-tent strategy" adopted by the coalitions of Pakatan Harapan (PH), Perikatan Nasional (PN) and Gerakan Tanah Air (GTA), led by Mr Anwar Ibrahim, Mr Muhyiddin Yassin as well as Dr Mahathir Mohamad respectively.
According to the strategy, the three coalitions would work together to block Barisan Nasional (BN) from clinching victory in the upcoming polls.  
Yet, with just a week to go before nomination day on Nov 5, any prospects of PH, PN and GTA adopting a united front to square off against BN appear bleak. 
Analysts interviewed by CNA said that the divisions between these three main coalitions are likely to persist going into the campaigning period, and this could benefit BN and its lynchpin party United Malays National Organisation (UMNO). 
LITTLE PROGRESS IN TALKS 
There has been little progress between the three coalitions to form any electoral pact or agreement. 
Last Friday, GTA chief Dr Mahathir posted a video on social media, seemingly extending an olive branch to Mr Anwar. 
He said in the video: "Personal views, pride, ego and self-importance have no place in one's struggle, especially when it's linked to religion, race and our country." 
"I am prepared to meet Anwar because I believe we have the same objectives. If I have to make the first gesture, I will do it," added the former prime minister. 
Subsequently, Mr Anwar told reporters at a fundraising event in Penang that this was not the time to "bring private (political) game plans to the table".
"It is better for us to listen to the problems of the rakyat (people) and see how we can help them," he was quoted as saying by Free Malaysia Today. 
Talk of a political alliance between GTA and PN have also been denied by PN secretary-general Hamzah Zainudin. 
"Officially, no (discussions) so far but there may be informal discussions between representatives. The party leadership has yet to decide whether discussions can be held officially," Mr Hamzah was quoted as saying by Bernama.
Back in GE14, Mr Anwar, Mr Muhyiddin and Dr Mahathir worked together to capture Putrajaya under the PH umbrella. At that time, Dr Mahathir had promised to hand over power to Mr Anwar. 
However, the PH administration collapsed 22 months later, due to infighting.
IRRECONCILABLE DIFFERENCES
Analysts said that the three coalitions have been unable to make any headway in alliances due to irreconcilable differences between them. 
Professor Ahmad Martadha Mohamed of Universiti Utara Malaysia told CNA that certain parties within the three coalitions are not ideologically aligned, and this will make it difficult to sign election pacts. 
He cited how Parti Islam Se-Malaysia (PAS), a component party of PN, has said that it will not work alongside the Democratic Action Party (DAP) of PH. 
Prof Ahmad Martadha added that PAS would also not be willing to work alongside Parti Amanah Negara (Amanah), another PH component party, as the latter comprises former PAS politicians who had defected. 
He added that PH and Mr Anwar would also be unwilling to partner Parti Pribumi Bersatu Malaysia (Bersatu), a component party of PN, due to the role played by the latter during the "Sheraton Move" which led to the toppling of the PH government in 2020. 
Prof Ahmad Martadha added that the three coalitions will likely want their respective leaders - Mr Anwar, Mr Muhyiddin and Dr Mahathir - as prime minister candidates, and this would be a major stumbling block to forming any "formal alliances". 
"Looking ahead to nomination day (on Nov 5), there will be a lot of multi-cornered contests for this election - between BN, PH, PN and GTA. This seems unavoidable at the moment," he added.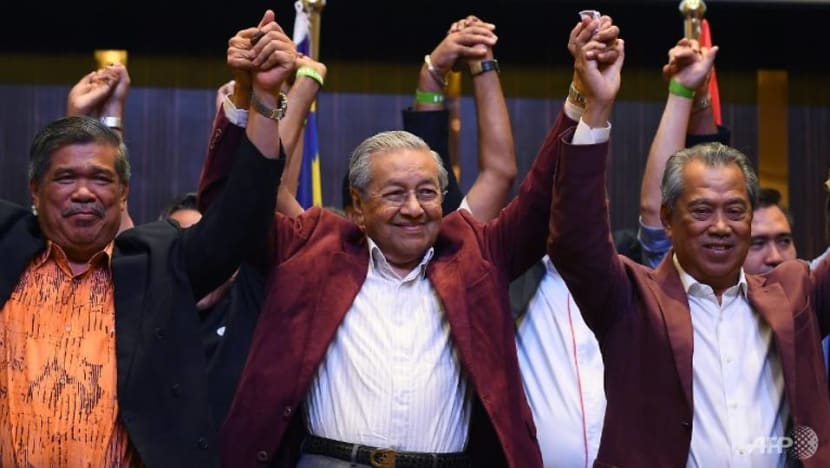 James Chin, who is a Professor of Asian Studies at the University of Tasmania, argued that there was "no possibility" of the three coalitions and their leaders working together in time to avoid multi-cornered contests. He said that this is likely to benefit BN which has a strong grassroots presence and voter base.
"Obviously disunity and multi-cornered fights will benefit BN, (as) they have a strong group of core voters. If the opposition is divided into as many segments as possible, they will gain," added the political analyst.
He recalled that these same dynamics happened in the recent Johor and Melaka state polls. In both instances, BN clinched comfortable two-third majorities in the state legislatures. 
Ms Nia Astira Taufik, a voter from the Seremban constituency in Negeri Sembilan, told CNA that the divided coalitions have left her confused about who to vote for. 
The 27-year-old said she does not support UMNO and BN, but is uncertain about which coalition or candidate she will cast her ballot for.
"There could be 4-5 candidates contesting and it's very confusing who is representing what party," she said. 
PKR'S ATTACK ON BERSATU SEATS COULD FURTHER SOUR RELATIONS
A key factor that could further widen the chasm between PH and PN is PKR's aggressive strategy to field big hitters in seats held by its defectors who are now with Bersatu, analysts said. 
During a party event in Gombak in September, Mr Anwar, who is also PKR president, said that the party's election strategy was to focus on constituencies held by former PH politicians who defected following the Sheraton Move. 
"In our election strategy, the constituencies that we will attack the most are those that have been chosen by the people to look after them but they were betrayed.
"That's the reason why we are focusing on these areas to punish and topple them," Mr Anwar reportedly said.
In the so-called Sheraton Move, Bersatu withdrew from PH while several PKR lawmakers also quit the party. Dr Mahathir then resigned as prime minister, creating a power vacuum.
Subsequently, the king determined that Mr Muhyiddin, the Bersatu leader, likely commanded the support of the majority of lawmakers in the Lower House. Mr Muhyiddin was sworn in as prime minister, leading the PN coalition.
Prof Chin said that PKR's strategy to "go after Bersatu" and PKR members who defected was key for the coalition as it "reinforces the narrative that voters must vote for PH to restore the mandate that was lost after the Sheraton Move. 
He added that this was important in principle, even though it might be beneficial for PKR and PH to work alongside PN in a bid to form the next government. 
"PKR's argument is that we were not able to do much during the 22 months because we did not have enough time. If you give us a five-year term, we will be able to deliver. Going after Bersatu is consistent with the message they are trying to deliver to the electorate," Prof Chin added.
Mr Anwar himself has announced that he will contest in Tambun, Perak, whose incumbent is Ahmad Faizal Azumu, Bersatu deputy president and caretaker Youth and Sports Minister, a PH defector. 
On Friday (Oct 28), it was announced that Selangor chief minister Amirudin Shari will be fielded as a candidate for the Gombak parliamentary seat. 
The incumbent for Gombak is Azmin Ali, former PKR deputy president who is reportedly one of the key architects of the Sheraton Move. Mr Azmin has confirmed that he will defend Gombak in the upcoming polls under PN. 
Mr Ishak Rasid, a voter in Gombak, Selangor, told CNA that he is looking forward to the contest between the two heavyweights.
However, the PH supporter voiced concerns that the split in votes could eventually benefit BN, who is likely to also name a candidate to contest the constituency. 
"I think the battle between Amirudin and Azmin will be fascinating, but we must also not forget BN. They have many supporters in Gombak," he added. 
While it seems highly likely that PH, PN and GTA will head into the GE15 campaign with no electoral pacts, Prof Chin did not rule out the possibility of the three coalitions working together after the election results are announced on polling night on Nov 19. 
He posited that GE15 may be an avenue for the three coalitions to confirm the level of support they have among the voters, before heading to the negotiation table to perhaps form a new government if they have the numbers. 
"There is talk that GTA under Mahathir and Bersatu under Muhyiddin will do badly in the upcoming polls," said Prof Chin.
"To be taken seriously as kingmakers, you have to be a big bloc, maybe with 19-20 seats. Otherwise, if you are a mosquito party, you will be ignored," he added.