Police warned about terror attack before Jakarta blasts: Intelligence chief
"Our last piece of information was that they would attack on Jan 9 but they didn't," the director of the State Intelligence Agency Sutiyoso says.
JAKARTA: Authorities were on high alert for a terror attack to hit Indonesia, five days before suicide bombings and shootings rocked central Jakarta, the director of the State Intelligence Agency Sutiyoso revealed on Friday (Jan 15).
The State Intelligence Agency had also told police as early as November that "something would happen". However, it is "very difficult to determine when and where they will strike", Mr Sutiyoso said.
"We intensified our focus on them, especially during Christmas and the New Year holidays, and sure enough, they struck. Our last piece of information was that they would attack on Jan 9 but they didn't. They attacked on Jan 14," he stated. "You can't arrest and detain suspects if they haven't broken the law."
Mr Sutiyoso drew comparisons between the Jakarta attack to recent incidents in Paris and Turkey, saying it is not simple to determine when and where the assailants will strike. "A terrorist attack is not like a military attack. There is no signal showing what is going to happen when and how it will be carried out."
At around 10.45am on Thursday, a bomb went off outside a Starbucks store on Jalan MH Thamrin in central Jakarta, followed by another explosion 20 seconds later. Despite cryptic warnings purportedly from the Islamic State (IS) militant group in late 2015, police did not realise the two blasts were acts of terror.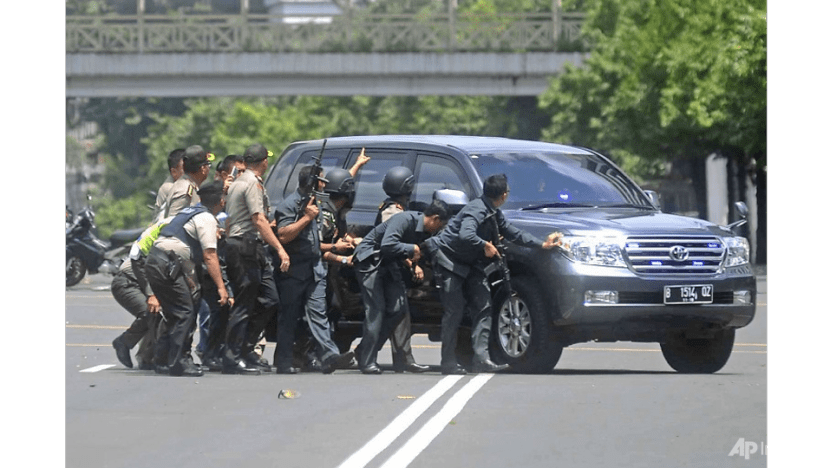 Police officers take cover behind a vehicle during a gun battle with attackers. (Photo: AP)
"A few officers went to the explosion site to begin diverting the traffic and telling the public to stay away," said Chief of Metropolitan Police Public Relations Mohammad Iqbal. "When the officers went to the location, a gunfight ensued. Then two alleged suspects headed to the parking lot in front of the Starbucks store. It was followed by more gunfights between the assailants and police officers," he explained.
The gunmen wound up being injured by an explosion after one of their grenades went off accidentally before it could be lobbed at police. "The explosion was not an attempt to commit suicide. It was caused by an explosive device, a type of grenade. But before they could throw it, it exploded."
When the gunfight ended, seven people were pronounced dead. They included two civilians, one suicide bomber, two assailants who had been shot dead by police, and two other suspected attackers whose cause of death has yet to be declared.
Dr Musyafak, head of the Jakarta Police Medical and Health Division gave a breakdown of those hurt: "The total number of victims is 33. Seven people are dead and 26 wounded, including five police officers and 21 civilians - 19 men and 7 women."
Following the terror attack, police launched a 24-hour hotline number - 081212129191 - for the public to report any suspicious activities.
They also revealed details on materials used by the perpetrators to make the bombs.
"From what we have collected at the crime scenes, we can determine that the explosive devices fall into the Low Explosive category. The explosions were loud because of the filling," Dr Hudi Suryanto, head of the Forensic Laboratory Division, told reporters.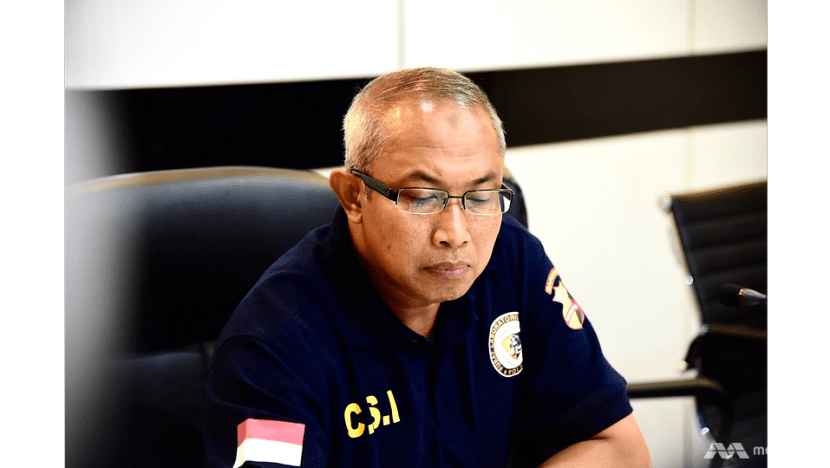 For the detonator, the perpetrators connected bulb fuses to a battery, which was then "attached to an explosive device," Dr Hudi explained.

Nails and bolts were also used to fill the bombs "so that they would endanger more people," he added, noting that materials used to assemble the explosive devices can be "easily found anywhere".
As police press on with their investigations, an alleged IS supporter Bahrun Naim has been labelled as a suspected mastermind. Bahrun is one of several Indonesians believed to be supporting the militant group in Syria, reportedly residing in IS-held Raqqa, and he is said to work with several coordinators overseas.
Authorities have also named an alleged IS militant Abu Jundi as one of Bahrun's coordinators, said Indonesian police spokesman Anton Charliyan. He said police will not stop until the perpetrators are brought to justice. "We'll keep searching for those behind the attack. It may be one month, two months or three months but we won't stop until they're caught."
Meanwhile, police clarified three people currently held for interrogation after morning raids in Depok, West Java, have no connection with the terror attacks that rocked the capital Jakarta. Mr Mohammad on Friday refuted media reports that the three - Saiful, 40, Isro, 35 and Sudirman, 30 - were arrested in relation to the deadly bomb blasts.