Postponement of Blinken's China trip a 'pity'; ASEAN paying close attention to US-China relations: Vivian Balakrishnan
US Secretary of State Antony Blinken has postponed plans to visit China after a suspected Chinese spy balloon was tracked flying across the United States.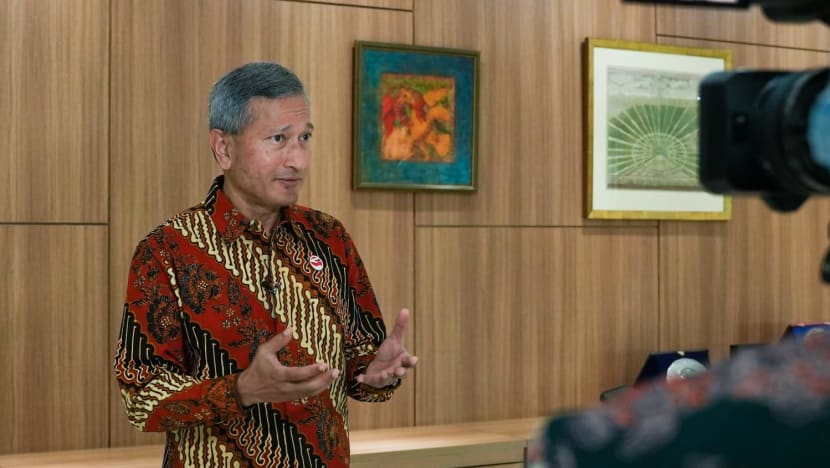 SINGAPORE: Foreign Affairs Minister Vivian Balakrishnan said on Saturday (Feb 4) that the postponement of a long-anticipated visit to China by United States Secretary of State Antony Blinken was a "pity" and expressed hope for both sides to exercise restraint. 
Mr Blinken, who had been scheduled to depart for Beijing on Friday night, postponed plans after a suspected Chinese spy balloon was tracked flying across the US in what Washington called a "clear violation" of the country's sovereignty. 
 
Meanwhile, China expressed regret that an "airship" used for civilian meteorological and other scientific purposes had strayed into US airspace.
Speaking to reporters during a virtual doorstop interview, Dr Balakrishnan said the incident was a reminder that the world is not in a settled and calm condition, adding that many things could still go wrong in the next year or two.
"It actually illustrates how easy it is for ... unexpected incidents to derail scheduled occasions for meetings and engagement," he said. 
"This is why ASEAN is paying such close attention to the very fraught relationship between the US and China."
Urging both sides to engage more and have open lines of communication, he said this will help to reduce misunderstandings and the prospects of such incidents. 
"From a Southeast Asian perspective, not only do we hope ... that they achieve a modus vivendi but also we want them to engage us on our own merits, and not through the prism of rivalry between the two superpowers," said Dr Balakrishnan.
"So our clear and consistent message to both the US and China is that trade and investment is strategic in Southeast Asia."
Dr Balakrishnan was wrapping up his two-day working visit to Jakarta, Indonesia, where he attended the 32nd ASEAN Coordinating Council Meeting and the ASEAN Foreign Ministers' Retreat.
MYANMAR CRISIS
The worsening situation in Myanmar dominated the meeting, despite an agenda focused on food and energy security as well as cooperation in finance and health.
Since seizing power in a coup two years ago, Myanmar's junta has plunged the country into chaos and violence, while failing to implement an ASEAN peace plan, which includes the cessation of conflict and the start of dialogue.
Myanmar was invited to Friday's meeting but at a non-political level. However, no delegate was present. 
While ASEAN members have different levels of concerns regarding the situation in Myanmar, Dr Balakrishnan said the bloc remains "completely united" in the call for cessation of violence and national reconciliation.
During a working lunch on Friday, ASEAN foreign ministers discussed and urged significant progress in the implementation of Five-Point Consensus.
Indonesia - which chairs ASEAN this year - said it planned to engage stakeholders and build conducive conditions to pave the way for an inclusive dialogue in order to bring about a peaceful resolution in Myanmar.
It also said it wanted to synergise ASEAN efforts with neighbouring countries who are concerned about the situation and the United Nations special envoys of Myanmar, as well as other countries. 
On Wednesday, Indonesian President Joko Widodo said his country plans to send a top general to Myanmar to talk to its junta leaders in the hope of showing Myanmar's military rulers how Indonesia made a successful transition to democracy.
"The most important thing, actually, is to stop the violence internally, to begin the process of national reconciliation - for everyone within Myanmar to sit at the same table as equals and to have a sincere dialogue," said Dr Balakrishnan.
"We will continue to look for opportunities (to help) but I must emphasise, we do need the military authorities to cooperate in this process as well and it's an area of ongoing work."
POST-PANDEMIC RECOVERY
The ASEAN foreign ministers also reaffirmed the importance of working together to facilitate an inclusive post-pandemic recovery and advance ASEAN's community-building efforts.
Dr Balakrishnan emphasised that Singapore will work with Indonesia and fellow ASEAN member states to create opportunities for Singaporeans and local businesses in the digital, green, and blue economies, which refers to the maritime environment. 
"What we're interested in is trade and investment and we hope that all our external partners - and by that I mean the US, China, Europe, and beyond - look to Southeast Asia as an arena they can invest, they can trade and in a non-binary, non-exclusive manner because our organising principle is overlapping circles of friends."