Rohingya detainees transferred to other depots as search continues for remaining escapees: Kedah police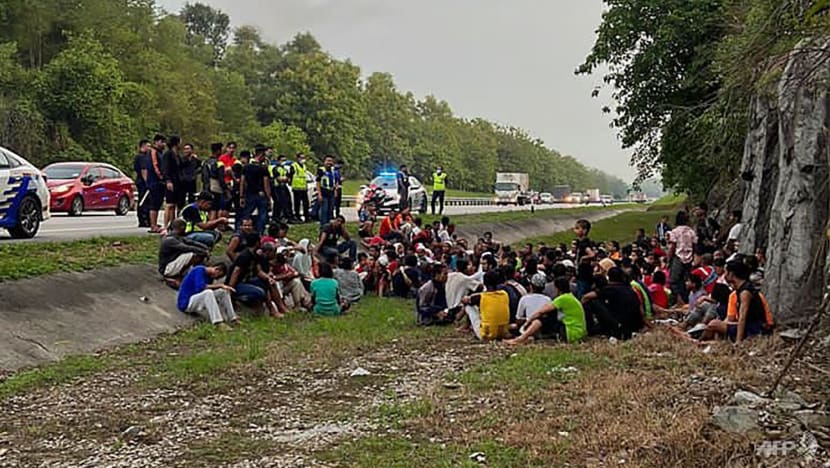 ALOR SETAR: A total of 448 Rohingya detainees at the Relau temporary detention centre in Kedah have been transferred to other detention facilities following the dawn breakout on Wednesday (Apr 20), the police said.
In a statement on Thursday, Kedah police chief Wan Hassan Wan Ahmad said 248 of them were sent to the Semenyih and Bukit Jalil depots in Selangor.
Another 200 detainees were relocated to Machap Umboo depot in Melaka and Langkap depot in Perak.
Bernama quoted Mr Wan Hassan as saying that the detainees comprised 272 adult men, 83 adult women, 36 boys and 57 girls.
All of them were sent to the four depots in an operation conducted until midnight.
At around 4.30am on Wednesday, 528 of 664 Rohingya detainees fled from the detention depot following a riot, and a manhunt was immediately mounted to recapture them.
The depot is located near the state border between Kedah and Penang. Six of the escapees died while crossing the North-South Expressway. 
Mr Wan Hassan was quoted as saying on Thursday that 130 of them were still at large, including 99 adult men, 21 adult women, five boys and five girls. 
"The search operation for all the detainees concerned will continue until all of them are found. 
"The total number of Rohingya detainees that have been found so far is 398," he said, according to Bernama. 
Two of the escapees were injured and were being treated at hospital, Mr Wah Hassan said. 
Kedah police also said that they had identified a man in his 30s as the mastermind who is suspected to have incited the riot that triggered the mass breakout. 
"This man remains at large and search efforts are ongoing," Kedah Criminal Investigation Department (CID) chief G Suresh Kumar was quoted as saying by Bernama.  
In addition to questioning about 200 detainees, Kedah CID also called in over 20 Immigration Department staff and the People's Volunteer Corps (RELA) who were on duty at the depot to have their statements recorded, according to the report.  
"So far, what we know is that the escapees only wanted their freedom and it was not because they were unhappy with the camp management," the state CID chief added. 
DON'T HARBOUR ESCAPEES: POLICE 
Meanwhile, members of the public have been advised not to harbour any of the Rohingya detainees who escaped from the detention facility.
They should immediately call the police if they come across these escapees, said Perak police chief Mior Faridalathrash Wahid.
"There is no need to sympathise, and protect them in your houses.
"Please call the police, and we will arrest them, and do the necessary," the Star quoted Mr Mior Faridalathrash as saying in a press conference in Ipoh on Thursday.
On Wednesday, Home Minister Hamzah Zainudin had ordered for an immediate probe by the Immigration Department and the police to investigate the breakout.
In a statement, Mr Hamzah said the 528 escapees are Rohingya refugees who were transferred from a detention camp in Langkawi after they were arrested for trespassing Malaysian waters in 2020.
However, he said that Malaysia does not recognise the status of refugees and their presence in the country is only on humanitarian grounds.
Mr Hamzah reminded foreigners in the country to abide by Malaysian laws at all times.
"To protect the sovereignty of the country and the interest of the people, we will take firm action  against anyone who violates the laws," he said.