Seoul crowd crush: How it may have happened and what to do in such a situation
Preventing another tragedy like this involves monitoring and regulating the number of people in such spaces, and increasing education and awareness, said experts who spoke to CNA.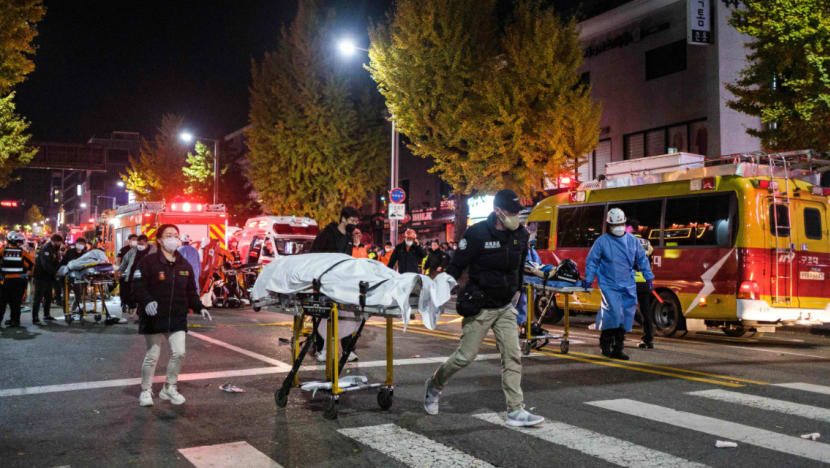 SINGAPORE: The fatal crowd crush in South Korea's Itaewon on Saturday (Oct 29) that has resulted in at least 150 deaths should have been avoided and may have been prevented with more awareness of crowd control, experts said following the tragedy.
Any slight movement at the edges of the dense crowd along the 4m-wide alley could have caused the whole crowd to collapse, said visiting professor at University of Suffolk Keith Still.
"Unfortunately, under those circumstances, as the crowd falls over, people then try to get up, arms and legs get twisted together," Prof Still told CNA's Asia Tonight on Sunday, a day after the incident.
He added that it takes about 30 seconds to cut off the blood supply to the brain, leading people to lose consciousness, and asphyxia sets in within four to six minutes.
"You literally suffocate. It is horrendous and these kinds of environments are typical of how this situation results in mass fatalities," said Prof Still, who has more than 30 years of experience in crowd safety and crowd risk analysis.
The partygoers had gathered to celebrate Halloween at the Itaewon bars, nightclubs and restaurants, where the revelry routinely spills over into narrow and often steep side streets.
The effect of hundreds of thousands of people in a limited space is that it makes the crowd act like a continuous body, "like a fluid", said Dr Milad Haghani of University of New South Wales in Australia.
"When the crowd reaches that level of critical density, no individual in the crowd is essentially in charge of their actions or their movements … No person can decide where to go or how to react," said the senior lecturer in the School of Civil and Environmental Engineering.
"In those certain circumstances, any moment of instability or turbulence in one place in the crowd can propagate through the crowd and people will not be able … to stop that."
Speaking to CNA's Asia First on Monday, Dr Haghani said when it happens, there is "very little or next to nothing that people can do".
Typically, eight to nine people can fit easily in 1 sq m, he said.
The experts explained that what happened in Itaewon should not be described as a stampede, as that implies that there was space available for people to move.
PREVENTING SUCH INCIDENTS
The term "stampede" also puts the blame on the people involved in the event, "as if they showed a kind of misbehaviour, or showed some sort of unruly behaviour that led to disaster", said Dr Haghani.
"That has been one of the reasons that has stopped us in the past from learning from these events and trying to mitigate these risks when organising events," he said.
The experts noted it is not the first time that such incidents have happened around the world.
Giving the example of the Love Parade disaster in Germany in 2010, Dr Haghani said: "Many other crowd crushing incidents in the past have had the same characteristics and those refers to the fact that they had unrestricted entry of a huge amount of crowd, (and) a huge demand to a restricted area that does not offer escape routes to people."
He added that in such incidents, entry and the density of the crowd were not controlled and monitored. In the German incident, 21 people were crushed to death when panic broke out in a congested tunnel during the electronic dance music festival.
"(The Itaewon incident) should have been avoided given that we have observed these incidents in the past and we should learn from them," he said.
Prof Still similarly said that in places of public assembly, the number of people should be monitored and regulated.
"If it becomes too crowded, you prevent people from getting into those spaces, but for that, you need the knowledge of how crowd density and crowd risk evolves in these kinds of environments," he said.
"It seems to just be a lack of awareness, that this is the consequence of too many people and not enough space."
Preventing such incidents in the future comes down to education and training, he said.
"It always surprises me that people just didn't know that the risks existed, so education and training is the first and foremost element, but then just understanding that any finite space has a limited capacity," said Prof Still, who is also director of a crowd safety consultancy firm.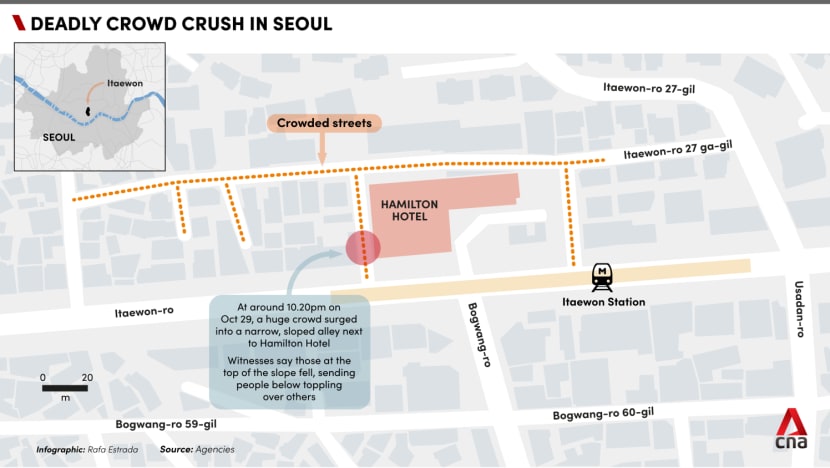 IS PROTECTION POSSIBLE IN A MASS CROWD SITUATION?
Dr Haghani said that reaching a critical level of crowd density often happens in increments and at such a slow pace that people cannot foresee the disaster coming.
"People that are within the crowd gradually feel that the crowd is becoming more and more uncomfortable, but by the time that they realise that they are in trouble, it might be too late," he said.
"Such crowds often do not often offer people escape routes. And as a result of that, there will be not much possibility for people to rescue themselves unfortunately."
He noted however that some people who are lucky and next to the periphery of the space can grab onto things to move vertically, may do so. But that possibility is not available to everybody, he said.
When crowds in busy places like a Christmas market or public transport are well managed, then the risks can be mitigated, said Prof Still.
"But if you feel that there are no authorities around, that there's nobody that's looking after the crowd, then that's the sort of thing that should raise your awareness levels and consider your own safety first," he said.
In response to a question on what the South Korean authorities should focus on in their investigations, Prof Still noted that the size of the Itaewon alley, the flow rate through the area, the maximum limits, and the fact that there is a train station in the area are known parameters.
"You can therefore work out what the safety elements are before you allow the crowds into that space. So that, I think, would be your fundamental analysis - understanding the areas and then look at who's responsible for the safety of the public," he said.
"Is this (on the) local authorities? Who's the landowner in these areas? What is the legislation for public safety within this environment? These are all key questions you would ask in an inquiry."